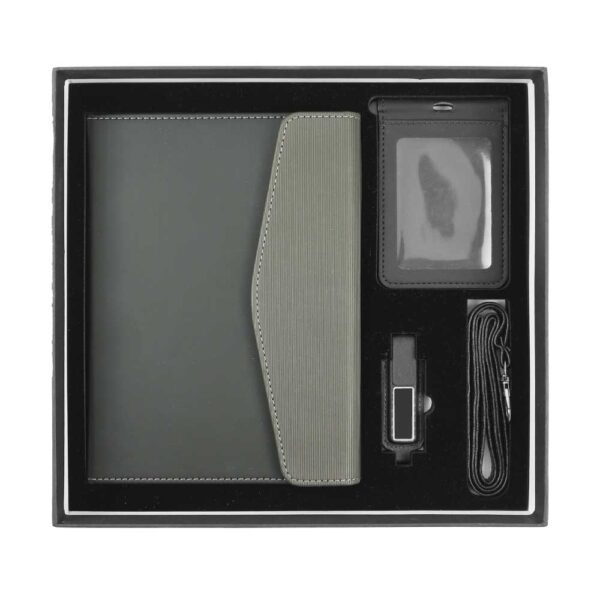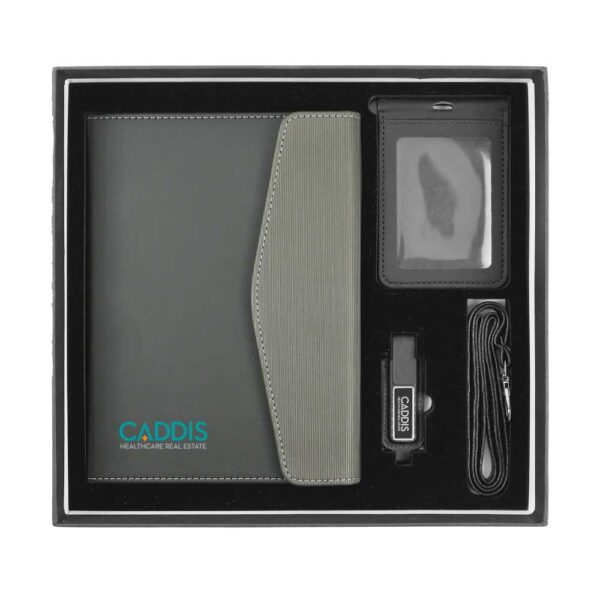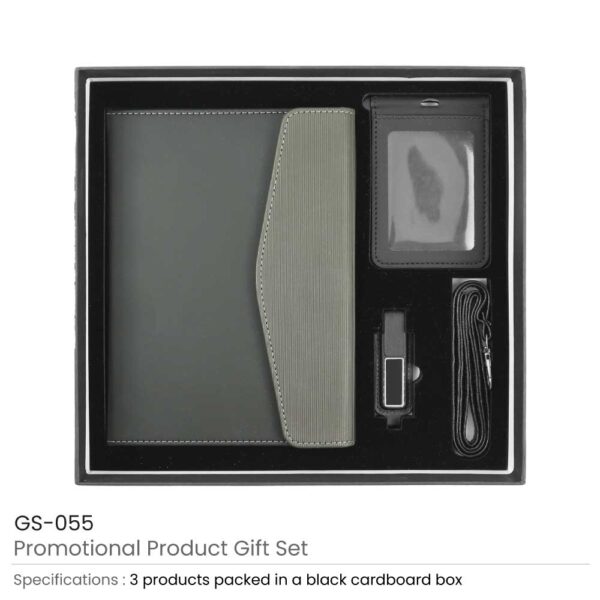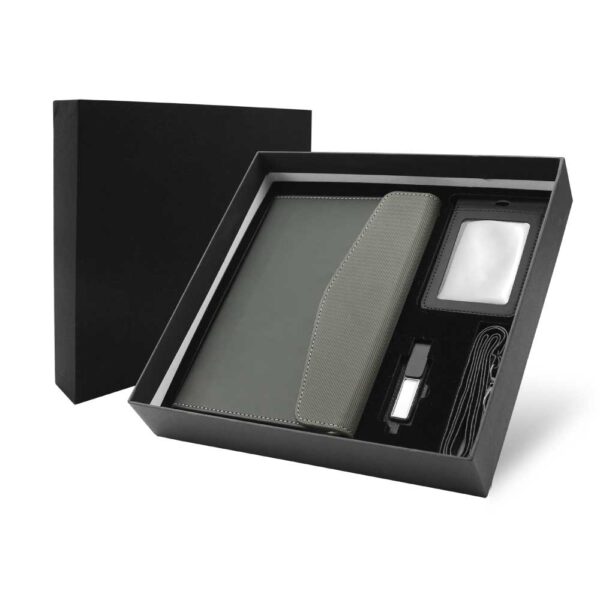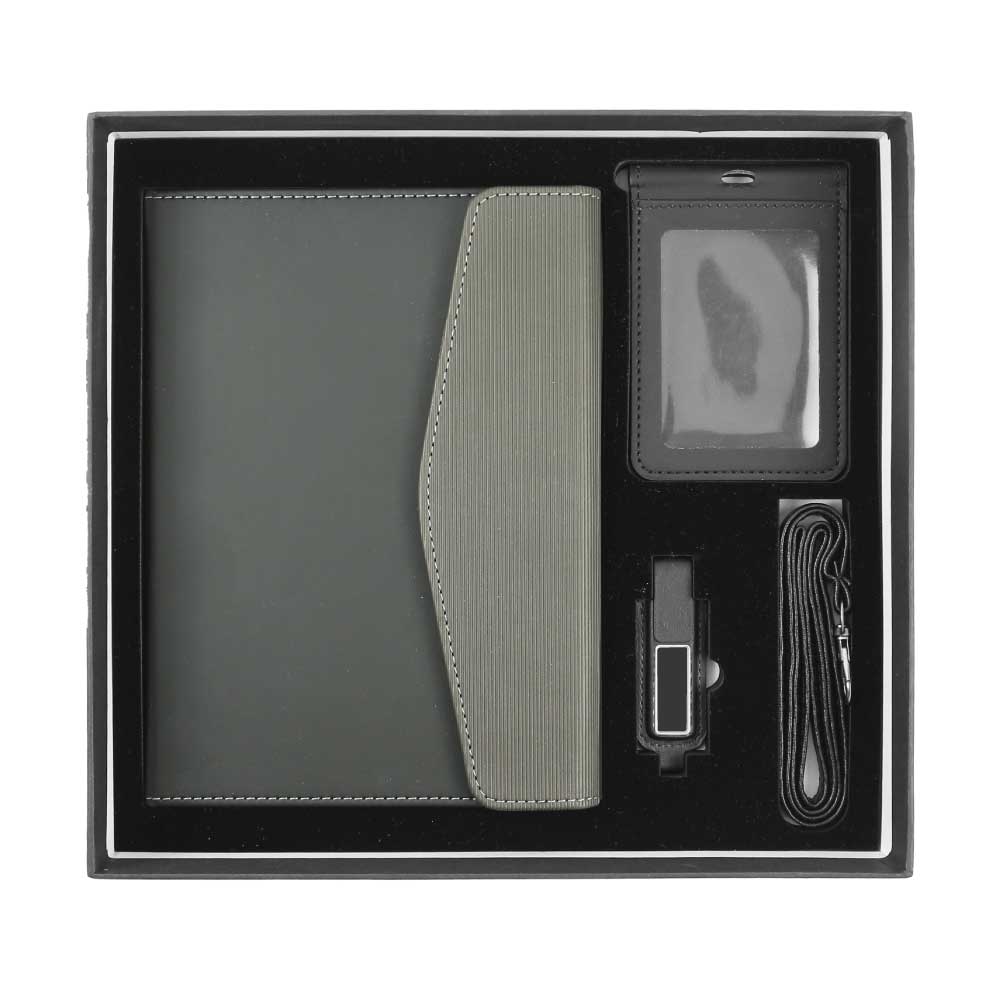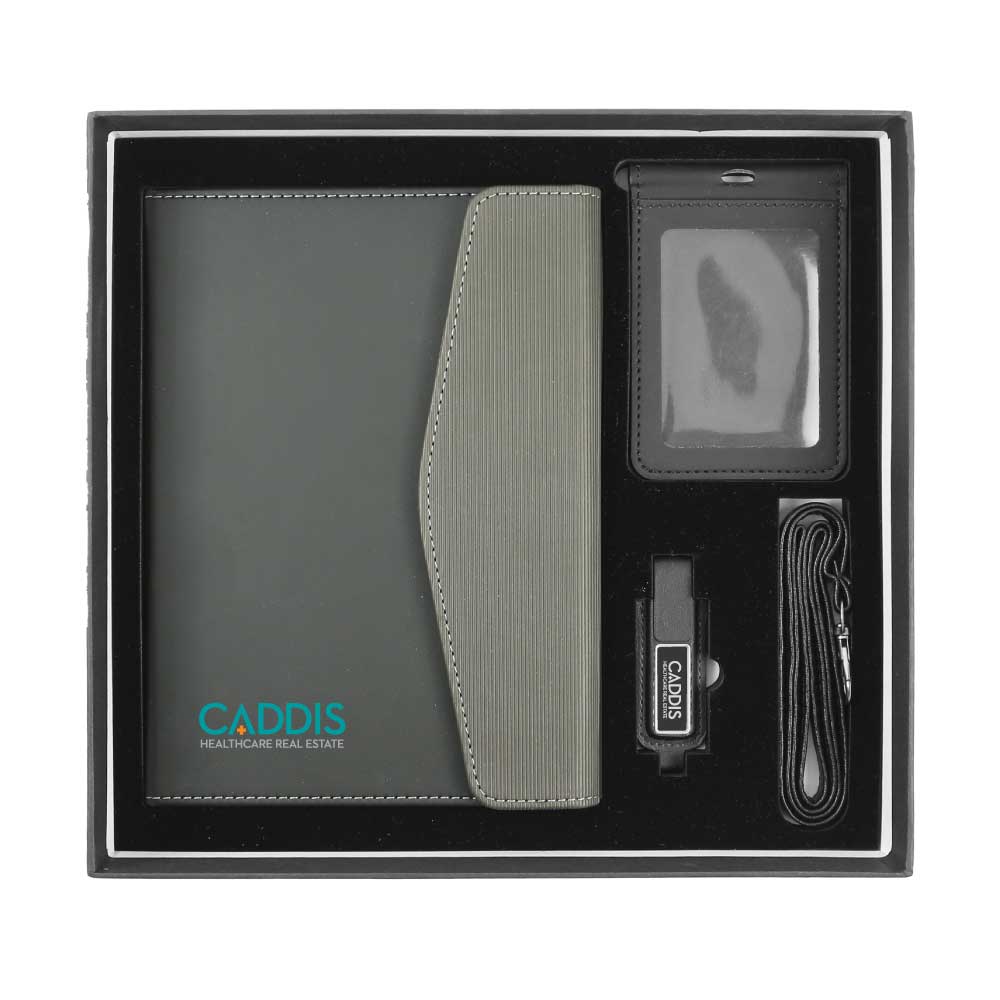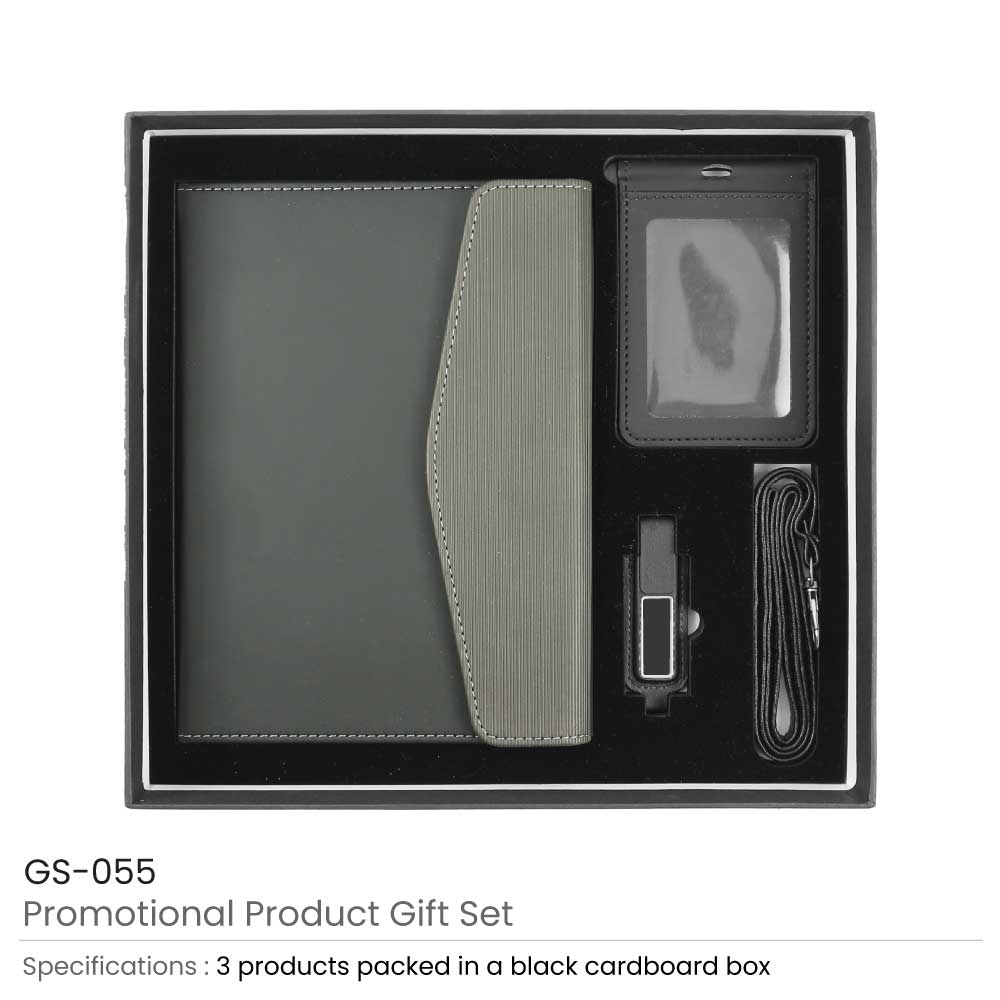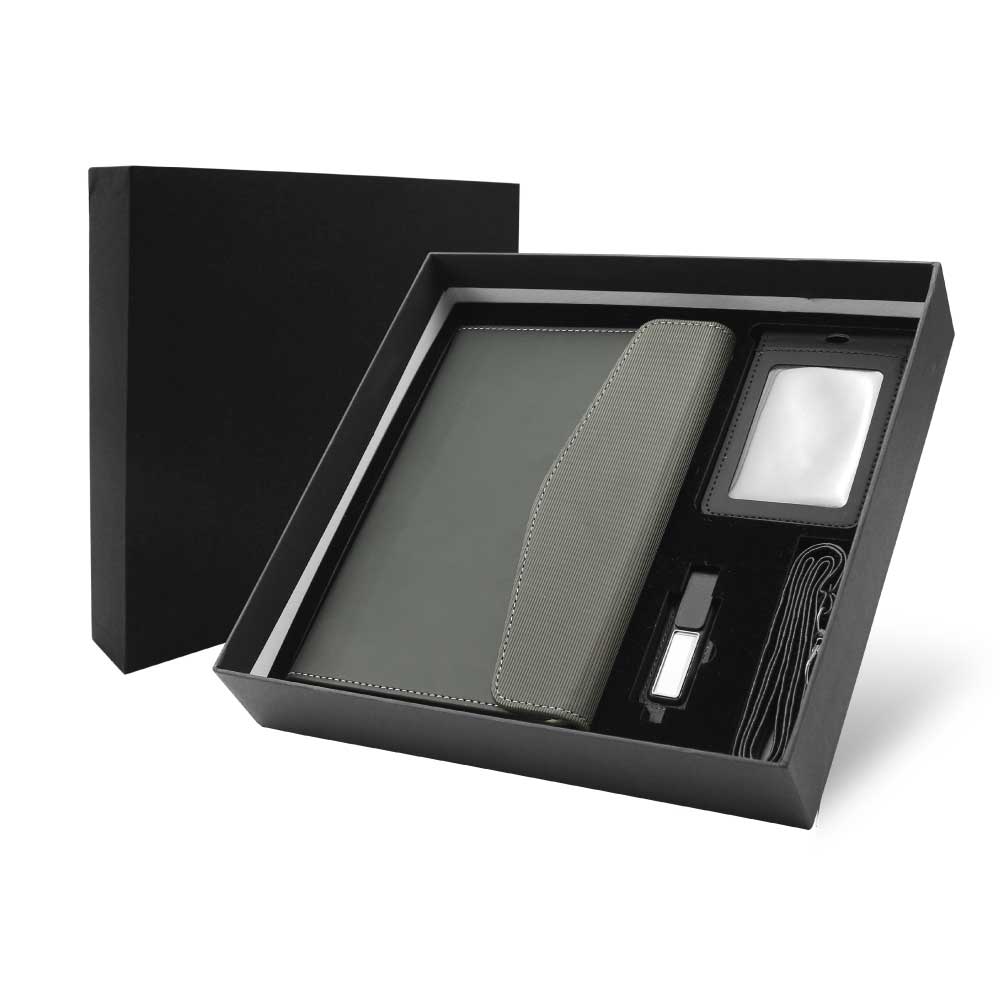 Promotional Gift Sets with Black Cardboard Gift Box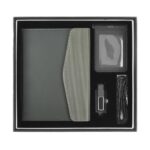 Promotional Gift Sets with Black Cardboard Gift Box
Promotional Gift Sets GS-055: Contains 3 products as listed beside. packed in a cardboard gift box with a cushion inside for product protection and better presentation.
Gift Sets Combination
A5 PU Notebook ( SKU: MBD-01)
PU ID card holder with leather lace ( SKU: CH-006-BK)
Black PU USB 32GB with Light-up Logo ( SKU: USB-76-BK)
Printing Option on Gift Sets

Laser Engraving | UV Printing
Download high res image
Download low res image
Download all images As a zip
Download printing instruction As a pdf
Customize Quotation Sheet
Description
Packaging Details
Description
Promotional Gift Sets
Promotional gift sets that include a variety of practical items such as an A5 PU notebook, a PU ID card holder with a leather lace, and a black PU USB drive with a light-up logo, all presented in elegant black cardboard gift boxes, have a sophisticated and professional appearance that is appropriate for a variety of corporate and business settings. This set's components each have a distinct value:
A5 PU Notebook (Model Number: MBD-01): The A5 PU notebook is a traditional and flexible item for taking notes, writing, or planning. The PU (polyurethane) shell provides a sleek and professional appearance to the laptop while also being robust and easy to clean. The size is suitable for transporting in a briefcase or bag, making it ideal for meetings, conferences, or everyday use. Customizing the notebook with a brand logo or message increases its promotional value.
CH-006-BK PU ID Card Holder with Leather Lace: This ID card holder is a useful addition for professionals who need to show their identification or access cards. The PU substance, paired with a fashionable leather lace, offers a touch of class. It's a handy tool for employees in the workplace, during trade exhibits, or at networking events. Custom branding on the card holder can increase brand visibility even more.
USB-76-BK (Black PU USB 32GB with Light-Up Logo): In today's digital world, a 32GB USB drive is an extremely useful tool for storing and transmitting files. The black PU substance and the one-of-a-kind feature of a light-up logo set this USB drive apart. When plugged in, the logo illuminates, calling attention to the company and leaving a lasting impression. It's a great approach to mixing functionality with creative branding.
The black cardboard gift boxes add a touch of refinement and professionalism to the ensemble. The use of black as a theme across the set lends it a consistent and quality appearance. This promotional gift set is great for corporate giveaways, employee appreciation presents, or as a high-value item at corporate events. This set's utility, attractiveness, and brand visibility make it an ideal instrument for increasing brand recognition and loyalty. The use of configurable goods such as the laptop and USB drive allows for innovative branding opportunities, ensuring that the company's message is communicated in a sophisticated and memorable manner.
Gift Set Combination
A5 PU Notebook ( SKU: MBD-01)
PU ID card holder with leather lace ( SKU: CH-006-BK)
Black PU USB 32GB with Light-up Logo ( SKU: USB-76-BK)
Printing Options on Gift Sets

Laser Engraving and UV Printing