A5 RPET Notebooks with Bamboo & Magnetic Closure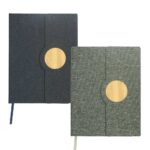 A5 RPET Notebooks with Bamboo & Magnetic Closure
Material:

RPET Fabric Notebook

| Item Size: 160 × 17 x 210 mm | Item Weight: 0.307 kg
| Packaging Details | | |
| --- | --- | --- |
| Pcs in Carton Box | Carton Weight | Carton Box Size |
| 40 | 14 kg | 38 x 38 x 24.5 cm |
Notebook Printing Options
Screen Printing | Laser Engraving
Download high res image
Download low res image
Download all images As a zip
Download printing instruction As a pdf
Customize Quotation Sheet
Description
Printing Instructions
Video
Packaging Details
Description
A5 RPET Notebooks with Bamboo & Magnetic Closure

A5 size RPET Fabric Hard Cover Notebooks with Round Bamboo Trims and Magnetic Closure.
It has 80 sheets, 70 gsm cream color ruled paper with pen loop & ribbon page marker
Available in 2 different colors.
White RPET emblem at the bottom back cover.
A5 RPET Notebooks with Bamboo & Magnetic Closure are innovative and eco-friendly promotional gifts that combine sustainable materials with a touch of elegance. Here's an overview of this unique product:
Material: The notebooks are made from RPET (Recycled Polyethylene Terephthalate), which is a type of plastic material derived from recycled PET bottles. By using RPET, these notebooks help reduce plastic waste and promote the concept of circular economy and recycling.
Bamboo Cover: The notebooks feature a cover made from bamboo, a fast-growing and renewable resource. Bamboo adds a natural and aesthetic appeal to the notebook, making it visually appealing and sustainable.
A5 Size: The notebooks are sized A5, which measures approximately 5.8 inches by 8.3 inches (148 mm by 210 mm). This size strikes a balance between portability and writing space, making it suitable for note-taking, journaling, or sketching on the go.
Magnetic Closure: The notebooks are equipped with a magnetic closure mechanism to keep the notebook securely closed when not in use. This feature adds a touch of sophistication and practicality to the design.
Paper Quality: The notebooks typically come with high-quality, acid-free paper that is suitable for various writing instruments. The use of good paper ensures a smooth and enjoyable writing experience.
Sustainable Branding: There is plenty of room for branding and personalization on these notebooks. On the bamboo cover, you can clearly display your business' name, logo, or marketing message to demonstrate your dedication to ethical and sustainable business practice's.
Eco-Friendly Appeal: The notebooks have a strong eco-friendly appeal thanks to the use of recycled PET material and a bamboo cover, making them a great choice for those who are concerned about the environment.
Versatility: A5 RPET Notebooks with Bamboo & Magnetic Closure can be given as promotional presents to a variety of people, including clients, consumers, staff members, and guests of business events and trade exhibitions.
Thoughtful and Memorable: These notebooks are thoughtful and memorable presents that are certain to make a good impression on the recipients thanks to their elegant and ecological design.
Corporate Social Responsibility: By selecting environmentally friendly and sustainable promotional items, your business exhibits its dedication to sustainability and corporate social responsibility (CSR), associating your brand with green principles.
When giving the A5 RPET Notebooks with Bamboo & Magnetic Closure as a promotional gift, think about including a special remark or message that both shows your appreciation and highlights the product's eco-friendly features. By selecting a special and eco-friendly item like this, you can strengthen your brand's green reputation while leaving a favourable and long-lasting impression on your receivers.
HD Video: RPET Notebooks with Bamboo & Magnetic Closure | SKU: MBRPET
Printing Options on Notebook
Screen Printing | Laser Engraving
RPET Fabric Notebook Printing Details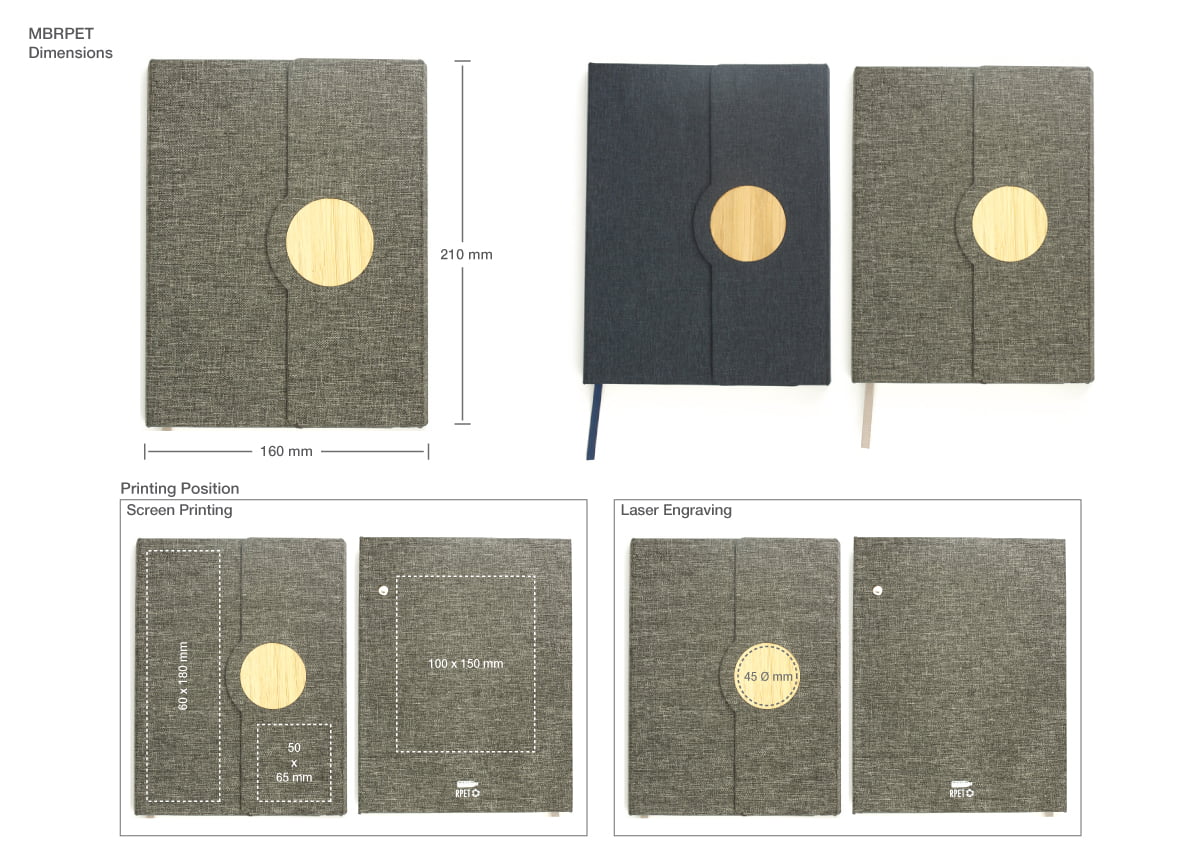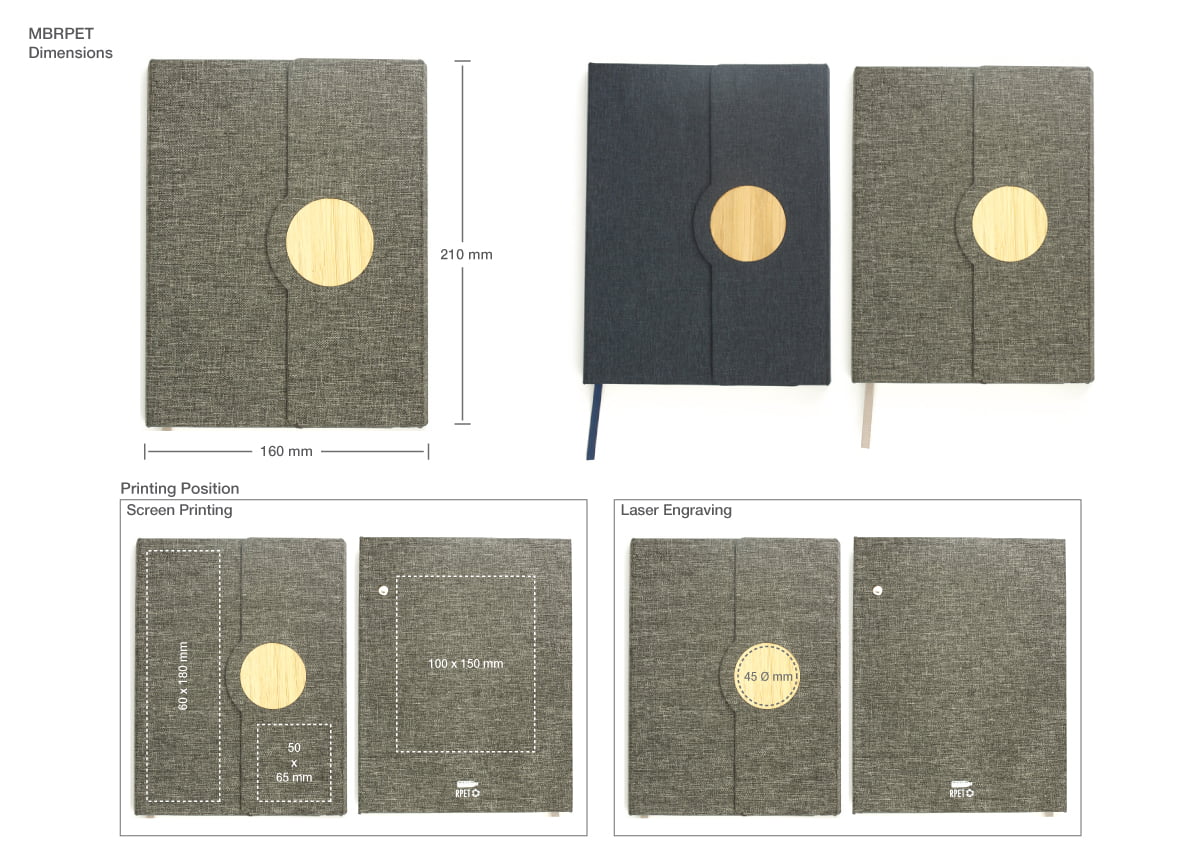 Additional information
| | |
| --- | --- |
| Weight | 0.307 kg |
| Dimensions | 16.0 × 1.7 × 21.0 cm |
| Notebook Color 3L | Dark Blue, Grey |
| HS Code | 4820100000 |
| Country of Origin | China |