A5 Coffee Material Notebooks | 96 sheets & Page Marker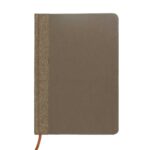 A5 Coffee Material Notebooks | 96 sheets & Page Marker
Material:

Coffee Material Notebook

| Item Size: 145×17×210 mm | Item Weight: 0.280 kg
| Packaging Details | | |
| --- | --- | --- |
| Pcs in Carton Box | Carton Weight | Carton Box Size |
| 50 | 13.5 kg | 40.5 x 33 x 24 cm |
Notebook Printing Options
UV Printing | Screen Printing
Download high res image
Download low res image
Download all images As a zip
Download printing instruction As a pdf
Customize Quotation Sheet
Description
Printing Instructions
Video
Packaging Details
Description
A5 Coffee Material Notebooks, 96 sheets & Page Marker
A5 Size Hard Cover Notebooks in coffee fiber material with matching coffee color textured linen design

Split cover with brown Kraft inner cover with printed ruler design.

with 96 sheets, 70g Kraft ruled brown color paper with brown color ribbon page marker 

and coffee fiber emblem at the bottom back cover
Utilizing A5 coffee-themed material notebooks, equipped with 96 sheets and a page marker, as a promotional gift represents a commendable decision for fostering a favorable and enduring impact on one's clientele, consumers, or workforce. This distinctive and contemplative stationery product has numerous advantages as a promotional giveaway:
Brand visibility can be enhanced by personalizing these notebooks with the inclusion of your company logo, name, or promotional message. This customization guarantees that your brand will be prominently seen whenever the receiver utilizes the notebook. This phenomenon enhances the prominence of a brand and strengthens the ability of consumers to identify and recall the brand.
The distinct and unforgettable promotional gift is attributed to the coffee material cover and design of the notepad. This product distinguishes itself from conventional promotional materials, hence increasing the probability of creating a lasting impact on the recipients.
Appeal Centered on Coffee: The utilization of coffee-related elements and motifs holds significance for individuals who possess a strong affinity for coffee or derive pleasure from the sensory aspects and overall ambiance associated with this beverage. Establishing a brand association with a well-regarded beverage has the potential to foster a favorable emotional bond.
The A5 size is widely regarded as a practical format for many activities such as note-taking, journaling, or sketching. The notebook's huge page count of 96 sheets offers a substantial amount of writing space, rendering it a practical and utilitarian gift suitable for a wide range of tasks.
Durability: Coffee substance notebooks that are crafted with high-quality materials exhibit a commendable level of durability, enabling them to endure frequent usage. This attribute contributes to the longevity of your promotional gift, thereby prolonging the visibility and recognition of your brand.
The notebook's daily utility is enhanced by its convenience, functionality, and inclusion of a page marker, which serves to motivate recipients to utilize it on a regular basis. This implies that the brand message will be consistently seen, hence maintaining the company's prominence in the minds of individuals.
Versatility: The aforementioned notebooks exhibit a high degree of adaptability and are well-suited for a diverse array of individuals, rendering them appropriate for deployment as corporate presents, event giveaways, or tokens of appreciation for staff members.
The utilization of sustainable or eco-friendly materials in the production of notebooks serves to strengthen your organization's dedication to environmental stewardship and corporate social responsibility (CSR).
Positive Brand Association: The provision of a notebook that exhibits superior quality and visual appeal serves as evidence of your brand's commitment to meticulousness and excellence. The establishment of a favorable correlation has the potential to augment the perception of your brand within the target audience.
The design centered around coffee can initiate discussions and exchanges among individuals, thereby generating possibilities to be actively involved with your business and its principles.
When distributing the A5 Coffee Material Notebooks as a promotional gift, it is advisable to package them in an appealing manner in order to augment their perceived worth. In addition, it is advisable to incorporate a considerate note or message that conveys gratitude for the recipient's business or cooperation. By selecting a distinctive and utilitarian promotional gift such as this, one has the opportunity to establish a favorable and enduring impact, enhancing the perception of the brand.
HD Video: Coffee Material Notebooks | SKU: MBCOF-BRW-A5
Printing Options on Notebook
UV Printing | Screen Printing
Notebook Printing Details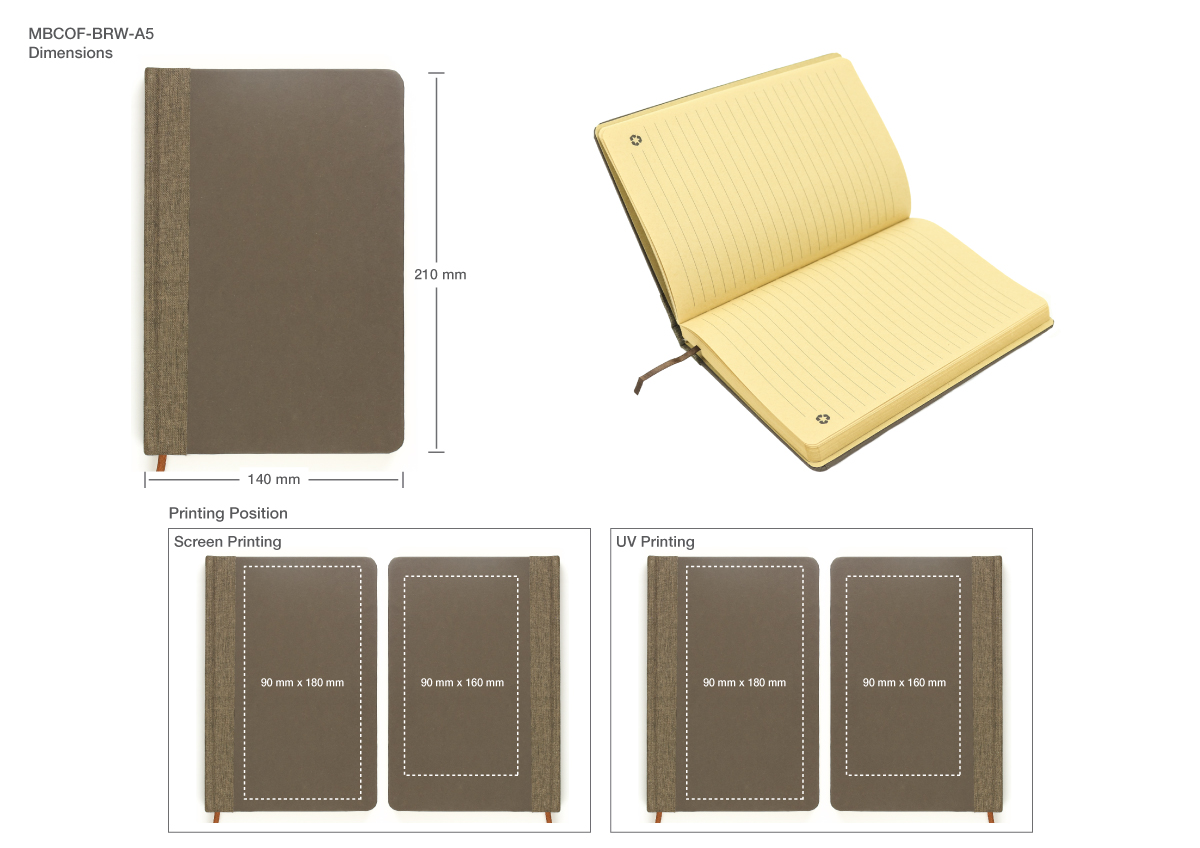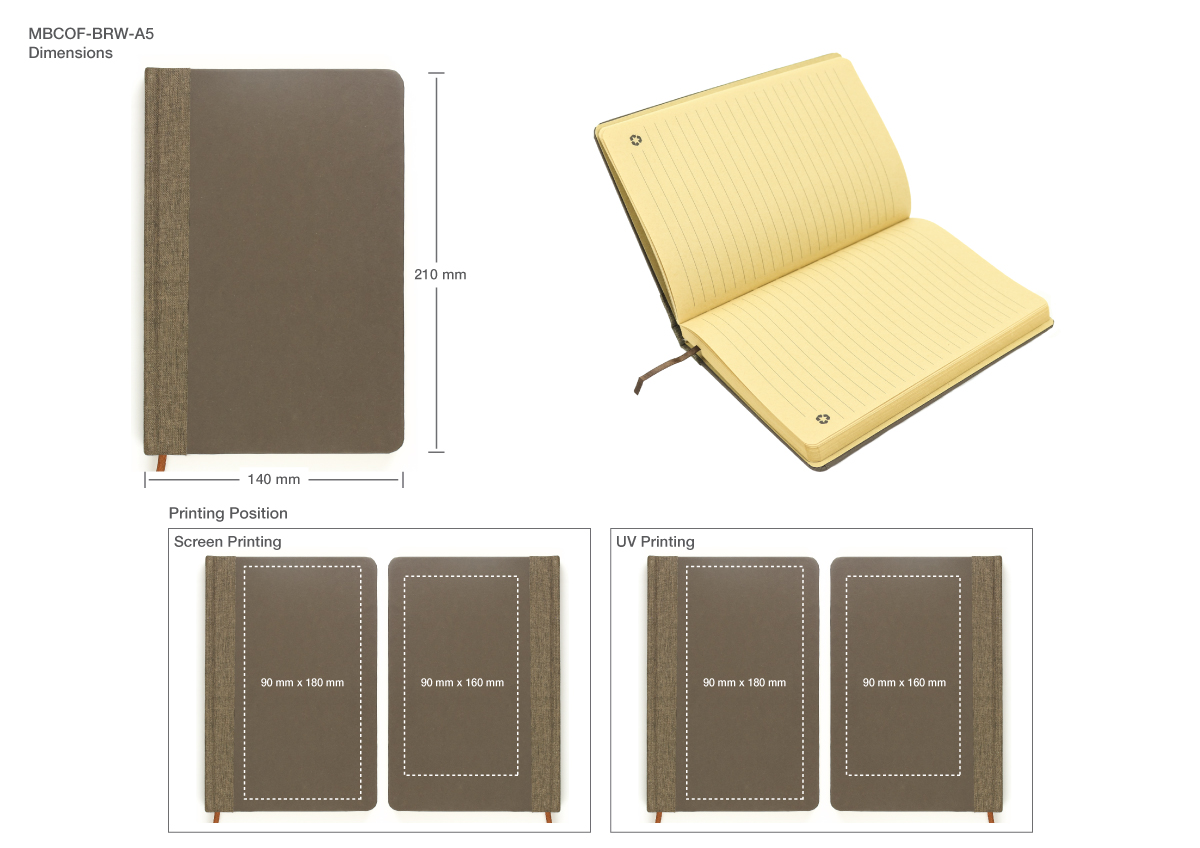 Additional information
| | |
| --- | --- |
| Weight | 0.280 kg |
| Dimensions | 14.5 × 21.0 × 1.7 cm |
| HS Code | 4820100000 |
| Country of Origin | China |