Paper Bags, wholesale orders are now available online for professional or personal use, in a range of sizes, colors, and finishings, some with fully personalized prints, whilst others with a partial custom print or without. Our Shopping bags are readily available for wholesale or personals use, through a simple and straightforward online ordering process, for small and large orders with a fast turnaround.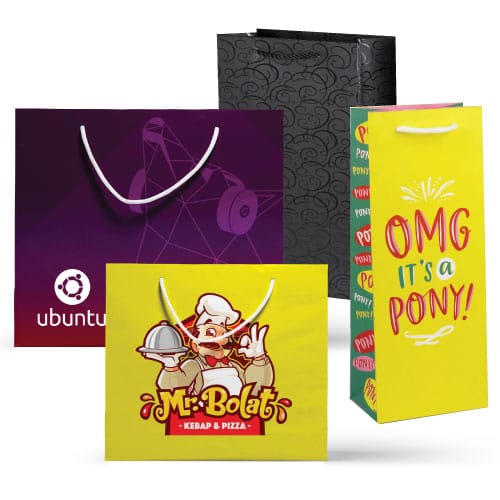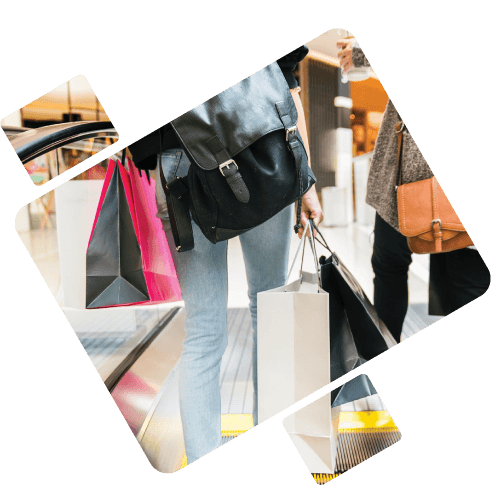 Looking for an effective and cost-efficient way to promote your company's brand?
Custom paper bags are the perfect promotional items that can be personalized and tailored to meet the needs of your company; helping boost your marketing efforts by showcasing your unique logo and messaging. We are able to offer the widest selection of printed paper bags, from normal paper bags to gloss paper bags and everything in between. They can be personalized in hundreds of ways. Browse through a diverse inventory of customizable paper bags to find the perfect match for your marketing needs.
Custom paper shopping bags with your logo & design
Why Choose Custom Printed Paper Shopping Bags?
Custom printed paper shopping bags are an effective and affordable way to promote your business while providing quality packaging to your customers. Paper shopping bags are a versatile packaging item that can be used for retail, restaurant takeout, and special events. There are many different methods of manufacturing and printing paper shopping bags which makes them a great creative opportunity for businesses seeking custom packaging.
Enhance Your Branding
A custom printed paper bag serves as the ultimate marketing and branding tool for all types of retail businesses. Customers love to carry branded packaging out of the store and will often reuse packaging that they perceive as high-quality and stylish. Custom paper bags are an affordable way to expand your branding and marketing efforts naturally through your customers.
Choose your Materials
Custom paper bags can be made with several types of paper materials including 100% recycled kraft paper, virgin white kraft paper, clay coated paper, and other varying levels of recycled paper content. Paper bags can be tinted in many colors and can be laminated for a glossy or matte finish. Traditional twisted paper handles are available in many colors and can even be color-matched to your printed logo or design.
Personalize with Custom Printing Options
Custom printing can be achieved on paper shopping bags for a truly phenomenal finish. You can design your bags to be printed with your logo or design on one or both sides of the bags as well as the side gussets and bottoms. Custom printing techniques include foil hot-stamping, ink printing, embossing, varnishes, and UV inks. There are many different finishes available to complement your custom paper shopping bags.