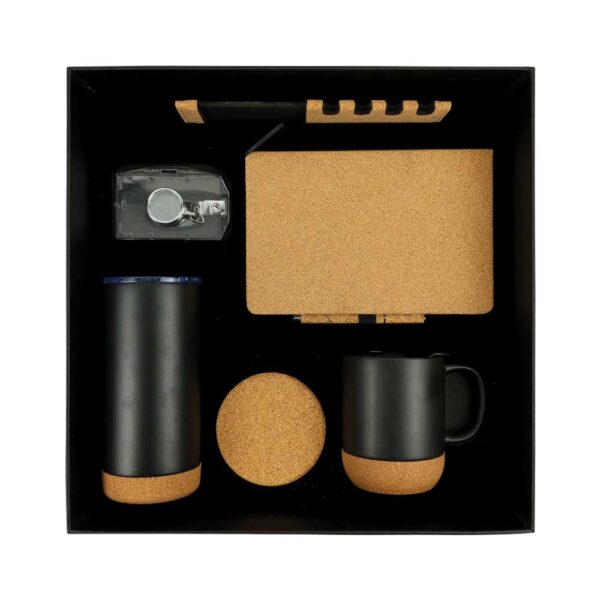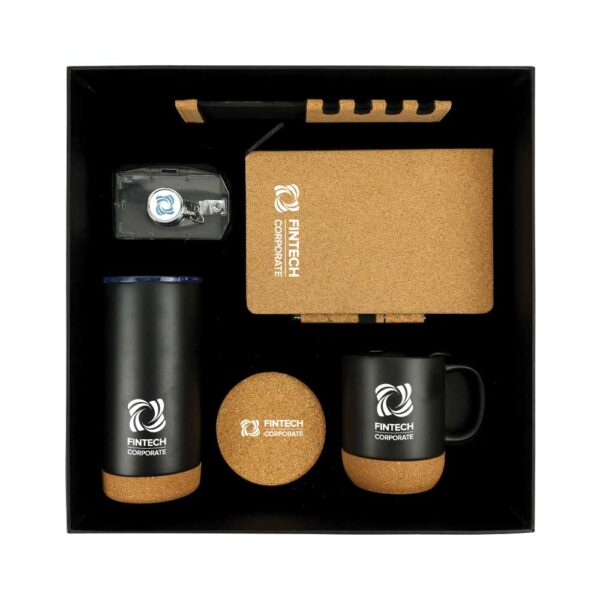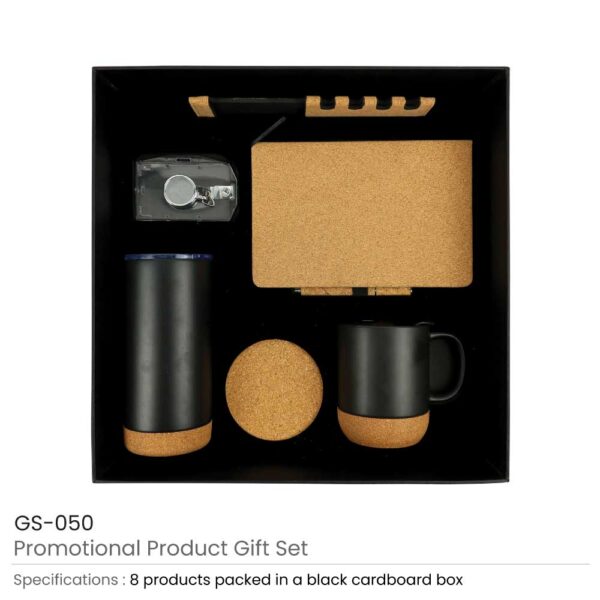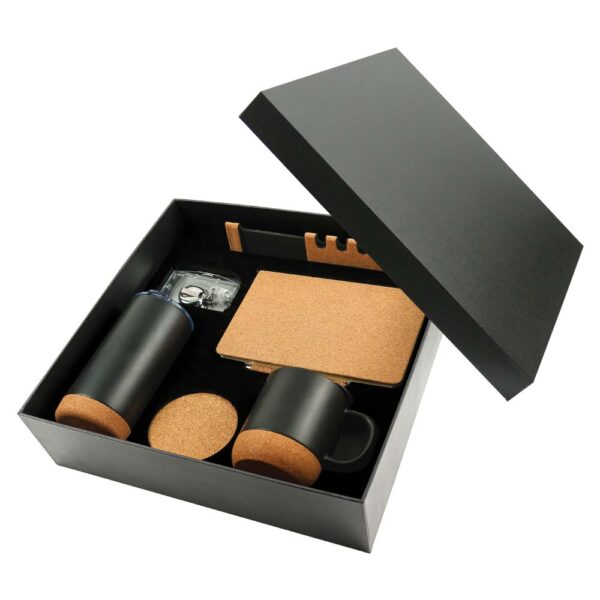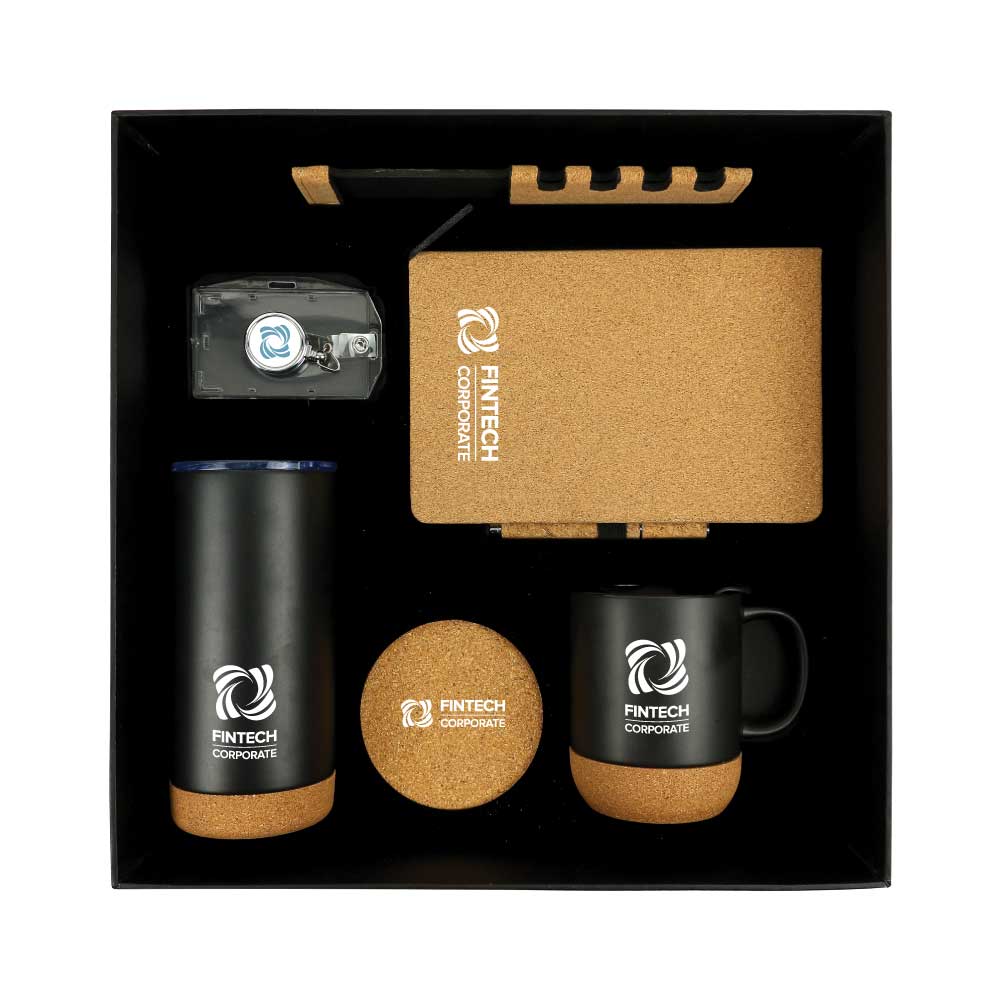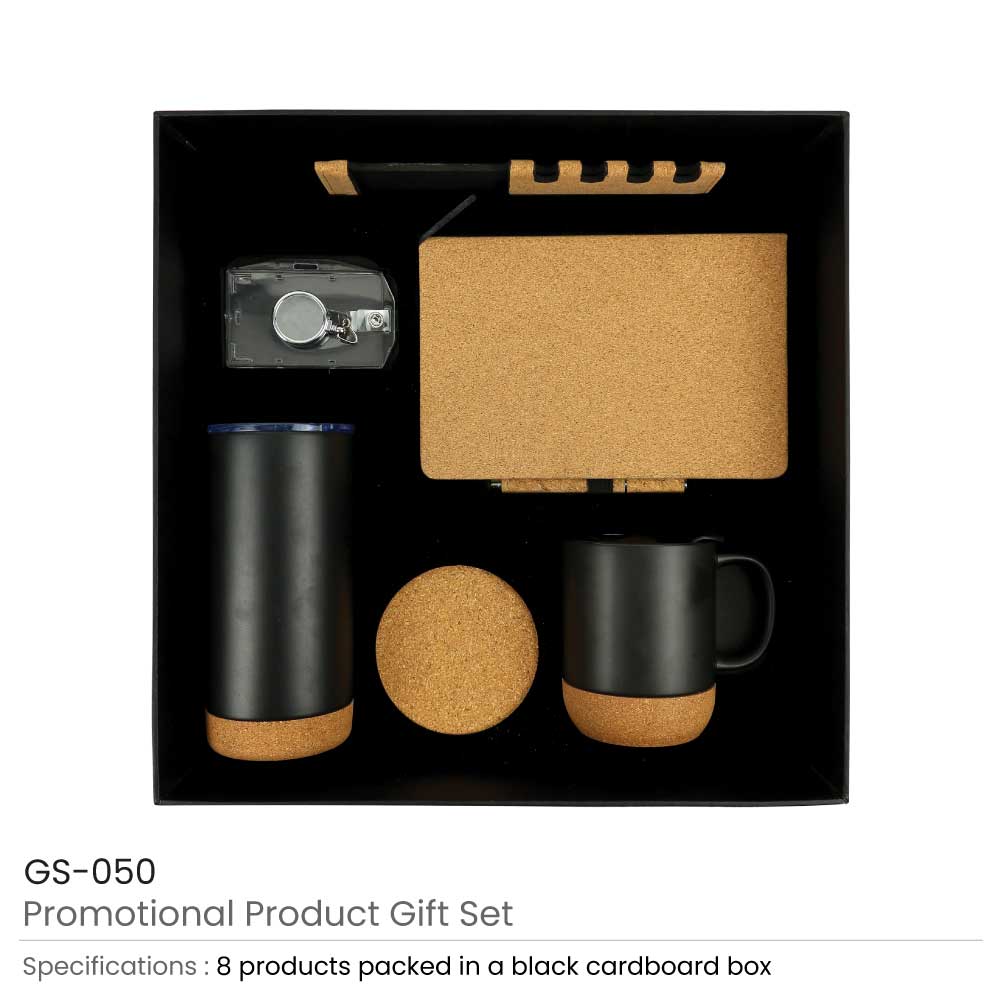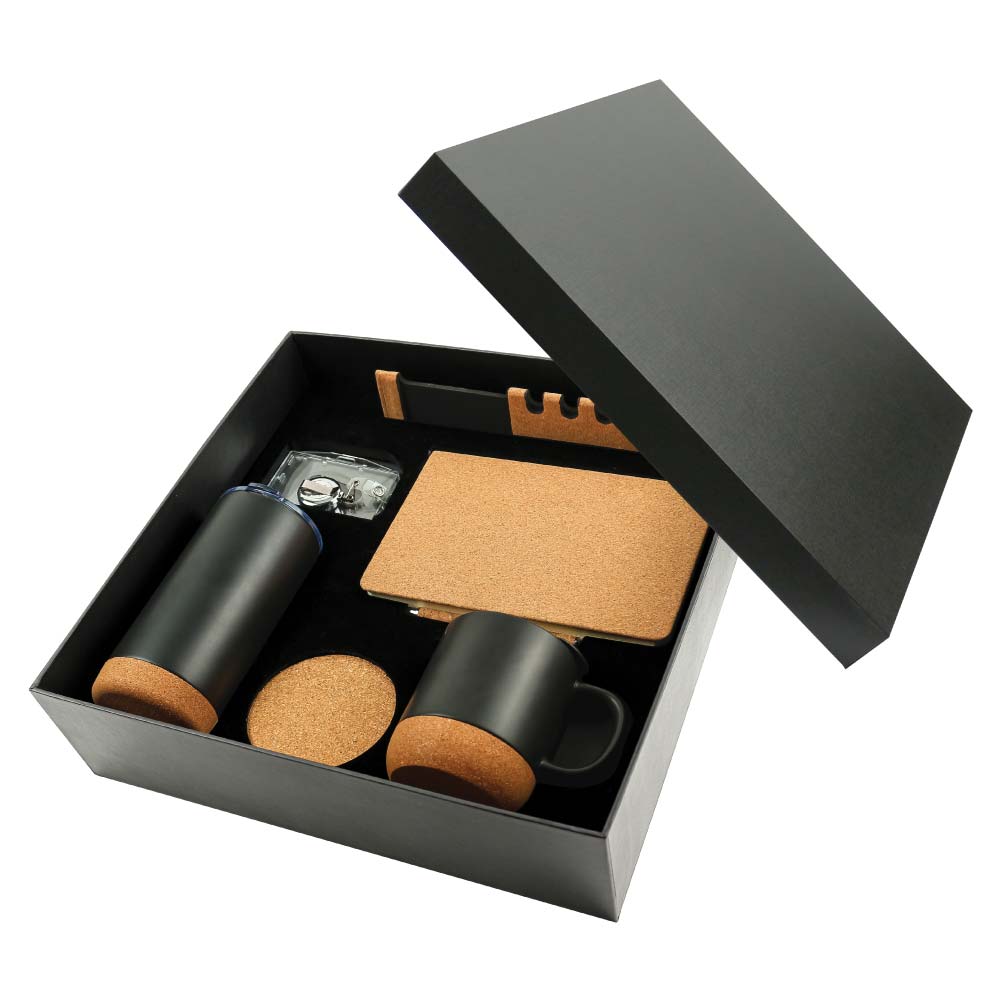 Promotional Gift Sets with Black Cardboard Gift Box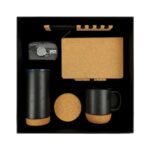 Promotional Gift Sets with Black Cardboard Gift Box
Promotional Gift Sets GS-050: Contains 7 products as listed beside. packed in a cardboard gift box with a cushion inside for product protection and better presentation.
Gift Sets Combination
A5 Cork Cover Notebooks (SKU: MB-05-C)
Cork Pens with Stylus ( SKU: 081)
Travel Tumbler with Cork Base ? Matte Black (SKU: TM-010)
Round Metal Reel Badges and Rigid PVC Card Holders ( SKU: 124-S and CH-003)
Cork Tea Coasters 2 Pcs. (SKU: COA-02)
Foldable Cork+PU Mousepad with Mobile & Pen Holder (SKU: MPD-260-CO)
Ceramic Mugs with Lid and Cork Base 385 ml (SKU: 151-BK)
Printing Options on Gift Sets
Laser Engraving | UV Printing | Digital Printing
Download high res image
Download low res image
Download all images As a zip
Download printing instruction As a pdf
Customize Quotation Sheet
Description
Packaging Details
Description
Promotional Gift Sets
Corporate gifting can be made eco-friendly and stylish with promotional gift sets that include various items featuring cork accents. These sets consist of A5 cork cover notebooks, cork pens with stylus, travel tumblers with cork bases, as well as practical office accessories such as metal reel badges, PVC card holders, cork tea coasters, foldable cork+PU mousepads, and ceramic mugs with lids and cork bases. All of these items are neatly presented in black cardboard gift boxes. Every item in this set possesses its own distinct allure.
A5 notebooks with cork covers (SKU: MB-05-C): These notebooks possess a unique cork cover, offering a genuine and tangible sensation. The A5 dimensions are perfect for quickly recording notes, ideas, or daily scheduling. The cork cover not only enhances the visual appeal but also functions as an exceptional platform for personalized branding.
The Cork Pens with Stylus (SKU: 081) include a cork body with a stylus tip, combining a tactile experience with contemporary use. The stylus tip is ideal for use on touchscreens, rendering these pens flexible instruments for both conventional writing and digital maneuvering.
The travel tumbler, SKU TM-010, offers both practicality and aesthetics with its matte black exterior and cork base that provides a firm hold and insulation against heat. This tumbler is perfect for individuals who are frequently in motion, offering a fashionable means of maintaining liquids at the right temperature.
Round Metal Reel Badges and Rigid PVC Card Holders (Stock Keeping Unit: 124-S and CH-003): Indispensable in professional settings, these reel badges and card holders offer a convenient means of exhibiting identification or access cards, enhancing security and professionalism in any workplace.
Cork tea coasters, consisting of 2 pieces, with the SKU code COA-02: The coasters are crafted from cork, offering an eco-friendly and fashionable solution to safeguard surfaces from drink blemishes. These items are versatile for both professional and domestic settings, and their authentic appearance enhances a wide range of interior design aesthetics.
The product is a mousepad made of a combination of cork and PU material. It is designed to be foldable and includes a holder for mobile devices and pens. The product's SKU is MPD-260-CO. This mousepad features an inventive combination of cork and PU materials, resulting in a distinctive and practical design. It incorporates a smartphone and pen holder, augmenting its functionality on any workstation. The inclusion of the foldable feature enhances its ease and portability.
The product in question is a ceramic mug that comes with a lid and a cork base. Its SKU number is 151-BK, and it has a 385 ml capacity. These mugs are constructed with a ceramic body, a cork base, and a lid, which makes them ideal for maintaining the temperature of beverages. The cork base offers stability and thermal insulation, while the lid aids in temperature maintenance and spill prevention.
Displaying these goods in black cardboard gift boxes enhances the overall sophistication of the set, rendering it an ideal choice for a corporate present. The use of cork in these products not only imparts them with a distinctive and organic appearance but also adheres to environmentally conscious principles, rendering this collection very suitable for companies seeking to advocate for sustainability. The assortment of things guarantees wide-ranging attractiveness, suited for a diverse array of professional and personal settings, spanning from office situations to travel and home utilization. The functionality and visual attractiveness of each item in the set guarantee that they will be utilized and admired, ensuring that the brand remains prominently in the recipients' thoughts.
Gift Set Combination
A5 Cork Cover Notebooks (SKU: MB-05-C)
Cork Pens with Stylus ( SKU: 081)
Travel Tumbler with Cork Base? Matte Black (SKU: TM-010)
Round Metal Reel Badges and Rigid PVC Card Holders ( SKU: 124-S and CH-003)
Cork Tea Coasters, 2 pieces (SKU: COA-02)
Foldable Cork+PU Mousepad with Mobile and Pen Holder (SKU: MPD-260-CO)
Ceramic Mugs with Lid and Cork Base, 385 ml (SKU: 151-BK)
Printing Options on Gift Sets
Laser engraving, UV Printing and Digital Printing