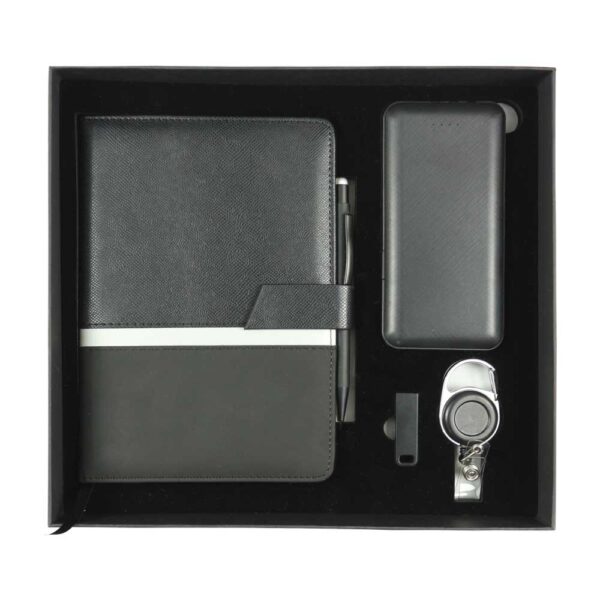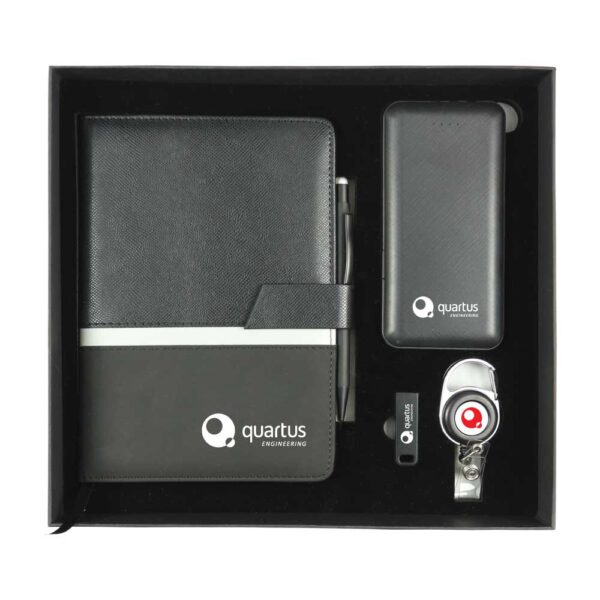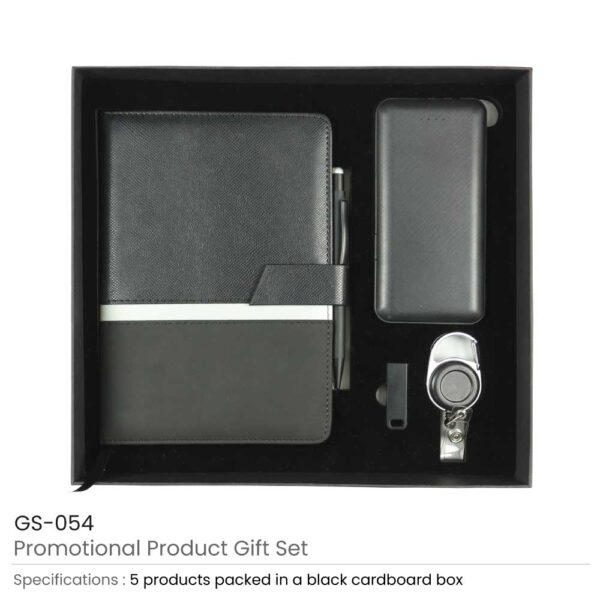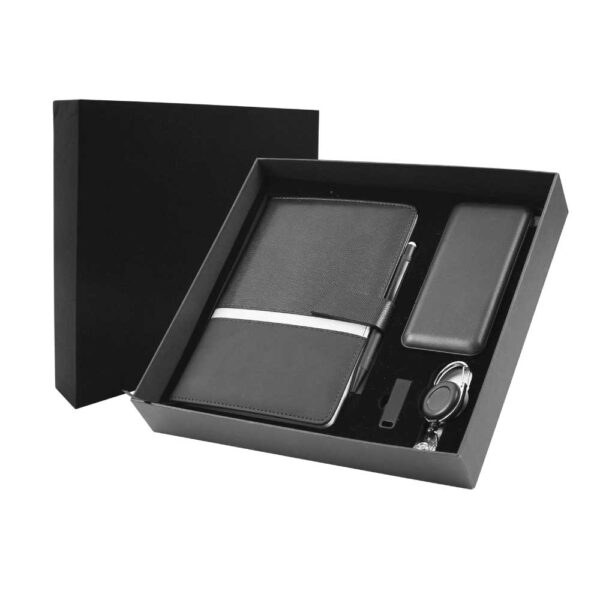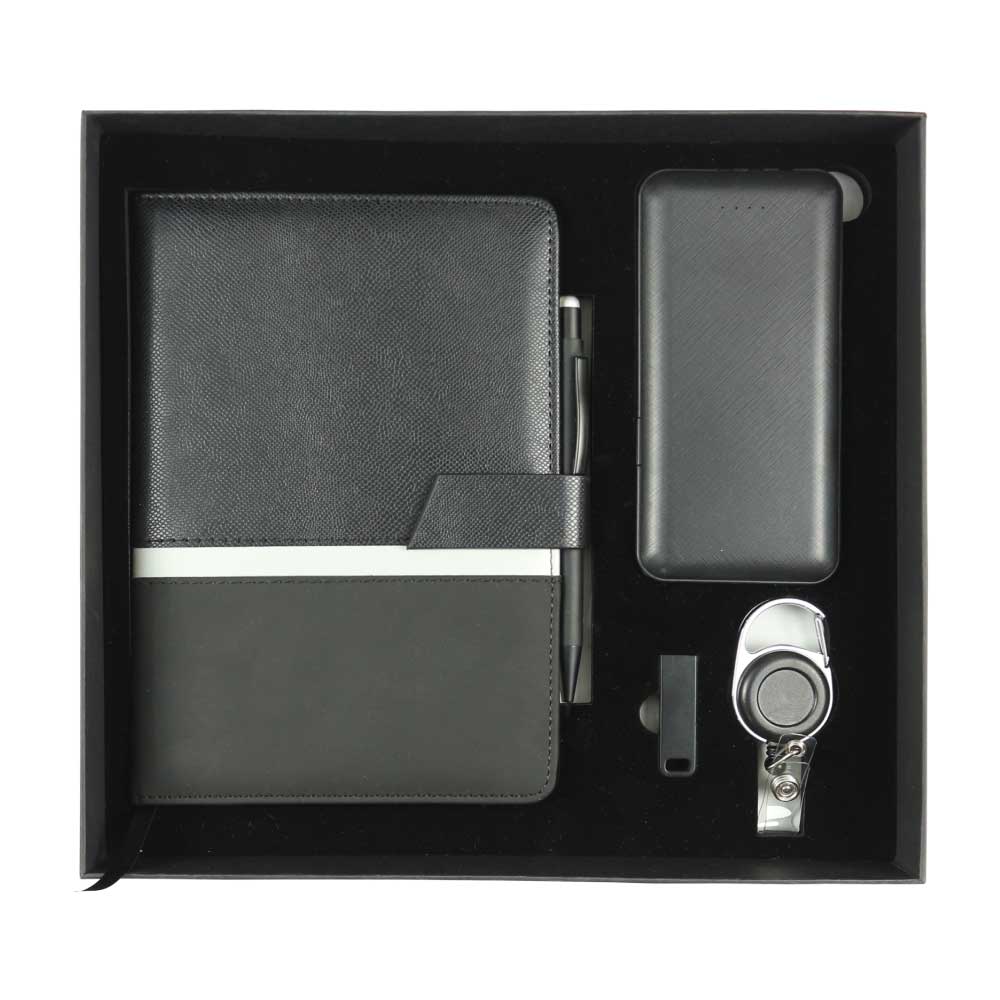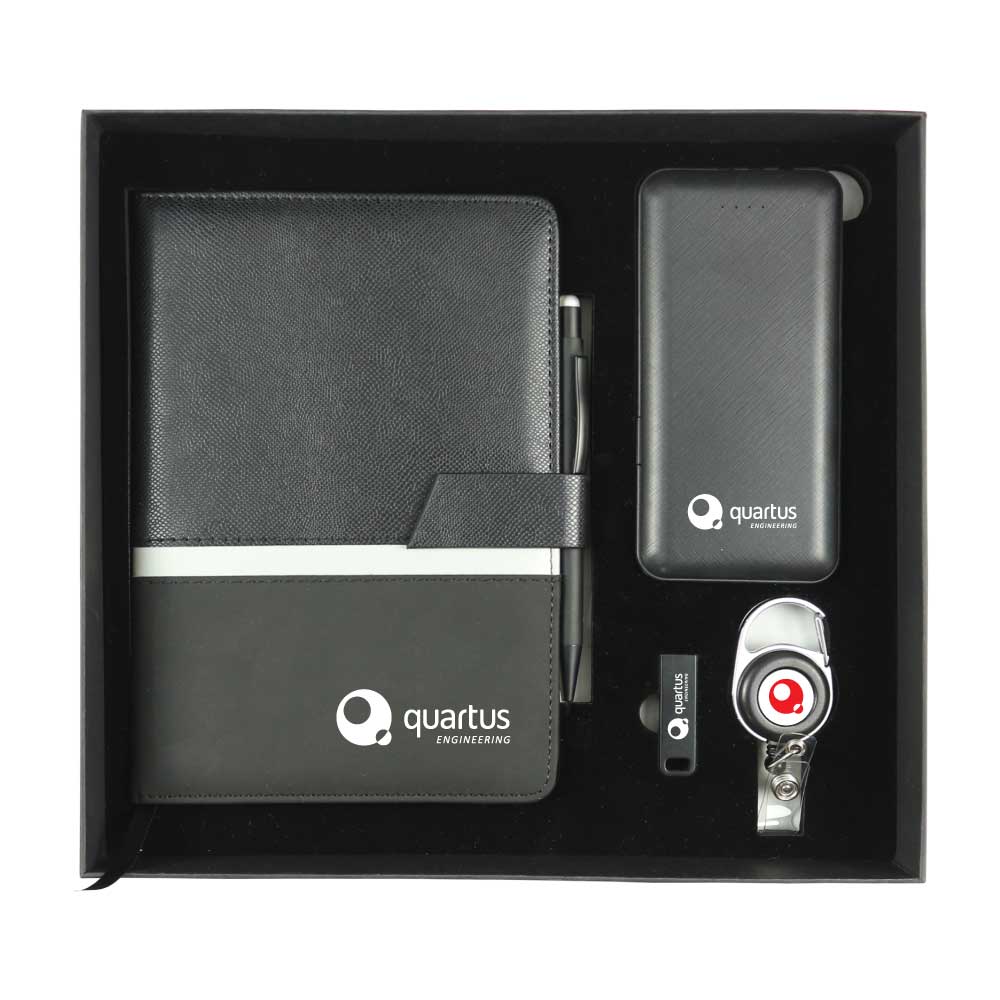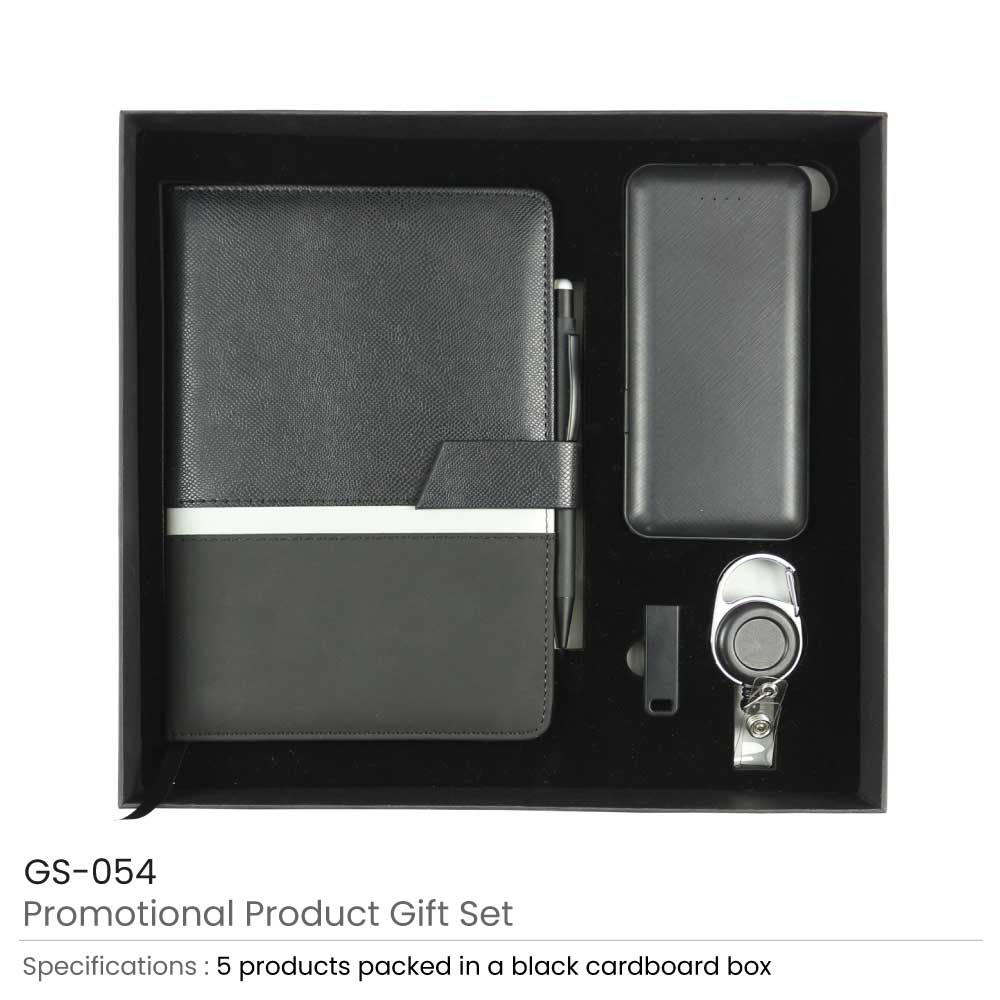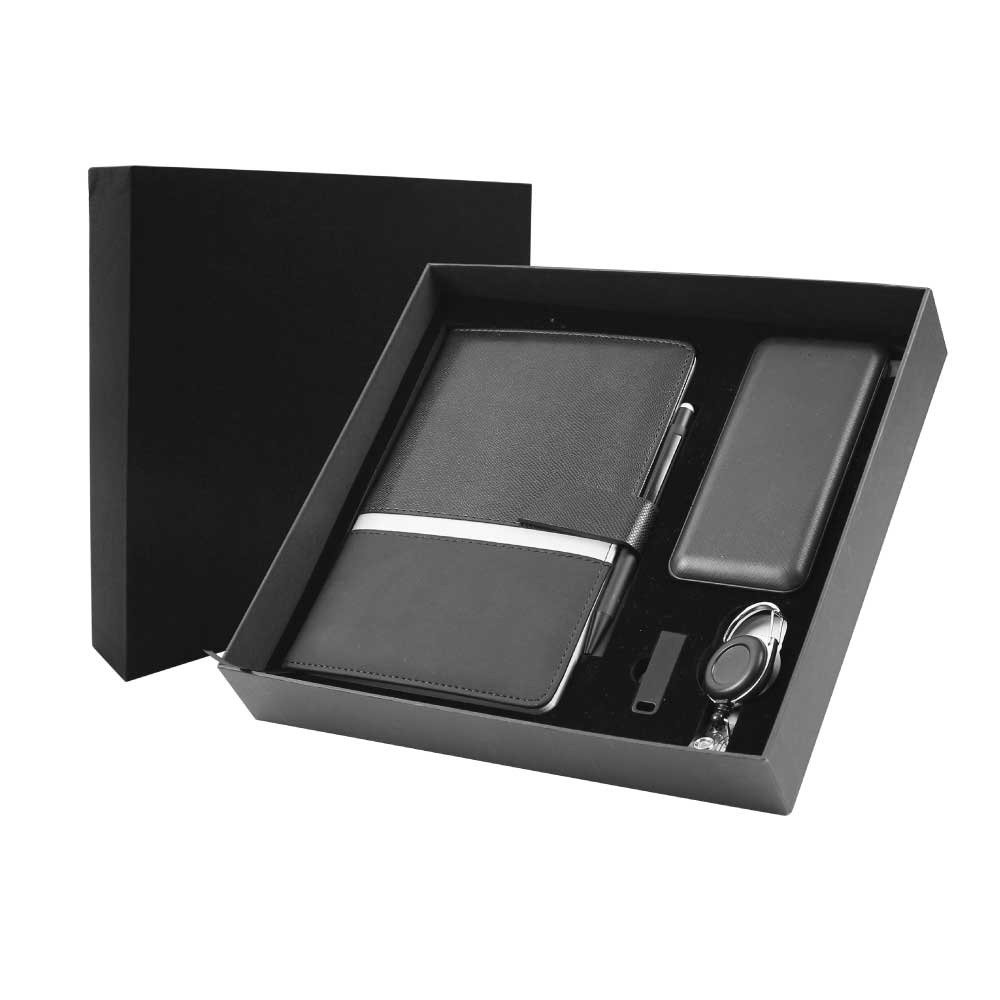 Promotional Gift Sets with Black Cardboard Gift Box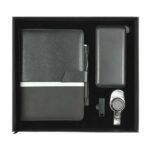 Promotional Gift Sets with Black Cardboard Gift Box
Promotional Gift Sets GS-054: Contains 5 products as listed beside. packed in a cardboard gift box with a cushion inside for product protection and better presentation.
Gift Sets Combination
A5 Black Leather Notebook ( SKU: MBD-04)

Pen with Stylus ( SKU: PN43)
8000 mAh Powerbank with built-in cables ( SKU: PB-8000-BK)
Black Metal USB Flash Drive 8GB ( SKU: USB-64)
Black Reel Badge ( SKU: 127-BK)
Printing Option on Gift Sets

Laser Engraving | UV Printing | Digital Printing
Download high res image
Download low res image
Download all images As a zip
Download printing instruction As a pdf
Customize Quotation Sheet
Description
Packaging Details
Description
Promotional Gift Sets
Corporate and business gifting can look sophisticated and modern with promotional gift sets that include a variety of tech-savvy and professional items like a black leather notebook, a pen with a stylus, a powerbank with built-in cables, a black metal USB flash drive, and a black reel badge, all packaged in sleek black cardboard gift boxes. Every piece in this set has a distinct attraction of its own.
A5 Black Leather Notebook (SKU: MBD-04): This notebook radiates sophistication and professionalism thanks to its sophisticated black leather cover. Meetings, conferences, or personal use—the A5 size is suitable for portability because it fits neatly in a briefcase or purse. It can be personalized with a business logo, making it a subdued but powerful branding tool.
Pen with Stylus (SKU: PN43): This multipurpose writing instrument blends conventional writing features with a cutting-edge stylus tip designed for touchscreen gadgets. A popular item for workers who constantly switch between paper and digital devices, the sleek appearance provides a touch of refinement. Additionally, it's a fantastic tool for branding promotions.
PB-8000-BK, an 8000 mAh powerbank with integrated cables: An essential item in the technologically advanced world of today is a powerbank. This powerbank is quite useful for charging while on the road because it has built-in connections and an 8000 mAh capacity. For computer lovers and working professionals who depend heavily on their smartphones throughout the day, it's a useful tool.
USB-644: 8GB Black Metal USB Flash Drive: An 8GB metal USB flash drive is a useful and dependable device for data storage and transport. It has an elegant and robust feel thanks to the black metal design. The flash drive can become a useful and memorable promotional tool with custom branding applied to it.
Reel Badge in Black (SKU: 127-BK): When it comes to professional badges and access passes, a reel badge is a useful tool. It is adaptable and appropriate for any corporate outfit thanks to its black design, and it can be used in conferences and workplaces as well as other formal contexts.
Putting these things in a black cardboard gift box improves the set's appearance and gives it a more upscale vibe. This bundle of promotional presents is perfect for employee appreciation, client gifts, company freebies, and luxury products for business gatherings. This set is a powerful instrument for increasing brand awareness and recognition since it combines fashionable, useful objects with opportunities for brand personalization. In addition to being functional, the products selected also meet the demands of contemporary professionals, guaranteeing their use and appreciation and maintaining the brand's prominence.
Gift Set Combination
A5 Black Leather Notebook ( SKU: MBD-04)

Pen with Stylus ( SKU: PN43)
8000 mAh Powerbank with built-in cables ( SKU: PB-8000-BK)
Black Metal USB Flash Drive 8GB ( SKU: USB-64)
Black Reel Badge ( SKU: 127-BK)
Printing Options on Gift Sets
Laser engraving, UV Printing and Digital Printing