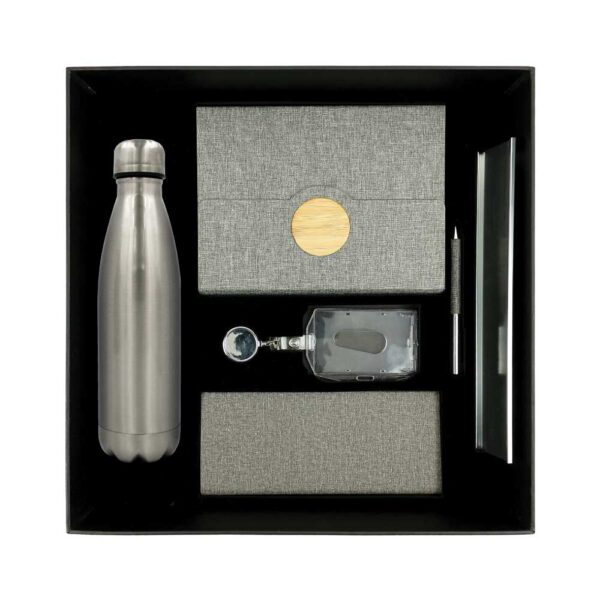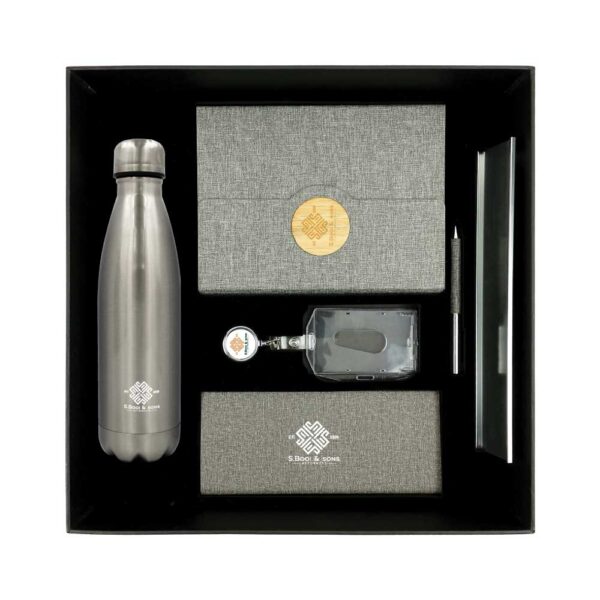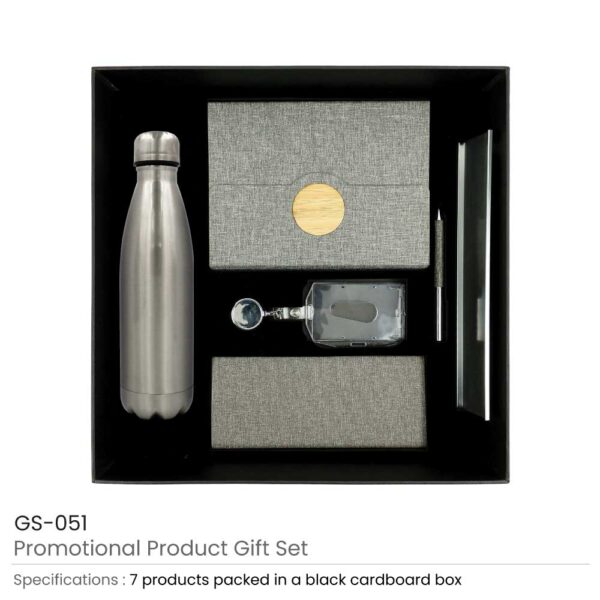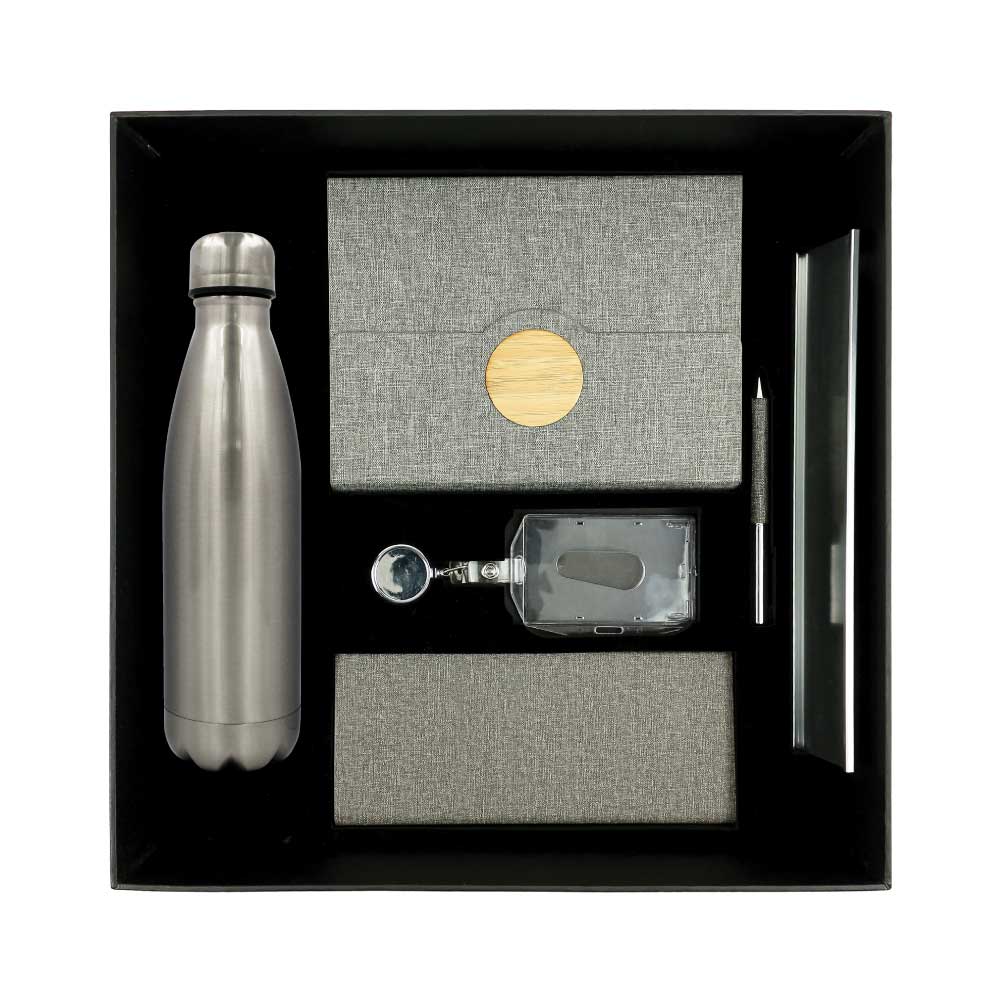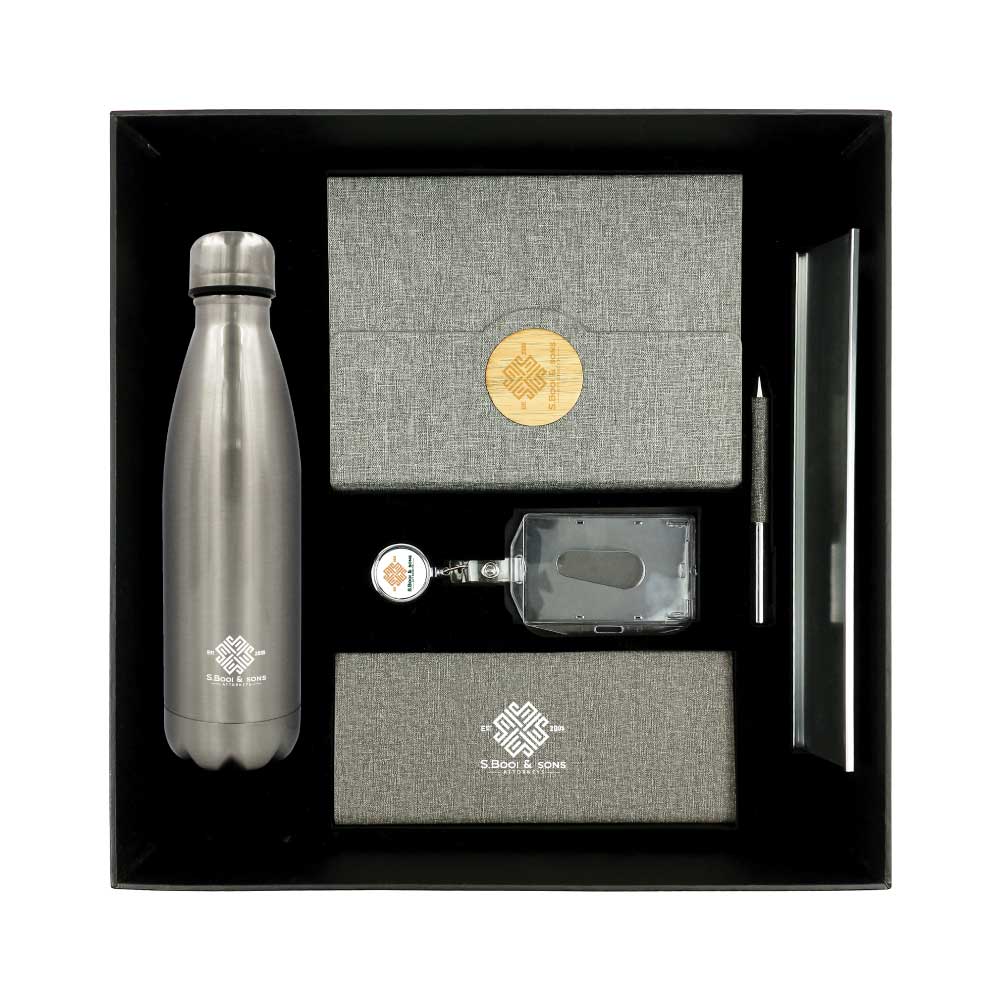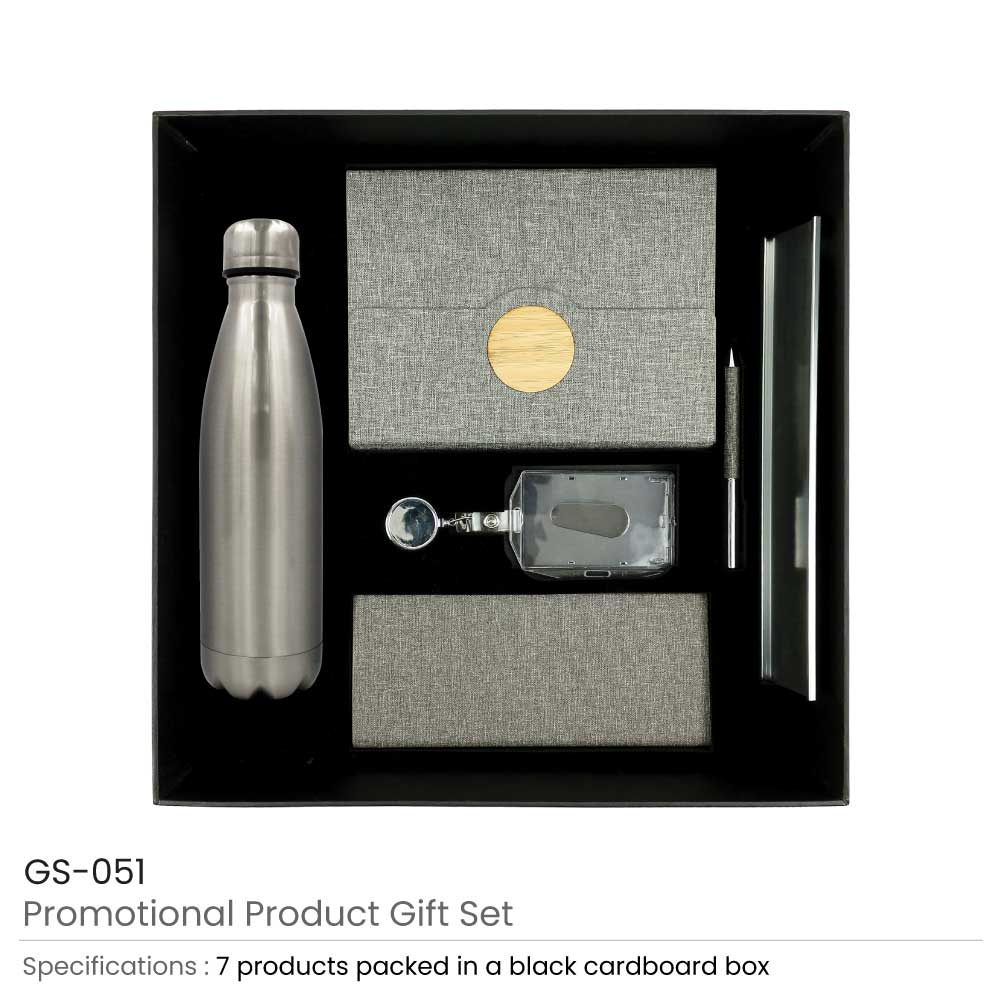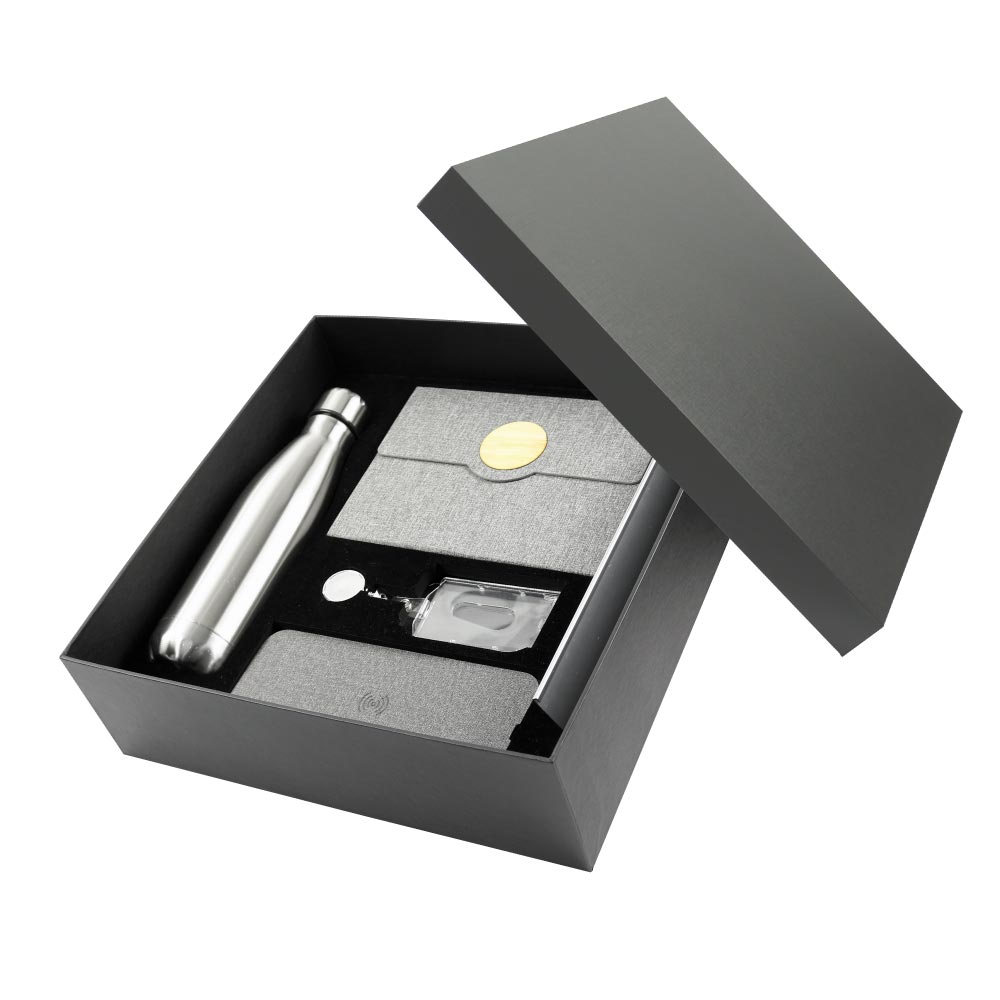 Promotional Gift Sets with Black Cardboard Gift Box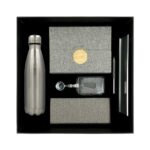 Promotional Gift Sets with Black Cardboard Gift Box
Promotional Gift Sets GS-051: Contains 6 products as listed beside. packed in a cardboard gift box with a cushion inside for product protection and better presentation.
Gift Sets Combination
A5 RPET Notebooks with Bamboo & Magnetic Closure (SKU: MBRPET-GRY-BM)
RPET Metal Ball Pens, Twist Action Mechanism, Blue Ink ( SKU: PN59-GRY)
Stainless Steel Bottles (SKU: 144-S)
Round Metal Reel Badges and Rigid PVC Card Holders ( SKU: 124-S and CH-003)
Fast Wireless Charging Mousepads 10W, Foldable Design (SKU: JU-WCM1-GY)
Desk Sign Holders Silver (SKU: DSH-11)
Printing Option on Gift Sets

Laser Engraving | UV Printing
Download high res image
Download low res image
Download all images As a zip
Download printing instruction As a pdf
Customize Quotation Sheet
Description
Packaging Details
Description
Promotional Gift Sets
Corporate gifting can be done in a sophisticated and eco-conscious manner by offering promotional gift sets. These sets include a variety of items such as A5 RPET notebooks with bamboo and magnetic closures, RPET metal ball pens with a twist action mechanism, stainless steel bottles, round metal reel badges, rigid PVC card holders, fast wireless charging mousepads, and desk sign holders. All of these items are elegantly packed in black cardboard gift boxes. Every element within this collection distinguishes itself by its distinct attributes:
The A5 RPET Notebooks with Bamboo and Magnetic Closure (SKU: MBRPET-GRY-BM) are available. These notebooks are constructed with RPET (recycled polyethylene terephthalate), rendering them a sustainable option. The use of bamboo accents and a magnetic closure enhances the product with a blend of natural sophistication and practicality. The A5 dimensions are ideal for the purposes of note-taking, meetings, or personal writing. The notebook can be customized with branding for promotional purposes, rendering it a considerate and environmentally-friendly corporate gift.
The product being referred to is an RPET metal ball pen with a twist action mechanism. It is designed to write with blue ink. The specific SKU for this product is PN59-GRY. In addition to the notebook, these pens are also constructed from RPET, further highlighting the environmentally conscious nature of the set. The pen's twist action mechanism and blue ink ensure a seamless writing experience, while its elegant form adds a touch of sophistication to the toolset of any professional.
Stainless Steel Bottles (SKU: 144-S): These bottles made of stainless steel are long-lasting, environmentally friendly, and suitable for daily use. These products are ideal for maintaining hydration when on the move and can contribute to minimizing the consumption of disposable plastic bottles. The streamlined style of these bottles enables the incorporation of a brand logo, thus augmenting their promotional worth.
Round Metal Reel Badges and Rigid PVC Card Holders (Stock Keeping Unit: 124-S and CH-003): These reel badges and card holders are indispensable for professionals requiring the exhibition of identity or access passes. The use of metal and PVC materials guarantees long-lasting quality, while the elegant design perfectly matches any business outfit.
The product being referred to is a wireless charging mousepad with a fast charging capability of 10W. It has a foldable design, and the SKU code is JU-WCM1-GY. These mousepads provide both a comfortable surface for using a mouse and a 10W quick wireless charger for smartphones or other devices that are compatible. The collapsible structure enhances their ease and portability, rendering them a valuable technological complement for any workspace.
Silver desk sign holders with the SKU DSH-11: Desk sign holders are a functional addition to any workplace setting. They have the capability to exhibit nameplates, informational signs, or directional indicators. The use of the silver design enhances the contemporary and sophisticated aesthetic of the office decor.
Encased in sleek black cardboard gift boxes, these pieces form an attractive and unified promotional gift set. The incorporation of RPET in products such as notebooks and pens reflects a commitment to sustainability and is in line with environmentally conscious branding. This set is particularly well-suited for companies seeking to cultivate an environmentally conscious reputation or for events centred around sustainability. The combination of functional office supplies and cutting-edge technological accessories guarantees a wide range of appeal, rendering the set appropriate for various corporate occasions, client presents, or employee recognition initiatives. The functionality and visual attractiveness of each item guarantee its utilisation and admiration, therefore ensuring that the brand remains prominently in the recipients' thoughts.
Gift Set Combination
A5 RPET Notebooks with Bamboo and Magnetic Closure (SKU: MBRPET-GRY-BM)
RPET Metal Ball Pens, Twist Action Mechanism, Blue Ink ( SKU: PN59-GRY)
Stainless Steel Bottles (SKU: 144-S)
Round Metal Reel Badges and Rigid PVC Card Holders ( SKU: 124-S and CH-003)
Fast Wireless Charging Mousepads, 10W, Foldable Design (SKU: JU-WCM1-GY)
Desk Sign Holders Silver (SKU: DSH-11)
Printing Options on Gift Sets
Laser Engraving and UV Printing