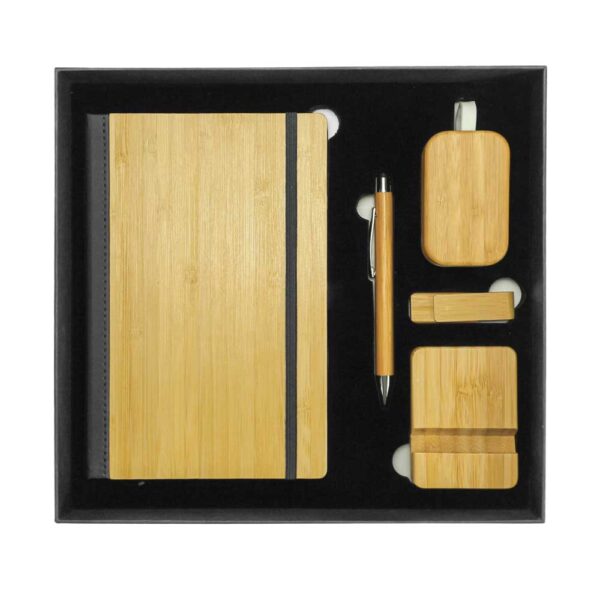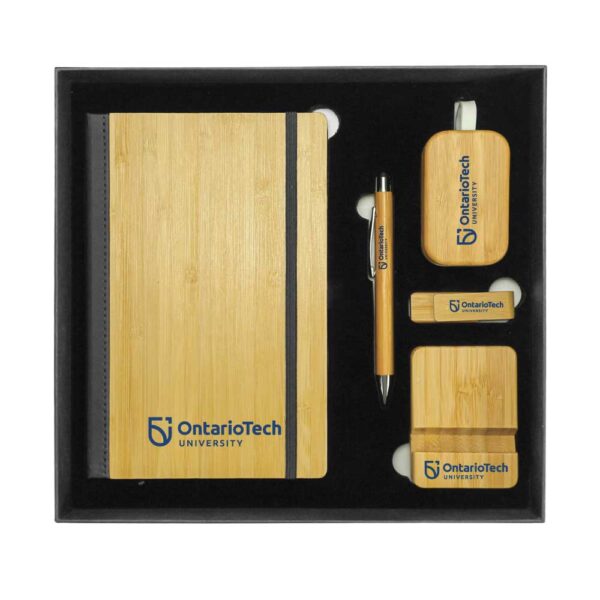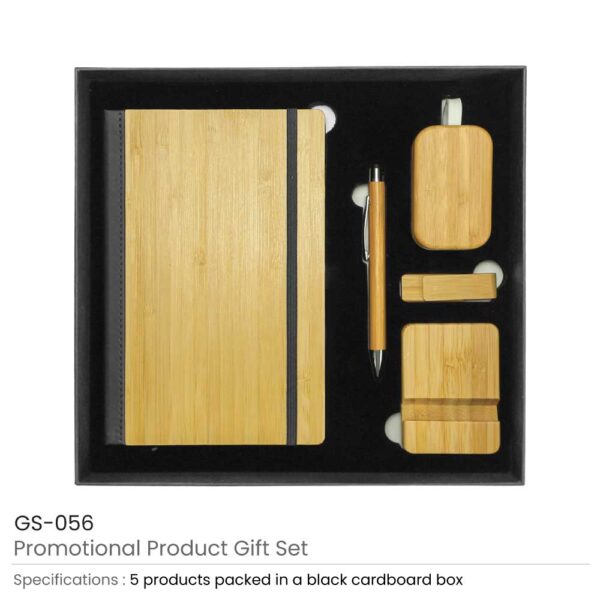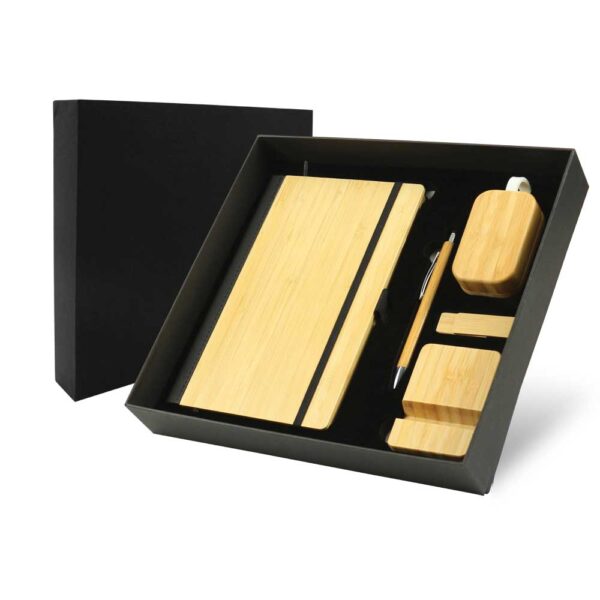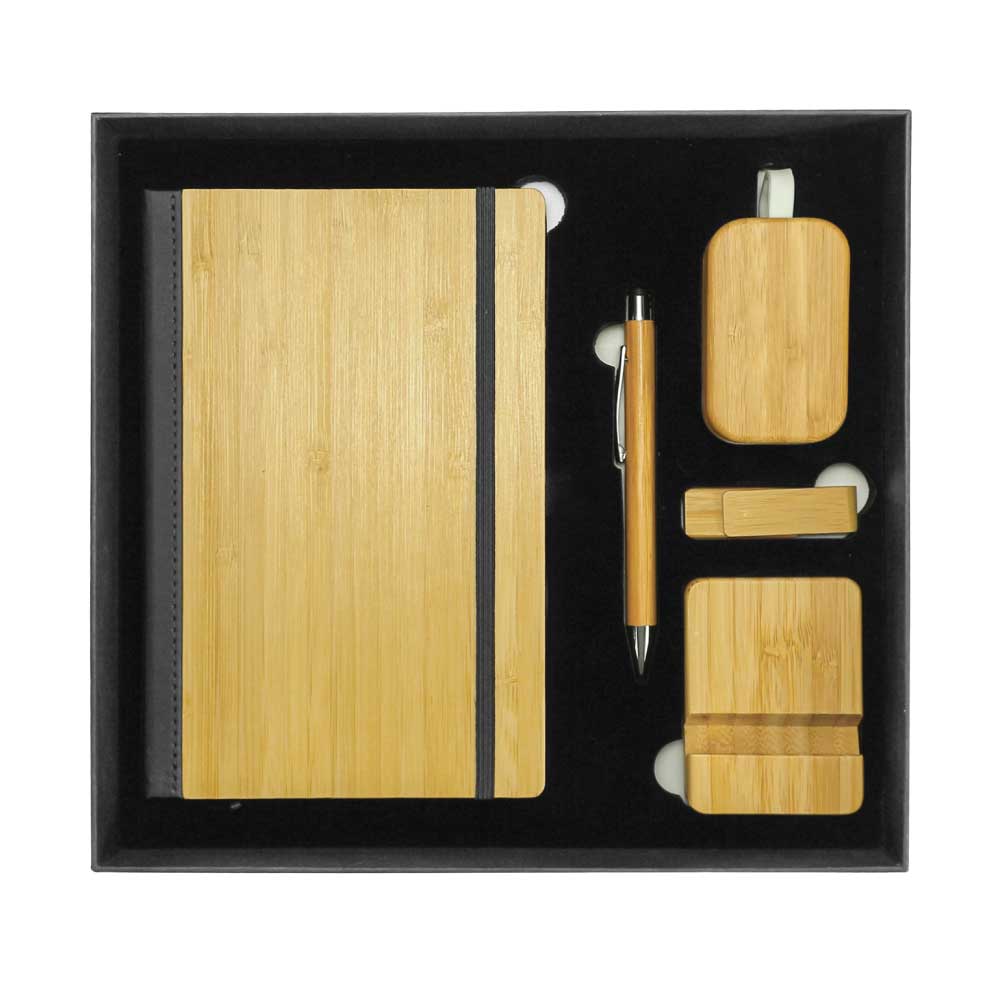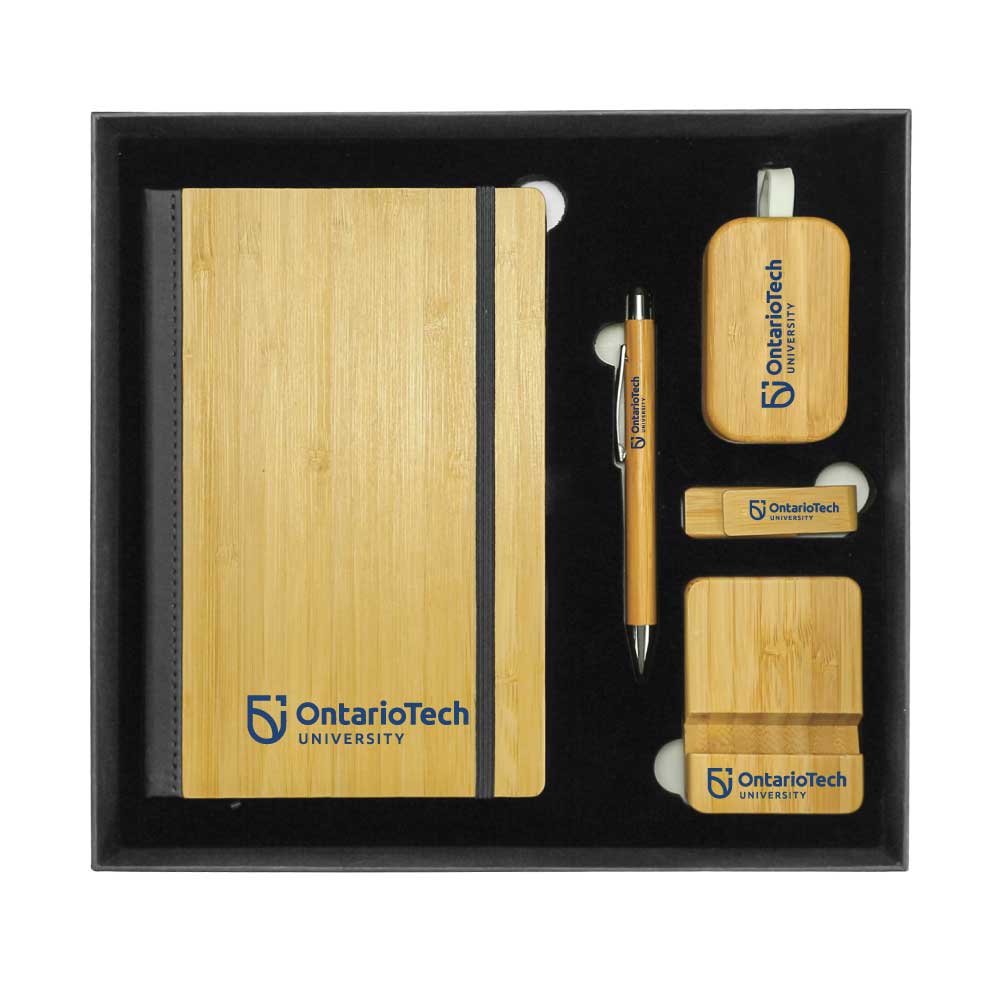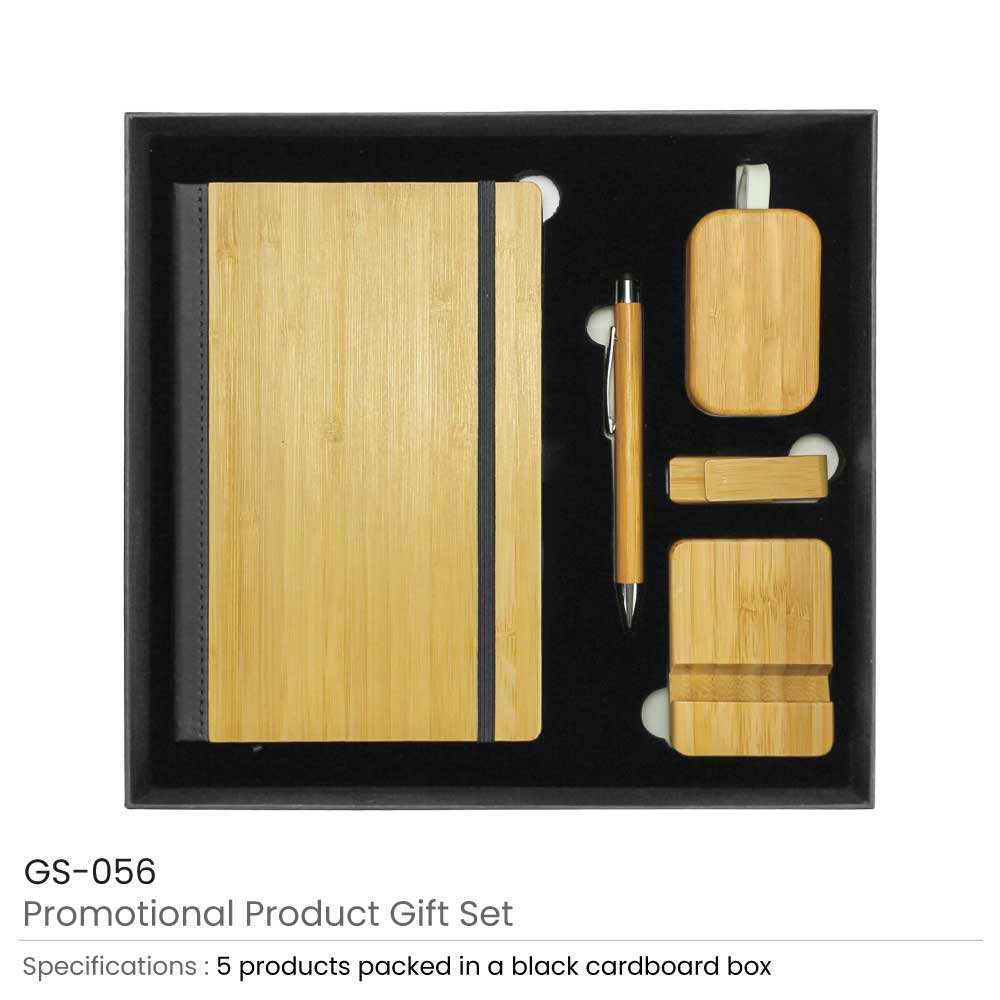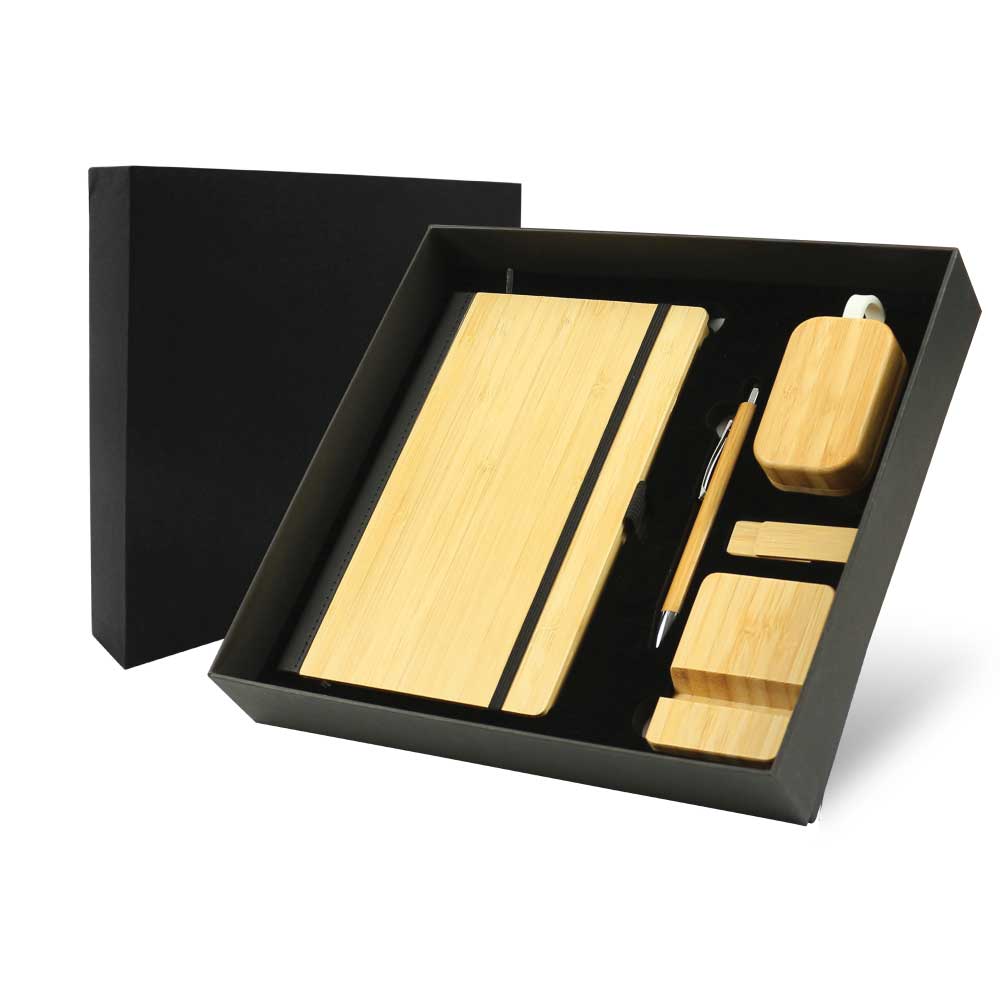 Promotional Gift Sets with Black Cardboard Gift Box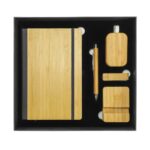 Promotional Gift Sets with Black Cardboard Gift Box
Promotional Gift Sets GS-056: Contains 5 products as listed beside. packed in a cardboard gift box with a cushion inside for product protection and better presentation.
Gift Sets Combination
A5 size Bamboo Notebooks with Pen Loop & Page Marker (SKU: MBBM-BLK-A5)
Bamboo Pens with Stylus & Blue Color Ink (SKU: EFP-100)
BT Earbuds with Bamboo Case & High Audio Quality (SKU: EAR-04)
Bamboo USB Flash Drives 16GB (SKU: USB-38)
Bamboo Phone Stands with Two Different Slots (SKU: MPS-09-BM)
Printing Option on Gift Sets

Download high res image
Download low res image
Download all images As a zip
Download printing instruction As a pdf
Customize Quotation Sheet
Description
Packaging Details
Description
Promotional Gift Sets
Corporate gifting can be enhanced with promotional tech gift sets that include a variety of bamboo-themed items, such as A5-sized bamboo notebooks, bamboo pens with styli, Bluetooth earbuds in bamboo cases, bamboo USB flash drives, and bamboo phone stands. These sets offer an innovative solution for environmentally conscious brands. Every element within this collection possesses distinctive characteristics that amplify its attractiveness.
The A5-size Bamboo Notebooks with Pen Loop and Page Marker (SKU: MBBM-BLK-A5) are available. These notebooks are characterized by their environmentally-friendly bamboo covers, providing a sustainable substitute for conventional materials. The A5 dimensions are optimal for easy transportability and practicality. The inclusion of a pen loop and page marker enhances the practicality of these notebooks, rendering them ideal for meetings, personal note-taking, or serving as a daily journal. Their inherent and refined aesthetic appeals to professionals who prioritize sustainability.
The product being referred to is a set of bamboo pens that come with a stylus and have blue-colored ink. The specific identification code for this product is SKU: EFP-100. These pens integrate conventional writing capabilities with contemporary technology, with a stylus tip designed for touchscreens. The use of bamboo in the construction of the product is in line with the environmentally conscious theme, while the blue ink ensures a seamless writing experience. The stylus tip is convenient for individuals who frequently transition between physical and digital mediums, rendering these pens a versatile instrument for contemporary professionals.
Bluetooth earbuds with a bamboo case and superior audio quality (SKU: EAR-04): The Bluetooth earbuds provide exceptional audio fidelity, rendering them well-suited for aficionados of music and individuals in professional settings who frequently partake in video or audio conferencing. The distinctive bamboo container serves the dual purpose of safeguarding the earphones and exemplifying the set's dedication to environmental sustainability. Their wireless design guarantees convenience and mobility, which is crucial for users who are constantly in motion.
The Bamboo USB Flash Drives 16GB (SKU: USB-38) provide a storage capacity of 16GB, making them suited for various everyday data storage requirements. The incorporation of bamboo as the outer layer enhances the elegance and complements the environmentally conscious concept of the ensemble. USB flash drives have widespread utility, making them an excellent complement to any collection of technological gifts.
Bamboo Phone Stands with Two Different Slots (SKU: MPS-09-BM): These phone stands are built with functionality as the primary consideration, incorporating two distinct slots to support a range of phone sizes and viewing angles. Constructed from bamboo, these items possess both durability and eco-friendliness. These items are ideal for use on a desk since they improve the functioning of the office while also promoting an environmentally conscious mindset.
Collectively, these goods constitute a comprehensive and well-considered promotional tech gift set. The uniform use of bamboo in all products highlights a dedication to sustainability, a quality that is increasingly significant to numerous customers and enterprises. This collection is especially appropriate for companies seeking to cultivate an environmentally conscious reputation or for events centered around sustainability. The incorporation of both conventional and contemporary features in items such as the bamboo notebook and pen with stylus accommodates a broad spectrum of tastes, rendering the set attractive to a heterogeneous audience. This tech gift bundle is ideal for business events, employee appreciation, or as a component of a green marketing strategy and is guaranteed to create a favorable and enduring impact.
Gift Set Combination
A5-size Bamboo Notebooks with Pen Loop and Page Marker (SKU: MBBM-BLK-A5)
Bamboo Pens with Stylus and Blue Color Ink (SKU: EFP-100)
BT Earbuds with Bamboo Case and High Audio Quality (SKU: EAR-04)
Bamboo USB Flash Drives, 16GB (SKU: USB-38)
Bamboo Phone Stands with Two Different Slots (SKU: MPS-09-BM)
Gift Set Printing Option