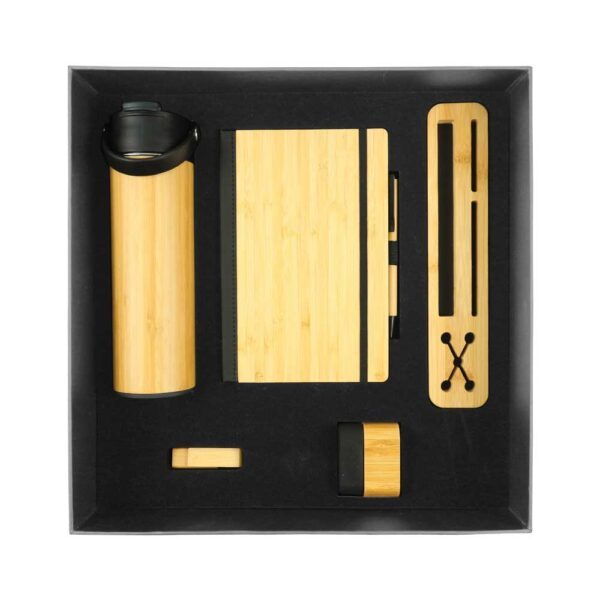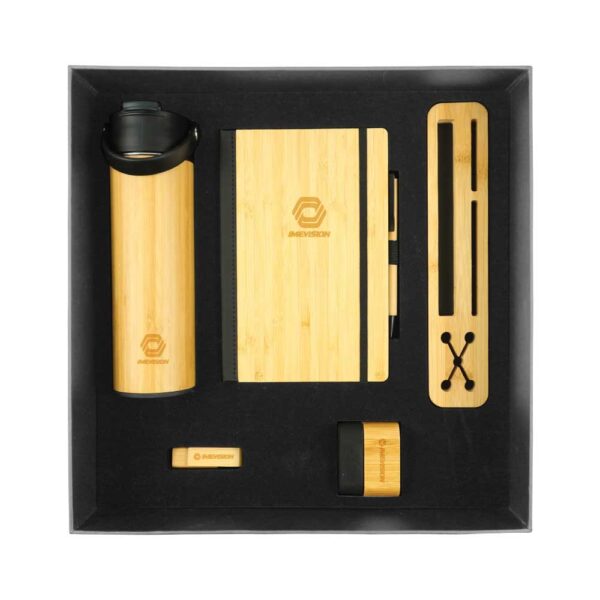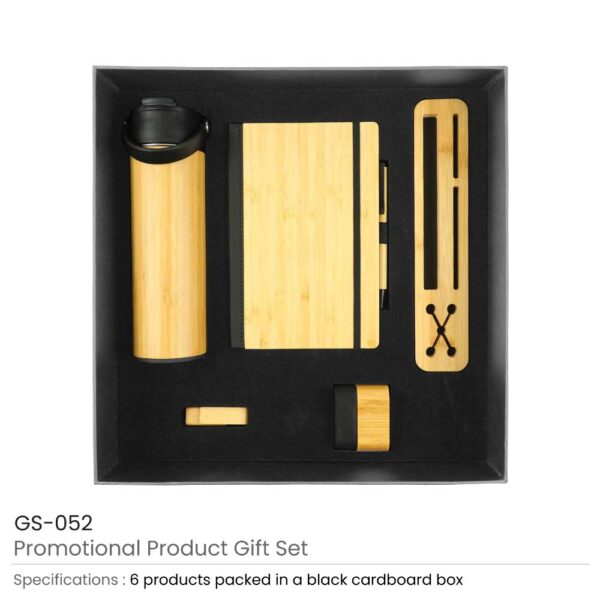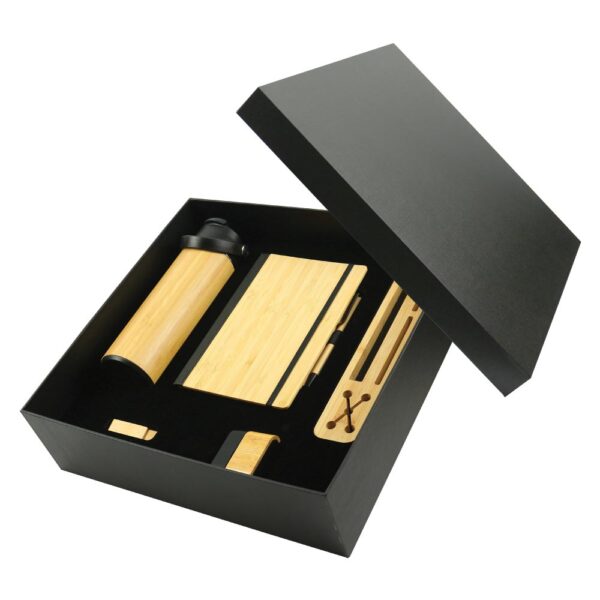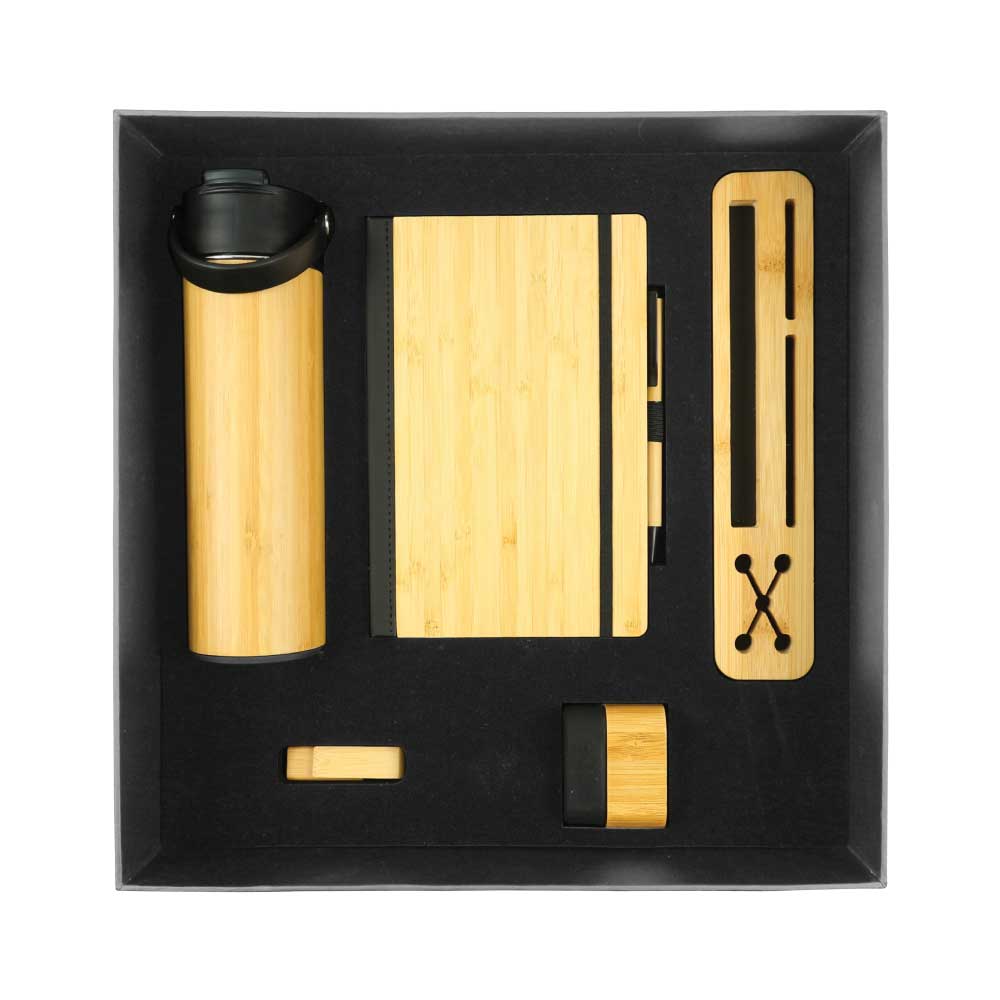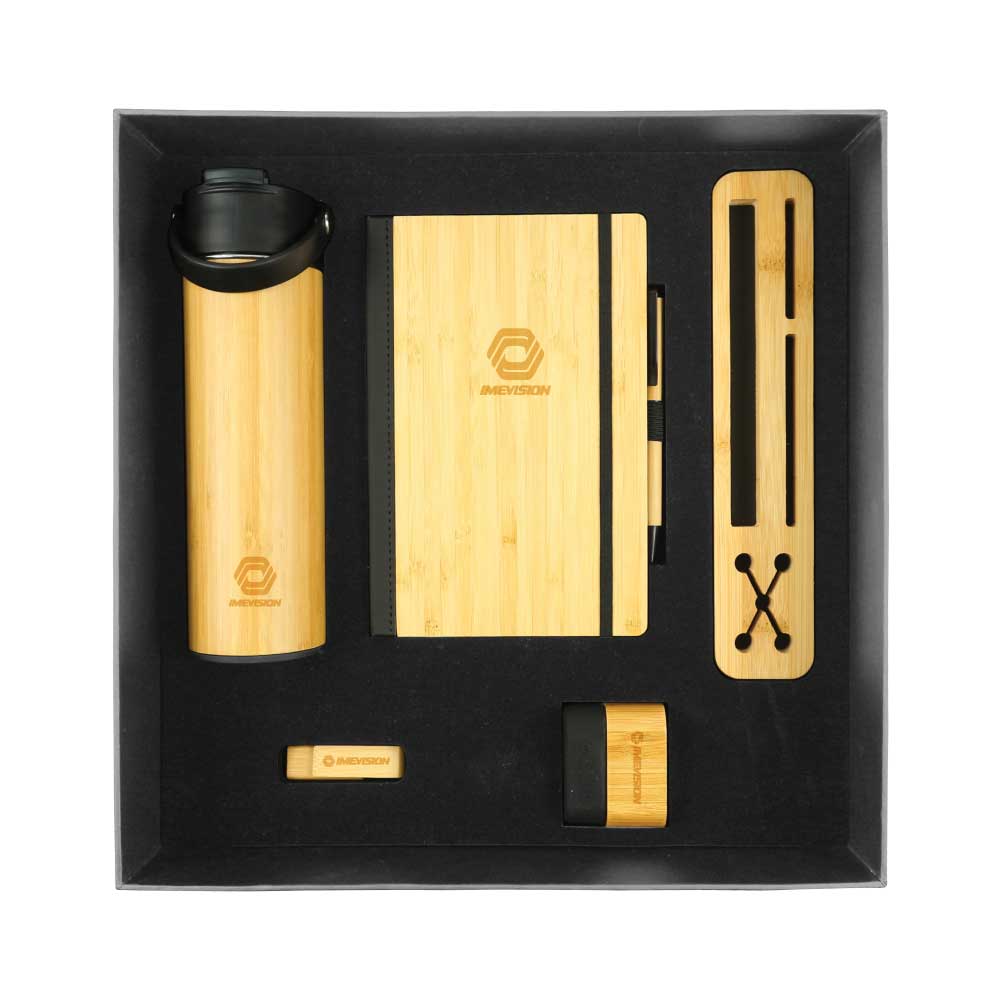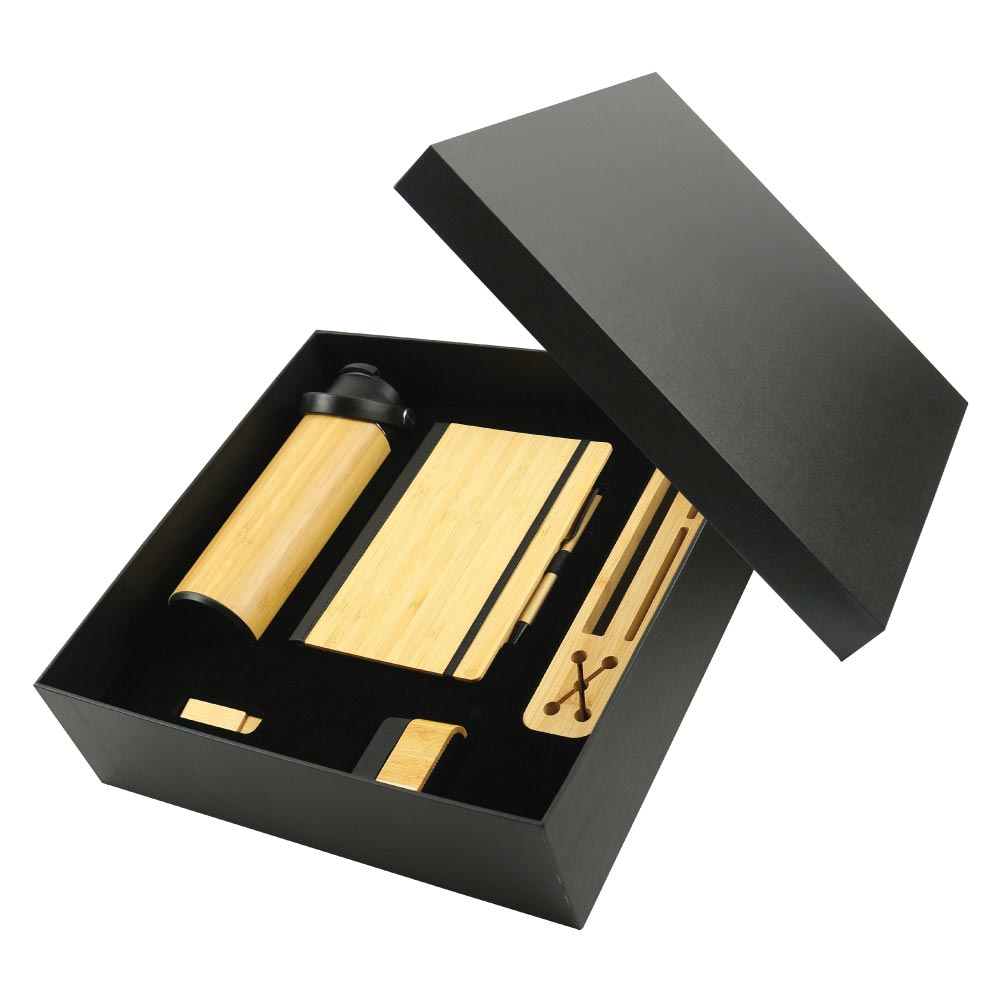 Promotional Gift Sets with Black Cardboard Gift Box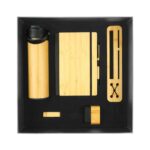 Promotional Gift Sets with Black Cardboard Gift Box
Promotional Gift Sets GS-052: Contains 6 products as listed beside. packed in a cardboard gift box with a cushion inside for product protection and better presentation.
Gift Sets Combination
A5 Bamboo Notebook (SKU: MBBM-BLK-A5)
Bamboo Pen ( SKU: EFP-B2-BLK)
Bamboo Bottle ( SKU: TM-011-BK)
Cube Bamboo Bluetooth Speaker ( SKU: MS-08)
Bamboo USB Flash Drives 16GB (SKU: USB-38)
Wireless charging mousepad (SKU: WCM3-BLK)
Printing Option on Gift Sets

Laser Engraving | UV Printing
Download high res image
Download low res image
Download all images As a zip
Download printing instruction As a pdf
Customize Quotation Sheet
Description
Packaging Details
Description
Promotional Gift Sets
These promotional gift sets consist of a well-balanced combination of tech and lifestyle items with a bamboo theme. They include an A5 bamboo notebook, a bamboo pen, a bamboo bottle, a cube bamboo Bluetooth speaker, bamboo USB flash drives, and a wireless charging mousepad. These items are all packaged in black cardboard gift boxes, creating an appealing and environmentally-friendly option for corporate and personal gifting. Every element in this collection possesses unique characteristics:
The A5 Bamboo Notebook with the SKU MBBM-BLK-A5: Featuring a robust and environmentally conscious bamboo cover, this notebook offers a sustainable and fashionable option for recording notes and keeping a journal. The A5 dimensions are ideal for regular usage, conveniently fitting into the majority of suitcases. The bamboo cover provides a favorable surface for engraving or printing a company emblem, rendering it a superb tool for branding purposes.
The bamboo pen with the SKU EFP-B2-BLK is available. In addition to the notebook, this bamboo pen serves a practical purpose while also being visually appealing. The notebook's bamboo design complements its aesthetic and enhances the writing experience with its comfy feel. Personalized branding on the pen can amplify its advertising influence.
The bamboo bottle with the SKU TM-011-BK: The inclusion of a bamboo bottle in the set is a novel and practical choice that combines usefulness with consideration for the environment. This product is ideal for maintaining proper hydration, whether at work or when travelling. The bamboo shell offers a distinctive and pleasant tactile sensation, as well as a sophisticated and organic appearance.
The Cube Bamboo Bluetooth Speaker (SKU: MS-08) is a compact and portable speaker that uses Bluetooth technology. This speaker combines excellent sound quality with a visually appealing bamboo cover. This item is both fashionable and functional, making it highly sought-after by individuals who enjoy music and audio content. As a result, it is an appealing promotional product that can cater to a diverse range of audiences.
The product being referred to is the Bamboo USB Flash Drives, specifically the 16GB variant with the SKU USB-38. These USB devices offer a convenient method for storing and transferring data. The 16GB storage capacity is sufficient for most common requirements, and the bamboo shell complements the environmentally conscious ethos of the set. Additionally, they provide a distinctive chance to enhance brand recognition.
The Wireless Charging Mousepad (SKU: WCM3-BLK) incorporates a contemporary technological feature into the ensemble. This device functions as both a mousepad and a wireless charger, providing great use for individuals working at a desk or in a home office. The item stands out due to its elegant design and functional features.
Enclosed within a black cardboard gift box, these components comprise a unified and visually appealing promotional gift set. The emphasis on incorporating bamboo into products such as the notebook, pen, bottle, and speaker underscores a dedication to promoting sustainability and embracing natural aesthetics. This set is especially appropriate for firms seeking to cultivate an environmentally conscious reputation or for events centered around sustainability and innovation. The incorporation of conventional products alongside contemporary technological accessories guarantees a wide range of attractiveness, rendering the set appropriate for corporate occasions, client presents, or inclusion in an employee recognition initiative. The functionality and visual attractiveness of each item guarantee its use and admiration, ensuring the brand remains prominent in the minds of recipients.
Gift Set Combination
A5 Bamboo Notebook (SKU: MBBM-BLK-A5)
Bamboo Pen ( SKU: EFP-B2-BLK)
Bamboo Bottle ( SKU: TM-011-BK)
Cube Bamboo Bluetooth Speaker ( SKU: MS-08)
Bamboo USB Flash Drives, 16GB (SKU: USB-38)
Wireless charging mousepad (SKU: WCM3-BLK)
Printing Options on Gift Sets
Laser Engraving and UV Printing