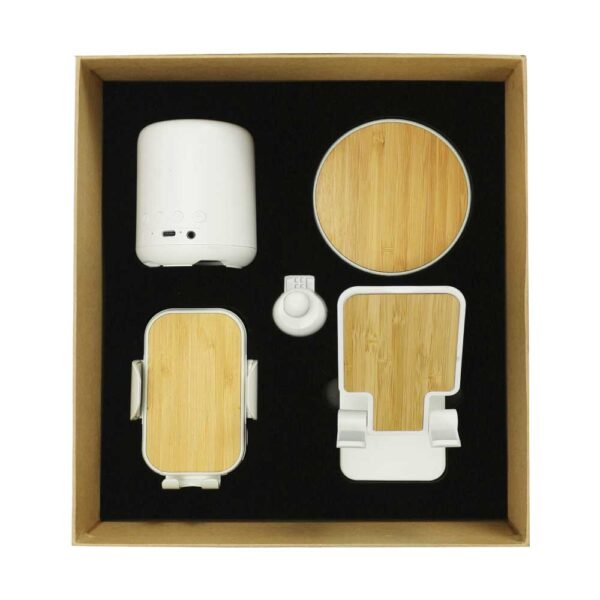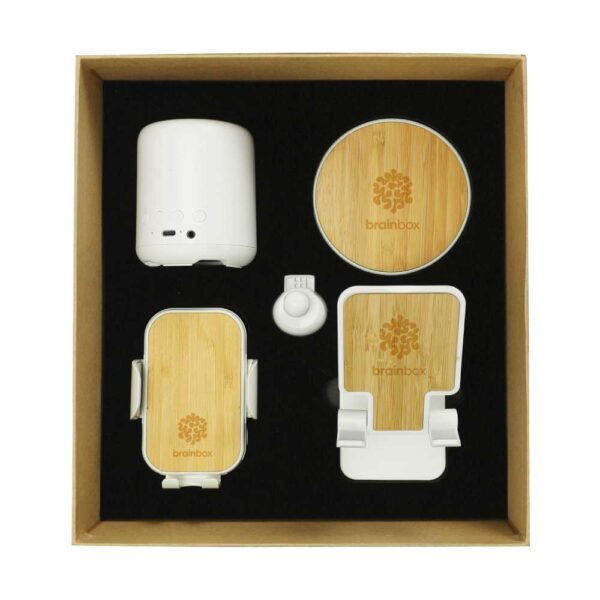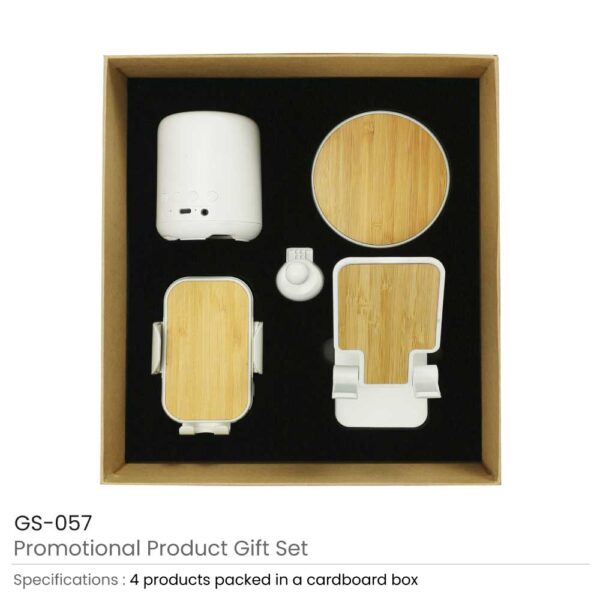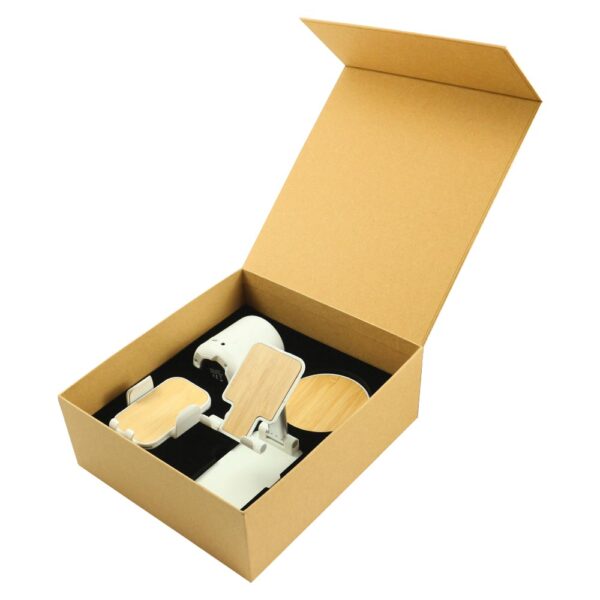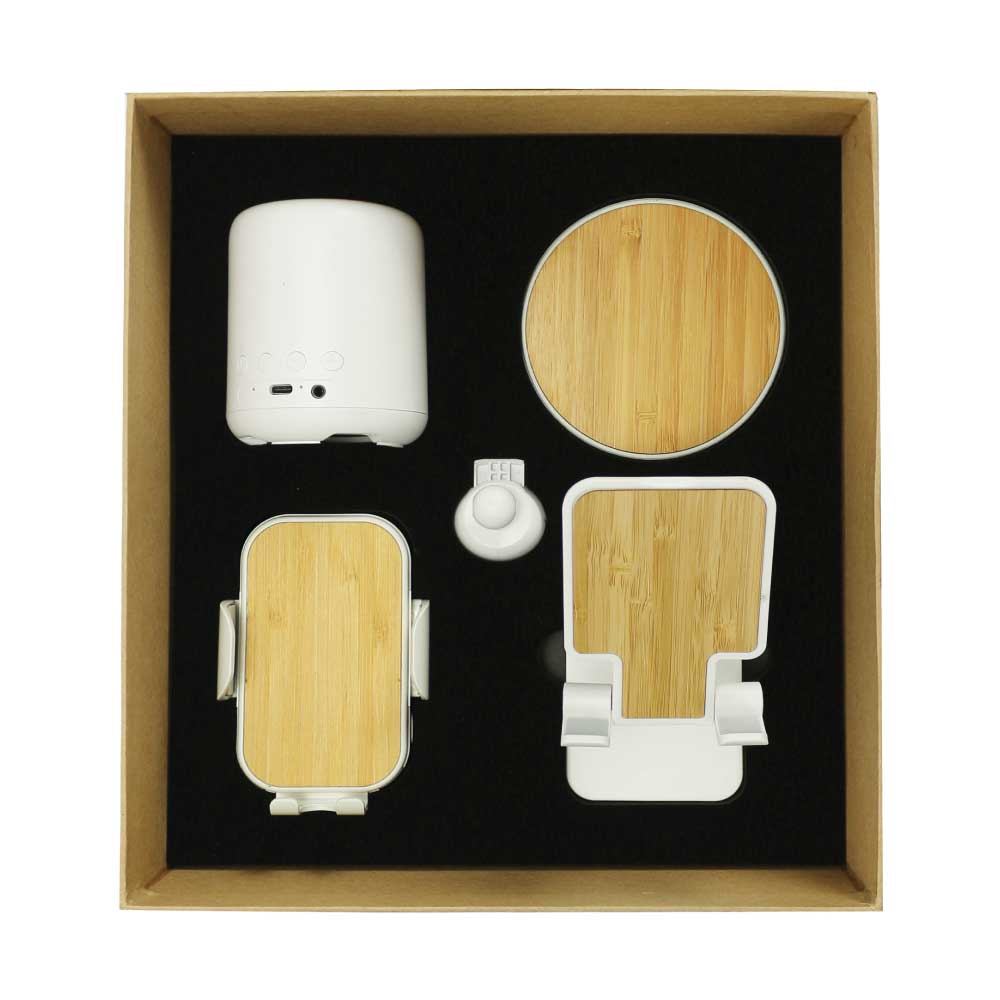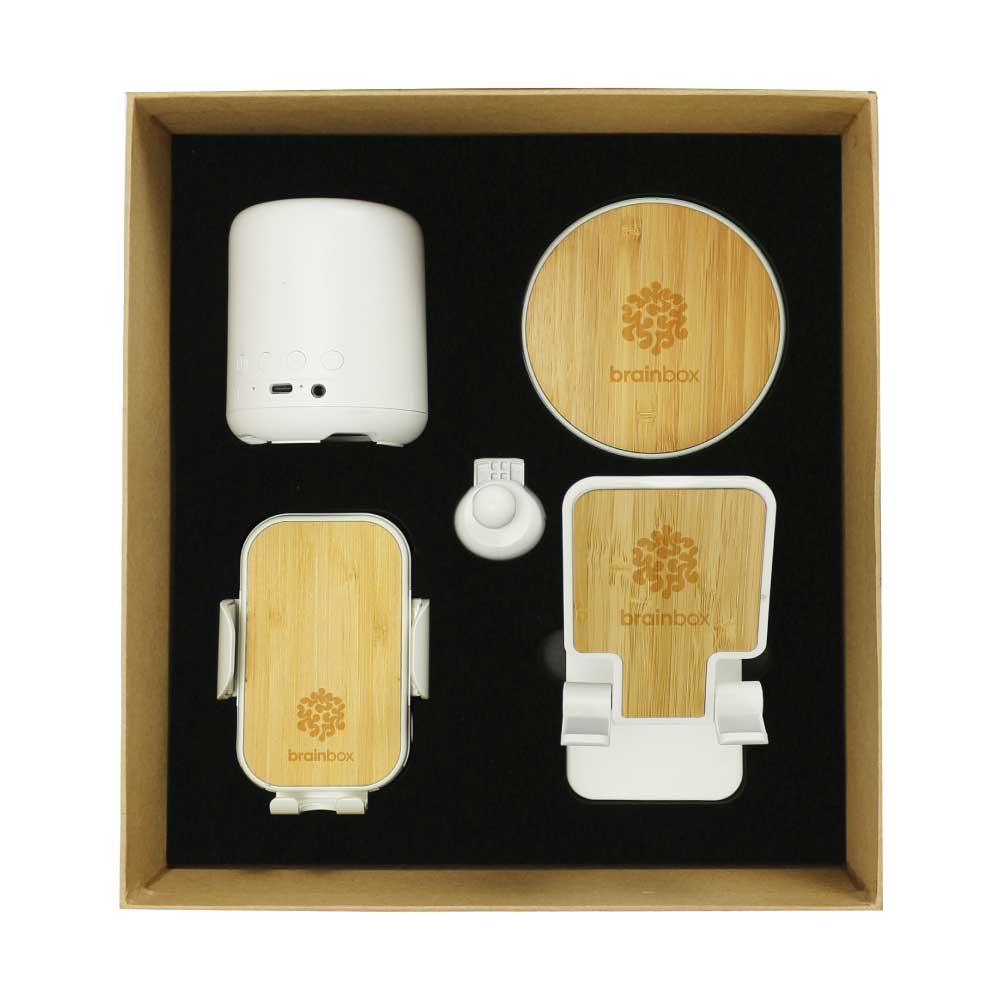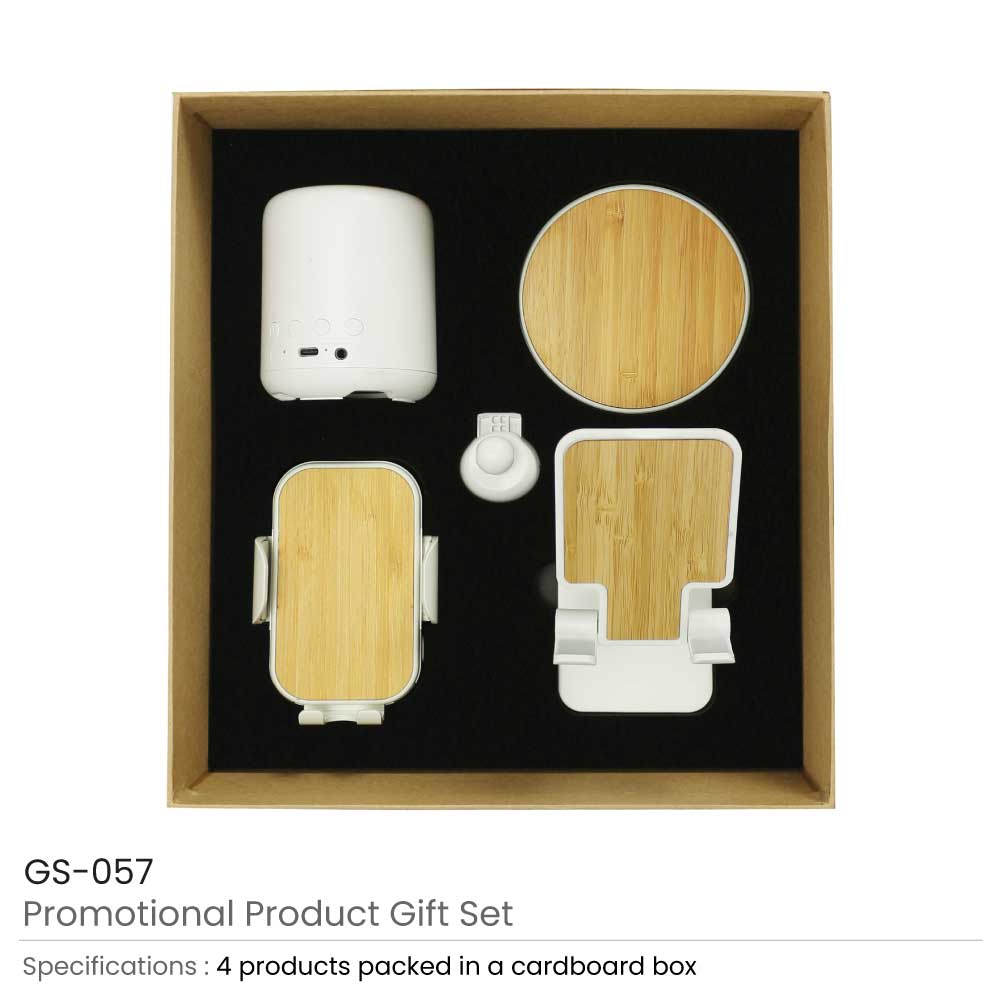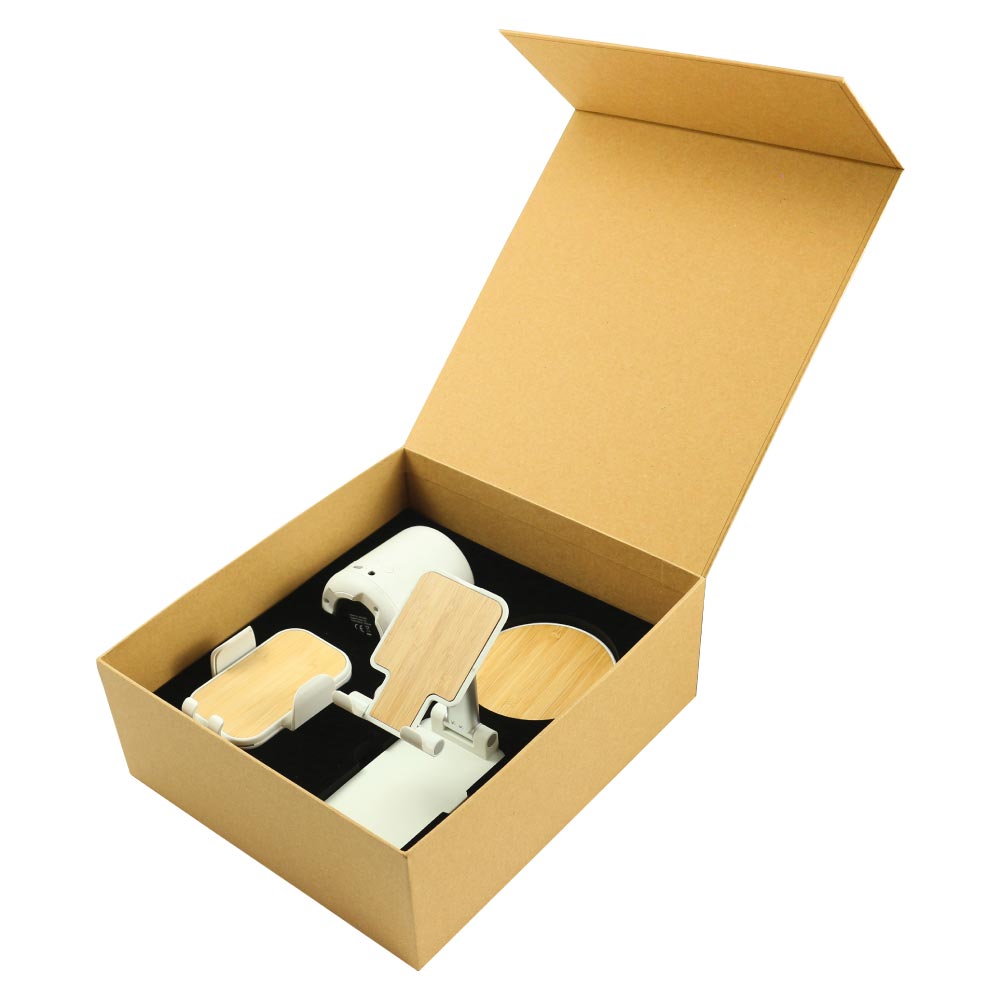 Promotional Tech Gift Sets with Brown Cardboard Gift Box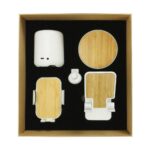 Promotional Tech Gift Sets with Brown Cardboard Gift Box
Promotional Tech Gift Sets GS-057: Contains 4 products as listed beside. packed in a cardboard gift box with a cushion inside for product protection and better presentation.
Gift Sets Combination
Eco-Friendly Bluetooth Speakers v5.1 (SKU: SPK-BM4-WHT)
Bamboo Wireless Fast Charging Pads 15W (SKU: WCP-BM6-WHT)
Car Phone Holder with Wireless Fast Charger 15W (SKU: WCC-BM3-WHT)
Foldable Phone Stands with Adjustable Height & Angle (SKU: MPS-08)
Printing Option on Gift Sets

Download high res image
Download low res image
Download all images As a zip
Download printing instruction As a pdf
Customize Quotation Sheet
Description
Packaging Details
Description
Promotional Tech Gift Sets
A considerate and contemporary approach to corporate gifting and promotional tech gift sets that feature eco-friendly Bluetooth speakers, bamboo wireless charging pads, auto phone holders with wireless charging, and foldable phone stands will appeal to a tech-savvy audience. Every element in this collection provides distinct advantages.
Bluetooth Speakers that are Eco-Friendly v5.1 (SKU: SPK-BM4-WHT): With version 5.1 enabling dependable and quick connectivity, these Bluetooth speakers are not only cutting-edge in terms of technology but also ecologically friendly. Because of its environmentally friendly design and possible use of sustainable materials, it's a great option for businesses that want to encourage environmental responsibility. Because of their portability and excellent sound quality, these devices are ideal for both professionals and music lovers who like audio material.
WCP-BM6-WHT, a 15-watt wireless fast charging pad made of bamboo: These wireless charging stations combine sustainability and technology. They are made of bamboo and have a 15W fast charging capacity, so compatible devices may be charged quickly and effectively. Bamboo's organic appearance emphasizes a dedication to eco-friendly products and lends a touch of elegance. They offer a simple, wire-free charging experience and are appropriate for home or office desk use.
WCC-BM3-WHT, a car phone holder with a 15-watt wireless fast charger: This multipurpose device is essential for workers who frequently travel. Users can easily charge their phones while navigating or making hands-free calls with this multifunctional device that doubles as a safe phone holder and a 15W rapid wireless charger. Its usefulness makes it a fantastic complement to this tech gift bundle and improves the everyday commute.
SKU: MPS-08 Foldable Phone Stands with Adjustable Height and Angle: These foldable phone stands are a very practical and adaptable home or office item. With their adjustable height and angle, they give you the ideal viewing experience, whether you're browsing, streaming, or having video conversations. For anyone who uses a smartphone on a regular basis, their mobility and simplicity of use make them quite appealing.
Together, these products make an all-inclusive tech gift bundle that is fashionable and useful. Receivers who care about the environment will appreciate that items like the Bluetooth speakers and charging pads have a strong emphasis on sustainability and eco-friendliness. The wireless charging car phone holder offers a convenient feature for on-the-go use, while the foldable phone stands improve usability in stationary settings. Because of the assortment of products, the gift package serves as both a considerate offering and a declaration of support for technical innovation and sustainability. With its broad appeal, a gift set like this would be highly welcomed in business environments, tech conferences, or as a component of an employee recognition program.
Tech Gift Sets Combination
Eco-Friendly Bluetooth Speakers v5.1 (SKU: SPK-BM4-WHT)
Bamboo Wireless Fast Charging Pads 15W (SKU: WCP-BM6-WHT)
Car Phone Holder with Wireless Fast Charger 15W (SKU: WCC-BM3-WHT)
Foldable Phone Stands with Adjustable Height & Angle (SKU: MPS-08)
Gift Set Printing Option