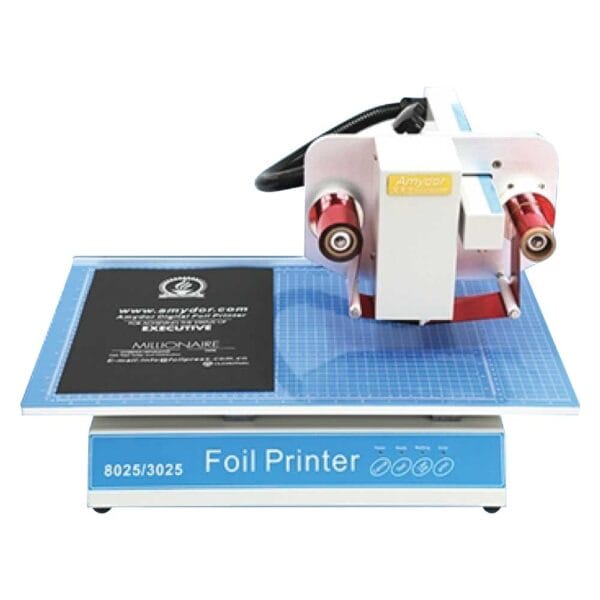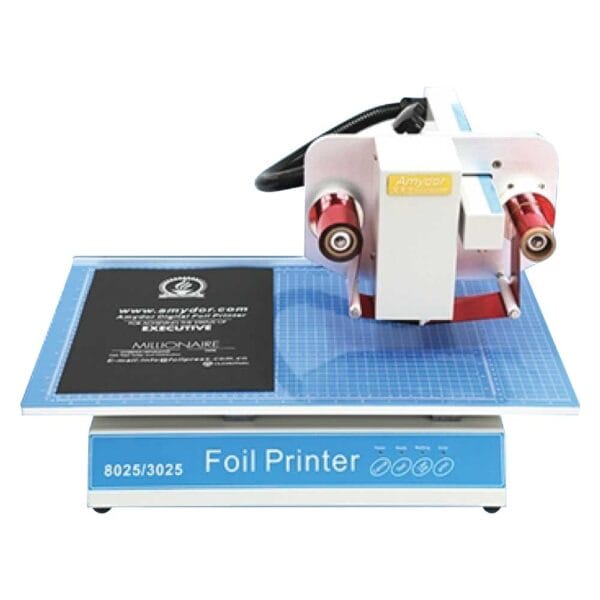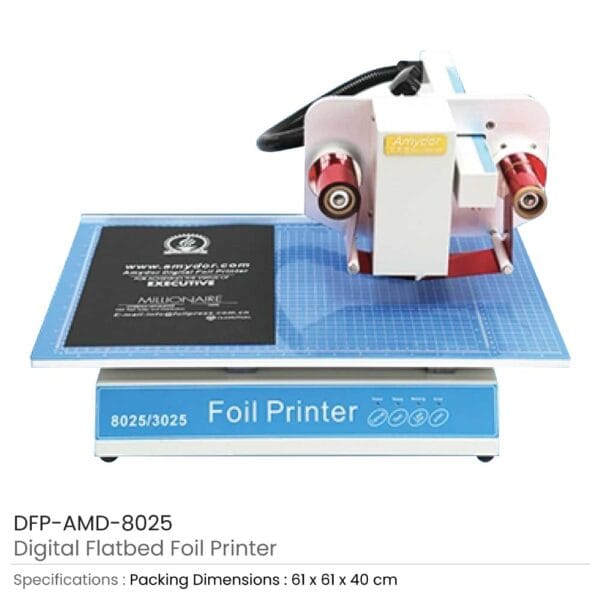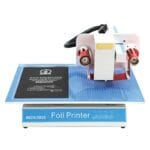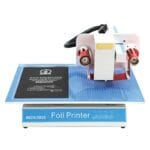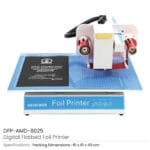 Digital Flatbed Foil Printers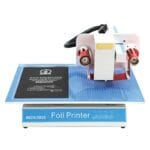 Digital Flatbed Foil Printers
Digital Flatbed Foil Printers, digital hot foil stamping, flatbed foil printer, and card printing machine for leather book thesis cover at low price and cost.
Product information
Computer system requirement: Windows systems, XP, Win 7, Win 8, Win 10
Software requirement: Most of the software, Coreldraw, photoshop, adobe illustrator, office word, etc.
Connecting interface: USB
Printing method: Thermal printing
Operating temperature of printer: 5°C to 40°C
Resolution: 300 DPI
Printing material: Papers, cardboard, adhesive sticker, plastic board, PET, PVC, PU, leather, film, frosted PVC, acrylic board, etc.
Download high res image
Download low res image
Download all images As a zip
Download printing instruction As a pdf
Customize Quotation Sheet
Description
Tech Specs
Packaging Details
Description
Digital Flatbed Foil Printers AMD8025
For a cheap and affordable leather book thesis cover, consider using digital flatbed foil printers, digital hot foil stamping, flatbed foil printers, and card printing machines.
Product information
System requirements for computers: Windows XP, Windows 7, Windows 8, and Windows 10.
The majority of software is required, including Office Word, CorelDraw, Photoshop, and Adobe Illustrator.
USB is a connecting interface.
Thermal printing is a type of printing.
5°C to 40°C is the range at which the printer operates.
Dimensions: 300 DPI
Papers, cardboard, stickers, plastic board, PET, PVC, PU, leather, film, frosted PVC, acrylic board, etc. are all examples of printing media.
Size of feeding: limitless
Maximum printing size is 57mm wide by 250mm long with a maximum printing thickness of 30mm.
20mm to 50mm per second for printing
Printing head service life: 150,000 m
Energy: 150W
AC 110-240 50/60 Hz voltage (as needed)
Accessories: USB cable, power cord, and CD.
Application
On the majority of flat and smooth materials, including leather, PVC, hardcover books, diary covers, leather, and paper bags, personalized foil printing is available.
Foil Colors

Gold and Silver
A simple operation
Make no plate or mold.
Computer-aided design (CAD) software such as CorelDraw, AI, etc.
By using a USB cable to connect the computer and the digital foil printer, printing will begin immediately.
Copy function/memory function
If you don't modify the file, just click the copy and print button on the foil printer to print. You don't need to be connected to a computer constantly.
Packaging details

Model: AMD-8025
Product Name: Digital hot foil stamping printer
Packing/carton 1 set
Packing Dimension 56cm*34cm*34cm
G.W. / N.W. 27kg / 18kg
Computer system requirement: Windows systems, XP, Win 7, Win 8, Win 10
Software requirement: Most of the software, Coreldraw, photoshop, adobe illustrator, office word, etc.
Connecting interface: USB
Printing method: Thermal printing
Operating temperature of printer: 5°C to 40°C
Resolution: 300 DPI
Printing material: Papers, cardboard, adhesive sticker, plastic board, PET, PVC, PU, leather, film, frosted PVC, acrylic board, etc.
Feeding size: unlimited
Max printing thickness: 30mm
Max printing size: 57mm width * 250mm length
Printing speed: 20mm-50mm/s
Service life of printing head: 150,000 m
Power: 150W
Voltage: AC 110-240 50 / 60HZ (as needed)
Accessories: CD, power line, USB cable
Additional information
| | |
| --- | --- |
| Weight | 18 kg |
| Dimensions | 53 × 53 × 31 cm |
| HS Code | 84431900 |
| Country of Origin | China |