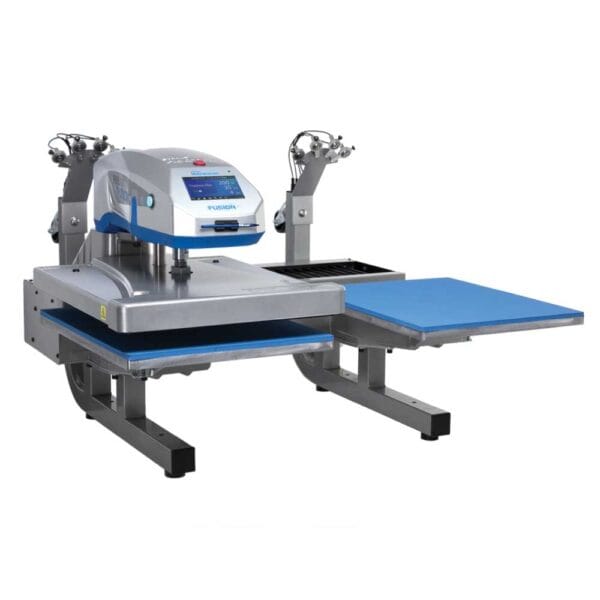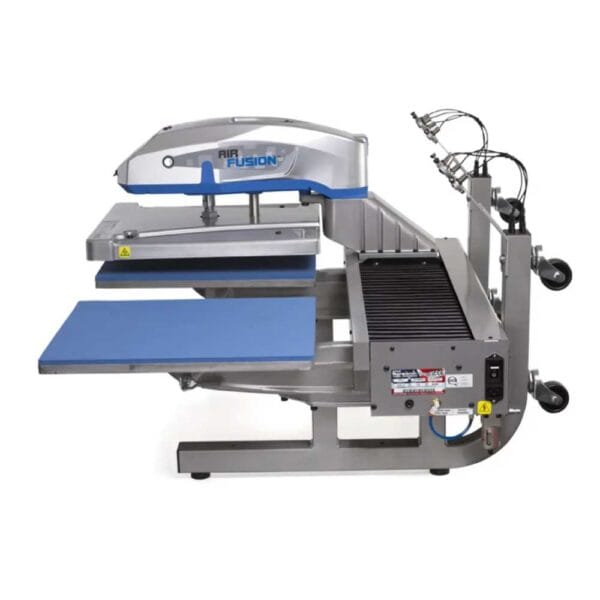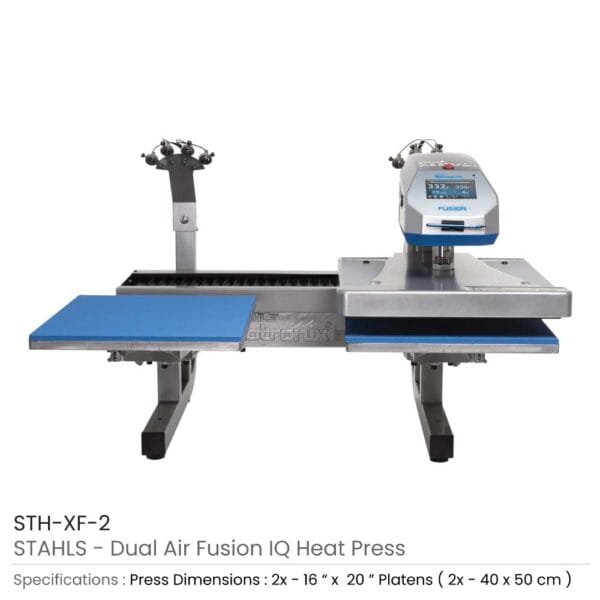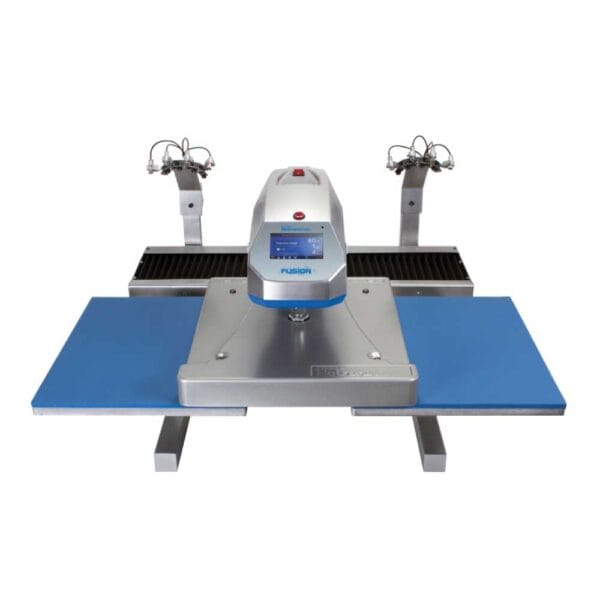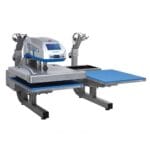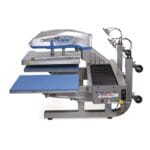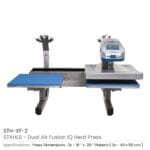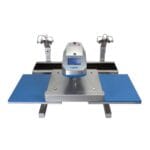 Dual Air Fusion IQ® Heat Press
Actual Weight: 117.9 kg
Shipping Weight: 185.9 kg
Dimensions: 96.5 x 96.5 x 66.4 cm
Shipping Dimensions: 114.3 x 114.3 x 76.2 cm
Hotronix Premier Warranty
Lifetime Warranty on Heating Element
5 yr on Framework
2 yr on Circuit board
1 yr parts/labor
Free lifetime technical support
Description
Tech Specs
Packaging Details
Reviews (0)
Description
Dual Air-Fusion Heat Press
The world's most advanced Dual Air-Fusion Heat Press just got smarter. Register your Dual Air Fusion and access the Hotronix Online Portal to manage users, generate usage reports, and also troubleshoot issues. Plus, a brand-new controller with a larger, higher resolution screen makes it easier than ever to modify settings and save recipes.
The upper platen moves between heat printing stations, allowing operators to prepare garments on one station while the other is being pressed.
So make sure you're getting a Hotronix®, look for the blue!
Most features of any heat press
Touch screen controls.
Position-Based Recipe (PBR) heating allows each station therefore the programmed to work in unison or independently.
Included Laser Alignment System, the, ensures foolproof precision decoration.
Perfect for DTG printers: station A for pre-treatment and B for post-curing.
Live digital time, temperature, and also a pressure readout.
Includes two Quick Slip Lower Platen Protectors.
220 volt.
Powered by an air compressor (not included).
Compatible with all of our Quick Change Platens.
Additional
Actual Weight: 117.9 kg
Shipping Weight: 185.9 kg
Dimensions: 96.5 x 96.5 x 66.4 cm
Shipping Dimensions: 114.3 x 114.3 x 76.2 cm
Hotronix Premier Warranty
Lifetime Warranty on Heating Element
5 yr on Framework
2 yr on Circuit board
1 yr parts/labor
Free lifetime technical support
Download Platen Compatibility Guide
Features
Online access to reporting, including total impressions, active/idle time, and average cycle time.
Self-diagnostics help with troubleshooting and maintenance.
Dual Quick Change 16″ x 20″ platens.
Auto-Adjust Pressure™ with four different pressure and time settings that auto-adjust pressure for all recipes.
Die pressure cast, corrosion-free base, and top assemblies.
Center-driven rodless transmission ensures smooth, quiet operation.
Operates in full-auto, semi-auto, or manual modes.
Threadability™ allows easy decorating of the front, back, and sides of garments.
Program and store frequently used applications.
120 PSI for heavy pressure application.
No operator fatigue.
Optional smaller interchangeable platens.
Proudly made in the USA.
Premier warranty.
240 v; 15 amps; 3500 w
Must have designated circuit breaker
*Requires air compressor (not included) with minimum
1 horsepower and 8-gallon hold tank, 120 PSI. Uses 2.6 CFM.
Recommended table size of 24 x 36 x 28″ with 30″ height.
Patents
Hotronix® Dual Air Fusion IQ® Heat Press is protected by U.S. Patent No: 9,289,960
Additional information
| | |
| --- | --- |
| Weight | 117.9 kg |
| Dimensions | 96.5 × 96.5 × 64.4 cm |
| HS Code | 39199000 |
| Country of Origin | USA |