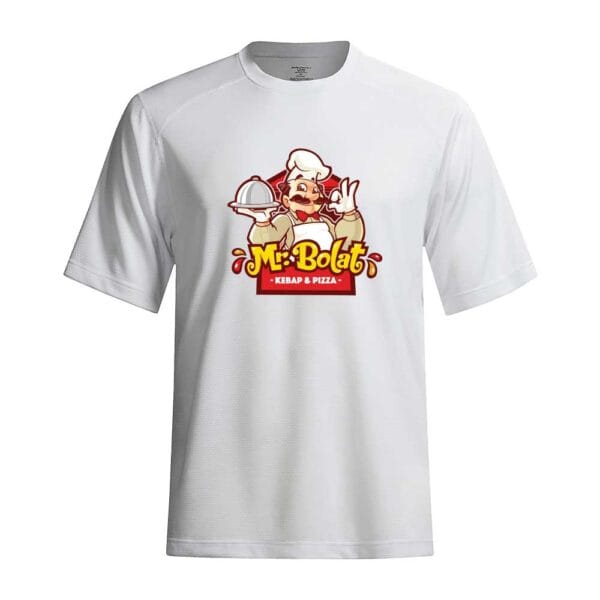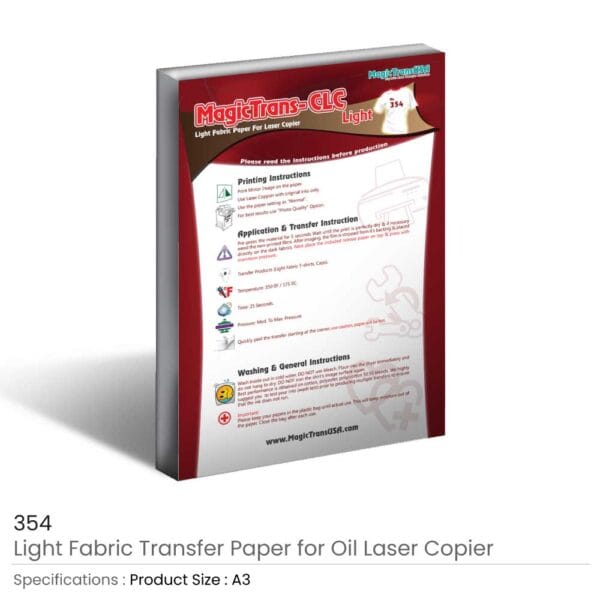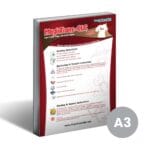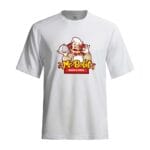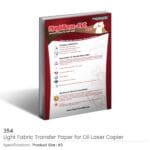 Light Fabric Transfer Papers 354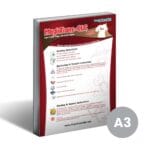 Light Fabric Transfer Papers 354
Brand MagicTransUSA
Paper Finish Coated
Sheet size A3, 29.7 x 42 cm
Sheet count 100, 5760dpi
108 gsm matte-coated paper
Work on laser printers
For heat transfer printing
Type Copy Paper
Download high res image
Download low res image
Download all images As a zip
Download printing instruction As a pdf
Customize Quotation Sheet
Description
Packaging Details
Description
Light Fabric Transfer Papers For Oil Laser Copier
Papers for Light Fabric Transfer are made to work with any Laser Printer that is currently on the market. Any design can be printed on A3 transfer laser paper and then transferred using any heat press machine that is available to you to any media. Ideal Transfer Paper creates outputs that are more focused and distinct and is best for light-colored materials. With a print surface of 29.7 x 42 cm, this transfer paper is ideal for printing any size graphic design on a variety of fabrics, including shirts, trousers, sweatshirts, caps, banners, mousepads, and more.
Additionally resistant to burning quickly, this transfer paper can handle intense heat and pressure. A3 CLC Light Paper can be thought of as making a positive first impression on any company and enhancing the craft of design printing. The A3 CLC Light Paper is a comfortable medium that is ideal for lengthy and large production because it is simple to peel off and doesn't stick back to paper.
Instructions
Printing Procedure
Any Laser Printer device can use A3 CLC Light Paper as a printing medium. However, it is advised to utilize original Laser Printers with original inks on them in order to get the most out of this printing and transfer paper. To get better results, set the quality choice to "Photo Quality" and the standard to "Normal" printing. Never forget that the Transfer technique always requires the print to be transferred facing the medium, thus before printing the design on paper, set the design pattern to Print Mirror Image.
Transfer Procedure
Check to see if the print is completely dry by pressing the transfer paper for 5 seconds with the heat set at a lower degree. Trim the design as necessary and eliminate the unprinted films. Now take off the backing paper and set the printed film down just where you want it in the medium. After that, lay the provided release paper on top of the design and use the typical heat and pressure settings to press the transfer paper onto the medium. Peel the paper gently starting in one corner after the transfer is finished. While the paper is still hot, proceed with caution.
Setting recommendations for light mediums include:
350 degrees Fahrenheit or 175 degrees Celsius
Twenty-five seconds
Approximately 40 lbs. of pressure
Instructions for Washing and Ironing
To prevent scuffing and harming the design print, wash the inside out. Only use cold water to wash the finished product. USE ANY TYPE OF BLEACH OTHER THAN BLEACH TO WASH THE MEDIUM. After washing, put the item in the dryer right away rather than letting it air dry. Avoid heating the sections of the design medium that have printed images on them when ironing.
General Guidelines
It is advised to print and wash test one output before generating large quantities. Additionally, make sure the ink is appropriate for the medium.
Until they are actually used, keep transfer papers in a plastic bag to prevent them from becoming wet. After each use, make sure the container is closed.
Additional information
| | |
| --- | --- |
| Weight | 0.017 kg |
| Dimensions | 29.7 × 42 cm |
| HS Code | 48169000 |
| Country of Origin | USA |