Crystal Awards with Wood Base in Black Hardboard Box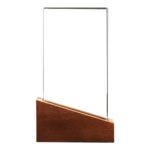 Crystal Awards with Wood Base in Black Hardboard Box
Material: Wood and Crystal | Item size: 140 x 40 x 240 mm | Weight: 1.845 kg
| Packaging Details | | |
| --- | --- | --- |
| Pcs in Carton Box | Carton Weight | Carton Box Size |
| 18 | 35 kg | 57 x 42 x 33 cm |
Award Printing Options
Laser Engraving | 2D Engraving | Sandblast Sticker | DTF Printing
Download high res image
Download low res image
Download all images As a zip
Download printing instruction As a pdf
Customize Quotation Sheet
Description
Printing Instructions
Video
Packaging Details
Description
Crystal Awards with Wood Base in Hardboard Box

The distinguished and sophisticated acknowledgment items known as crystal awards with a wood base and presented in a black hardboard box radiate elegance and charm. These awards create a striking and unforgettable object that is perfect for recognizing remarkable accomplishments and achievements by fusing the brilliance of crystal with the everlasting charm of wood.
The following are some salient characteristics and specifics of crystal awards with wooden bases displayed in black hardboard boxes:
Materials: These awards' main components are a wooden base and premium optical crystal. In order to obtain a glittering and clear appearance, the crystal section is precisely cut, polished, and sculpted. The wood base adds solidity and a rustic touch to the overall design.
Shapes of Crystal: Crystal awards are available in a wide range of sizes and shapes, including stars, diamonds, globes, rectangles, pillars, and unique designs. Each form is intended to symbolize a particular accomplishment or recognition and has a unique symbolic value.
Wood foundation: The crystal award is given a touch of warmth and elegance by the hardwood foundation. Mahogany, walnut, cherry, or rosewood are popular alternatives for wood, and each variety has a distinct color and grain pattern.
Personalization is important for these prizes, which are engraved. The crystal surface offers a great location for engraving the recipient's name, the accomplishment being acknowledged, the occasion or event, the date, and any other pertinent information. The award gains a thoughtful and unique touch with engraving.
Black Hardboard Box: A black hardboard box is frequently used to protect and enhance the presentation of crystal awards. The award is protected throughout transportation thanks to this chic and robust packaging, which also allows it to be proudly exhibited inside the box when not in use.
Gift-giving Occasions: Crystal awards with wooden bases are frequently given out to recognize excellence in a range of contexts, including business accomplishments, athletic competitions, academic honors, employee recognition initiatives, and special events or ceremonies. They are especially appropriate for formal settings where a dash of elegance and style is sought.
Customization: The crystal award may be further customized depending on the supplier or manufacturer. This can entail choosing various crystal sizes, shapes, types of wood, engraving techniques, or adding brand logos or certain pieces of art.
Symbolism: Crystal is a perfect substance to represent exceptional accomplishments because it is linked to clarity, purity, and brilliance. The addition of the wooden foundation represents steadiness, sturdiness, and the enduring quality of the award being given.
Recipients adore and treasure their crystal awards with wood bases in black hardboard boxes as concrete reminders of their dedication and hard work. They are extremely inspirational gifts since they serve as a constant reminder of their accomplishments and the praise they have earned.
Material: Wood and Crystal
Item size: 140 x 40 x 240 mm
Weight: 1.845 kg
Packaging: Vertical opening Black Hardboard box with black velvet interior and gold lock.
Eco-Friendly Awards
HD Video: Crystal Awards with Wood Base | SKU: CR-62

Printing Options on Award
Laser Engraving | 2D Engraving | Sandblast Sticker | DTF Printing
Award Printing Details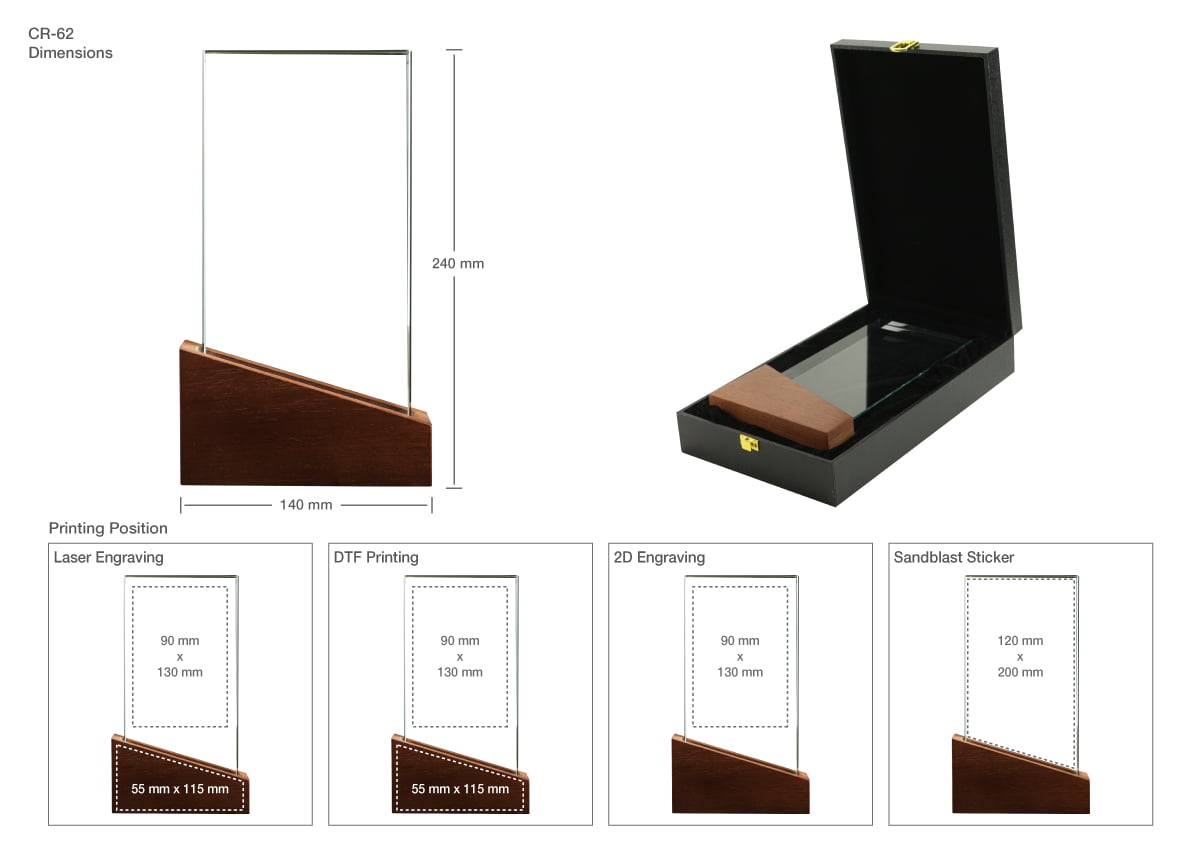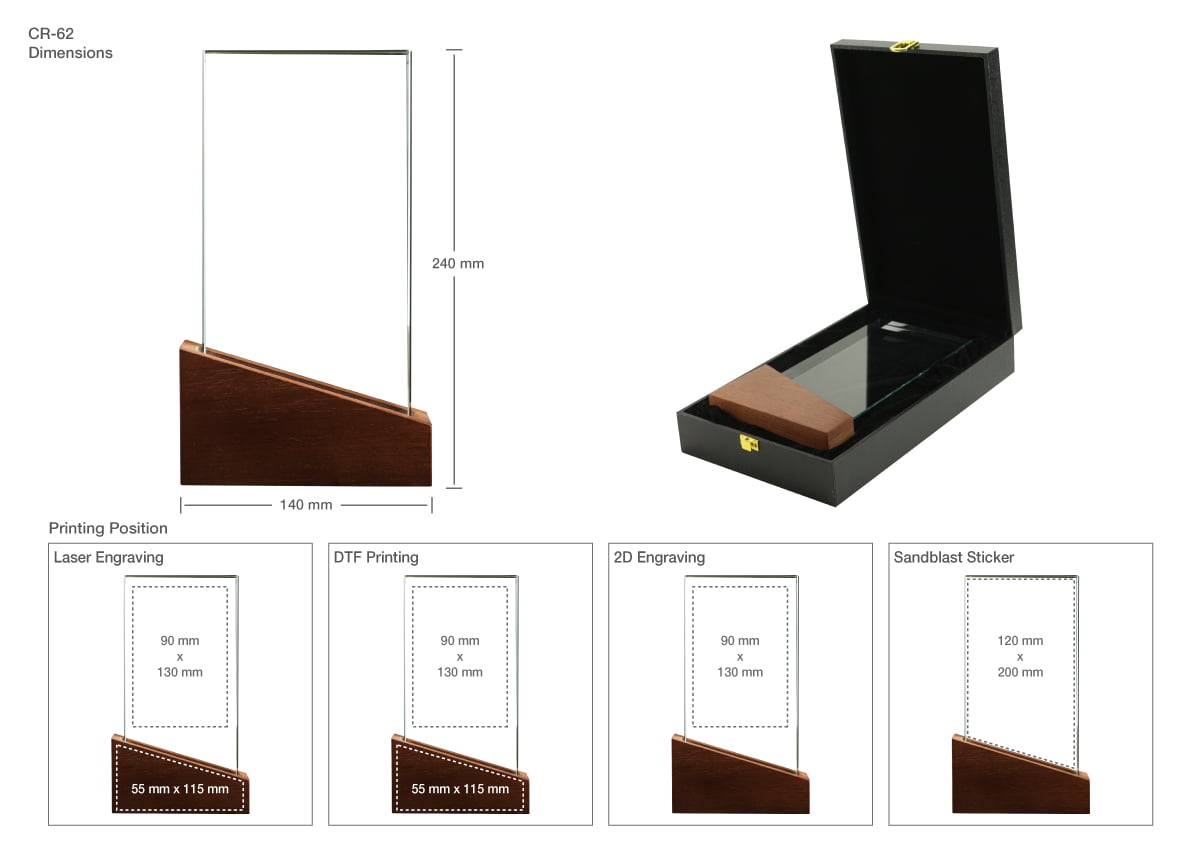 Additional information
| | |
| --- | --- |
| Weight | 1.845 kg |
| Dimensions | 14.0 × 4.0 × 24.0 cm |
| HS Code | 4421999090 |
| Country of Origin | China |