UAE Flag Heavy Satin Scarf with Silver Tassel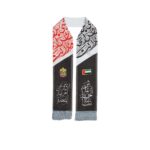 UAE Flag Heavy Satin Scarf with Silver Tassel
The UAE flag heavy satin scarf is ideal to show patriotism and national pride and also wear these scarves during national days, celebrations, and special events to express your love for the United Arab Emirates.
Material: Heavy Satin | Item Size: 150 x 15 cm | Item Weight: 0.075 kg
| Packaging Details | | |
| --- | --- | --- |
| Pcs in Carton Box | Carton Weight | Carton Box Size |
| 200 | 15 kg | 37 x 30 x 47 cm |
Download high res image
Download low res image
Download all images As a zip
Download printing instruction As a pdf
Customize Quotation Sheet
Description
Packaging Details
Description
UAE Flag Heavy Satin Scarf with Silver Tassel
As a promotional present, a UAE Flag Heavy Satin Scarf with Silver Tassel would be a unique and sophisticated piece that embodies both luxury and pride in the country. Here's a summary of its attributes and possible appeal:
Style and Content
Flag Representation: The scarf boldly displays the red, green, white, and black colors of the flag of the United Arab Emirates. These vibrant colors combined represent the history and ideals of the country in the pattern they create.
Material: The scarf is made of thick satin and has a glossy, smooth feel with an upscale appearance. Satin offers a sense of comfort and elegance with its luxurious feel and shiny surface.
Size and Versatility: Its ample proportions enable it to be worn in a variety of ways, such as a headwrap, neck scarf, or even draped over the shoulders.
Details of the Silver Tassel
The silver tassels at each end of the scarf add a distinctive and opulent touch. These tassels add a pop of color and a textural difference that draws attention, improving the scarf's overall appearance.
Appeal for Promotion
Cultural Significance: This scarf is a powerful symbol of national pride and makes a great promotional gift, especially for events relating to national festivities in the UAE, cultural events, or foreign delegations.
Corporate Gifting: This is a great corporate gift that firms can give to clients or partners in the UAE or to anyone who are interested in the area. It blends elegance with respect for local customs.
Tourism Promotion: For the travel industry, a scarf like this can be a stylish memento that captures the spirit of the United Arab Emirates in a wearable form, making it desirable to travelers who want to bring back a little piece of their Emirati history.
Material: Heavy Satin
Color: Multi-Color
Pattern: UAE Flags
Size: 150 x 15 cm
HD Video: UAE Flag Heavy Satin Scarf | SKU: SC-04
Additional information
| | |
| --- | --- |
| Weight | 0.075 kg |
| Dimensions | 150 × 15 cm |
| HS Code | 61171000 |
| Country of Origin | China |