Stylus Metal Pens with Textured Grip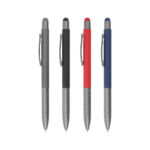 Stylus Metal Pens with Textured Grip
Material: Metal | Type: Ballpoint | Size: 15 x 10 x 145 mm | Weight: 0.015 kg
| Packaging Details | | |
| --- | --- | --- |
| Pcs in Carton Box | Carton Weight | Carton Box Size |
| 500 | 7.5 kg | 47 x 18 x 17 cm |
Pen Printing Options
UV Printing | Laser Engraving
Download high res image
Download low res image
Download all images As a zip
Download printing instruction As a pdf
Customize Quotation Sheet
To access this section, first register and then log in
Description
Printing Instructions
Packaging Details
Description
Stylus Metal Pens with Textured Grip
An ideal advertising gift that seamlessly blends practicality with elegance. If you aim to make a strong impact on your clients or provide joy to your employees, these pens are guaranteed to create a memorable impression.
Notable characteristics:
Matching Stylus: The stylus tip of these pens is the same color as the barrel, resulting in a visually unified and attractive appearance. The meticulous focus on every aspect of the pen's design enhances its overall aesthetic with a sense of refinement.
The gunsmoke-colored barrel emits an aura of contemporary style and professionalism. The pens possess a nuanced yet discernible characteristic that distinguishes them from the commonplace, rendering them appropriate for a range of circumstances, spanning from professional gatherings to individual utilization.
Enhanced Tactile Surface: Our pens are equipped with a textured grip that guarantees a pleasant and secure grasp, preventing slippage. The texture not only increases the writing experience but also provides a tactile sensation to the pen, rendering it pleasurable to grip and use for prolonged durations.
Blue Ink: The ink used in these pens is a traditional and timeless blue color. The legibility and readability of blue ink are universally acknowledged and valued, making it a great choice for both ordinary writing and special occasions.
Promotional Potential: These Stylus Metal Pens with Textured Grip can be personalized with your brand logo or message, transforming them into an influential marketing instrument. Whether you distribute them at trade exhibitions, corporate gatherings, or as part of a promotional campaign, these items function as a persistent reminder of your brand.
Multi-functional Stylus: The incorporated stylus tip is fully compatible with touch displays, rendering these pens a versatile instrument for contemporary times. These tools are ideal for maneuvering smartphones and tablets, authenticating digital documents, or even maintaining smudge-free screens.
Durable Construction: Constructed from robust metal, these pens are designed for long-lasting use. They communicate a perception of excellence and dependability, strengthening the worth of your brand.
Presentable Packaging: Our Stylus Metal Pens are packaged in a sophisticated manner, making them suitable for presenting. This eliminates the need for any extra preparation on your end.
If you are looking for a promotional item that offers a combination of visual appeal, practicality, and the ability to promote your business, our Stylus Metal Pens with Textured Grip in the Gunsmoke color are a highly recommended option. These items are specifically crafted to create a long-lasting effect and leave recipients with a favorable perception of your brand. Enhance your brand with these pens that combine elegance, significance, and practicality, making them a valuable gift to give and receive.
The colored stylus is the same as the barrel color
Gunsmoke color Textured Grip
blue-colored ink.
HD Video: Stylus Metal Pens | SKU: PN47
Printing Option on Stylus Metal Pens
UV Printing | Laser Engraving
Pen Printing Details
Additional information
| | |
| --- | --- |
| Weight | 0.015 kg |
| Dimensions | 1.5 × 1 × 14.5 cm |
| Color | Dark Blue 1, Grey 2, Black, Red |
| HS Code | 96081000 |
| Country of Origin | China |