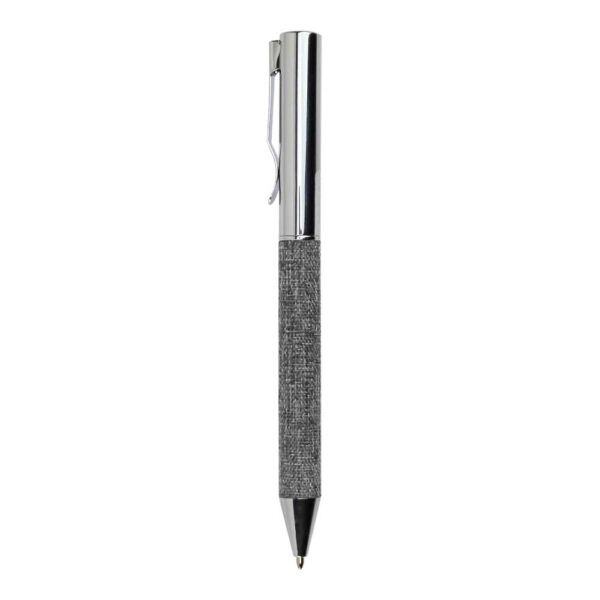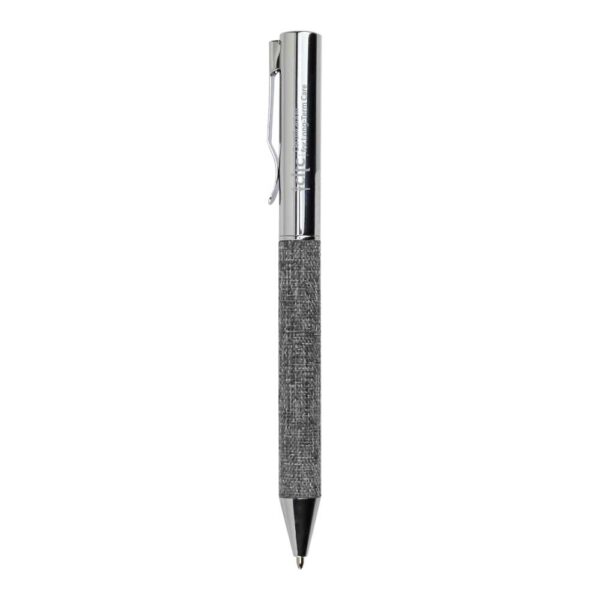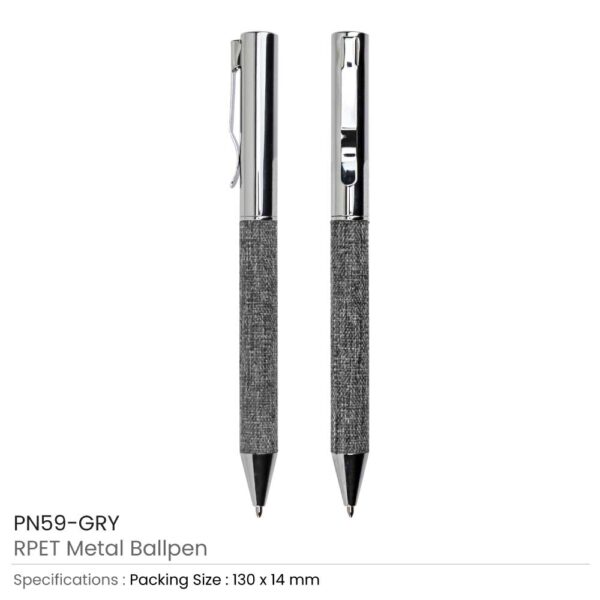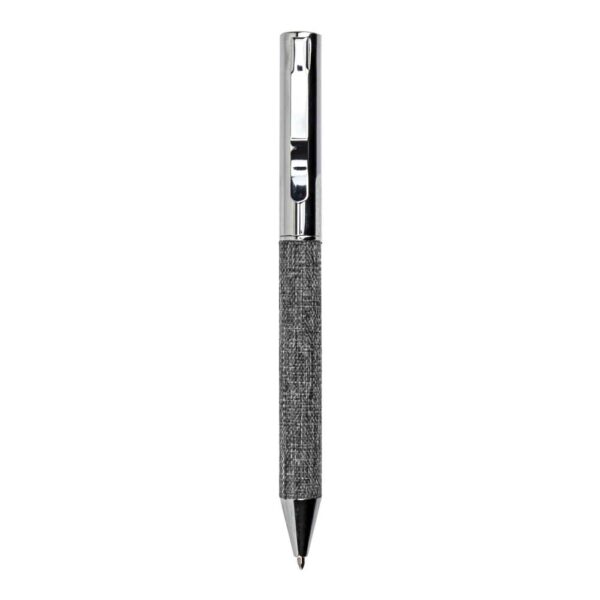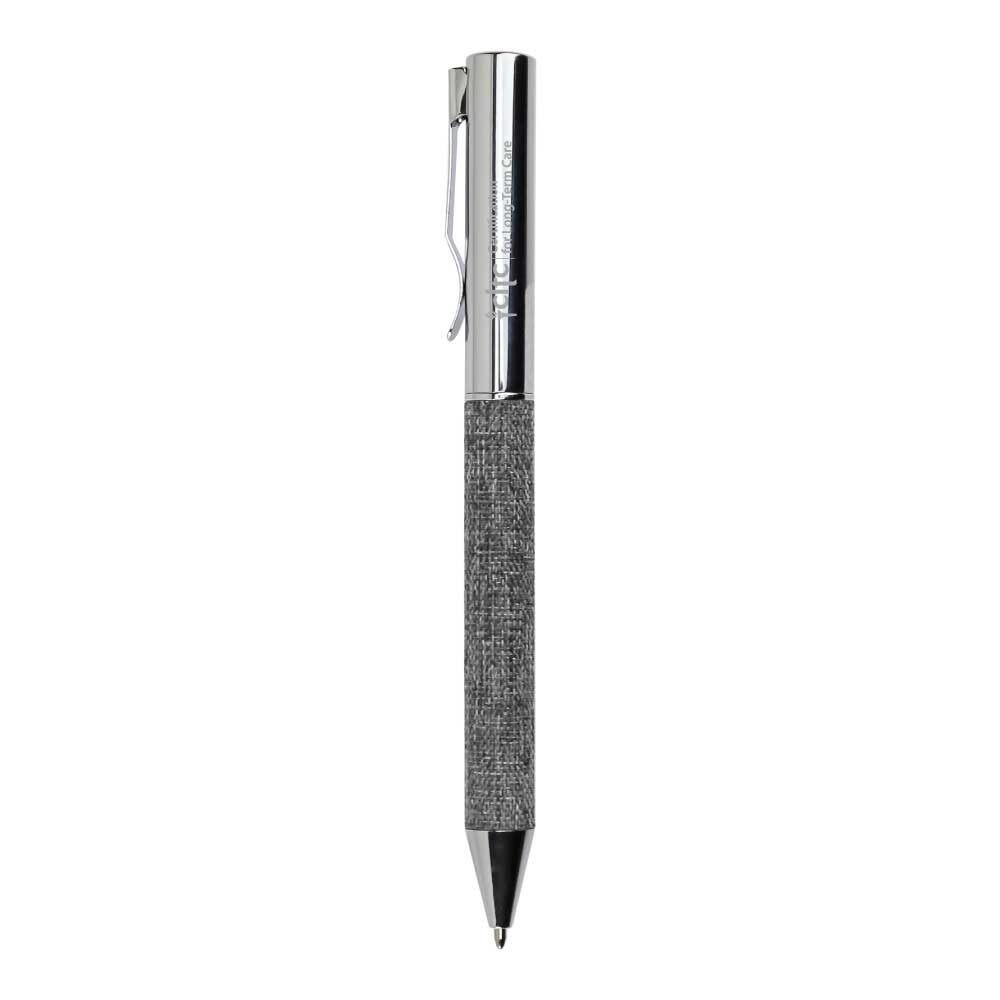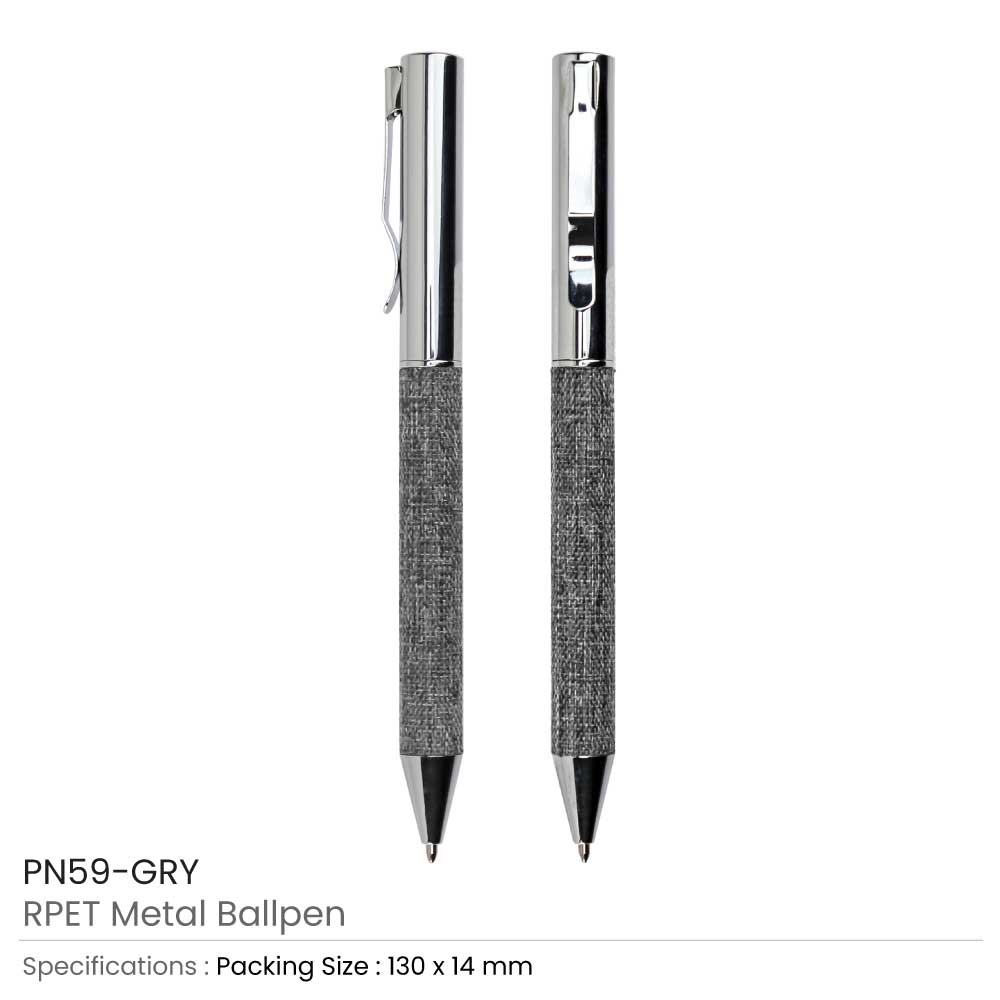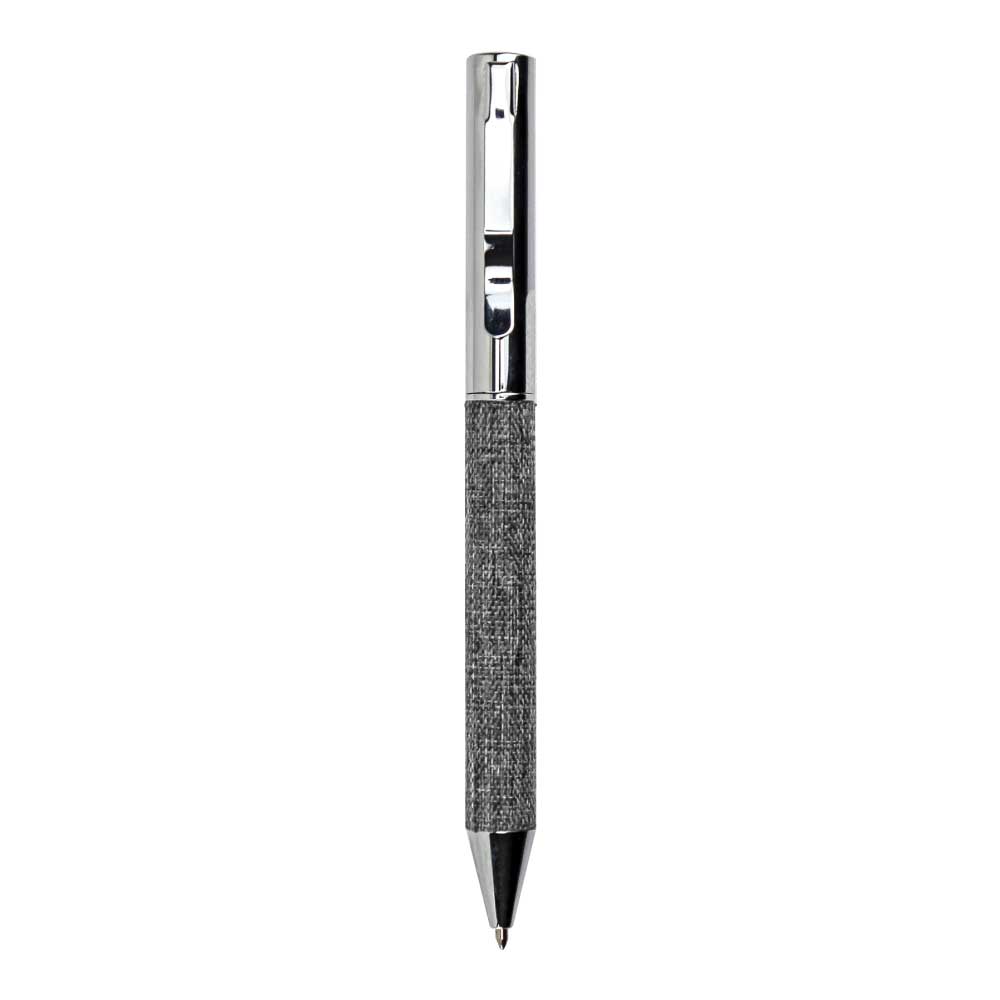 RPET Metal Ball Pens, Twist Action Mechanism, Blue Ink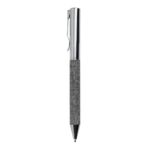 RPET Metal Ball Pens, Twist Action Mechanism, Blue Ink
Material: RPET & Metal | Item Size: 14?10×130 mm | Item Weight: 0.024 kg
| Packaging Details | | |
| --- | --- | --- |
| Pcs in Carton Box | Carton Weight | Carton Box Size |
| 500 | 12.5 kg | 31 x 20 x 26 cm |
Pen Printing Option
Availability:

2072 in stock
SKU:

PN59-GRY
Category: Metal Pens
Download high res image
Download low res image
Download all images As a zip
Download printing instruction As a pdf
Customize Quotation Sheet
To access this section, first register and then log in
Description
Printing Instructions
Packaging Details
Description
Twist Action RPET Metal Ball Pens
The RPET metal ballpoint pens, with a twist-action mechanism and blue ink, serve as an environmentally conscious and aesthetically appealing promotional item that effectively merges sustainability and functionality. The pens in question are manufactured using recycled PET (RPET) materials, so contributing to the mitigation of plastic waste and the promotion of environmental conservation initiatives. The utilization of a twist-action mechanism facilitates effortless operation, while the utilization of blue ink affords a seamless writing encounter.
The following are several notable characteristics and advantages of RPET metal ballpoint pens, which utilize a twist-action mechanism and contain blue ink when employed as a promotional item:
The pens made from recycled PET materials, specifically plastic bottles, known as RPET pens, possess a sustainable advantage in comparison to conventional plastic pens due to their eco-friendly composition. Through the utilization of RPET pens, your brand effectively demonstrates its dedication to environmental responsibility and the promotion of sustainable precision.
The pens provide significant space for custom branding, allowing for the inclusion of your company logo, name, or message. The act of personalizing pens with one's corporate identification has the potential to leave a lasting impact on receivers and enhance the exposure of the business.
The twist-action mechanism facilitates the extension or retraction of the pen tip with a straightforward twisting motion, thereby enhancing convenience and user-friendliness.
The utilization of blue ink is often favored in writing due to its high level of legibility and adaptability. It imparts a polished and formal appearance to written materials.
Metal ballpoint pens are renowned for their exceptional writing capabilities, characterized by a seamless writing experience and a reliable and uninterrupted flow of ink. These items are well-suited for regular utilization in domestic, educational, or professional settings.
RPET metal ballpoint pens are frequently available in sophisticated and contemporary designs, rendering them aesthetically pleasing and appropriate for professional environments.
RPET metal ball pens provide a cost-effective and environmentally conscious option, rendering them a financially accessible selection for promotional distribution.
Broad Applicability: Pens possess widespread usage, rendering them a pragmatic and adaptable promotional item that is well-suited for diverse target demographics and industries.
The good perception of a brand: By providing eco-friendly products such as RPET metal ball pens, your brand demonstrates a dedication to sustainable practices, so bolstering its overall image in a positive manner.
The longevity of promotional items: Metal pens of superior quality possess a robustness that allows for lengthy usage, so facilitating a protracted time of brand exposure to the first recipient and potentially to individuals who may temporarily utilize the pen.
RPET metal ballpoint pens featuring a twist-action mechanism and blue ink present a harmonious blend of sustainability and functionality, rendering them a considerate and influential choice for promotional gifting purposes. By offering recipients a pen that is both of superior quality and environmentally responsible, your business has the opportunity to generate a favorable influence while also guaranteeing consistent brand visibility as the pen integrates into the recipient's everyday routine.
RPET fabric-wrapped barrel with metal chrome cap, clip, and tip.
1.0 mm blue ink.
Twist Action Mechanism.
HD Video: RPET Metal Ball Pens | SKU: PN59-GRY
Printing Option on Pen
Metal Pen Printing Details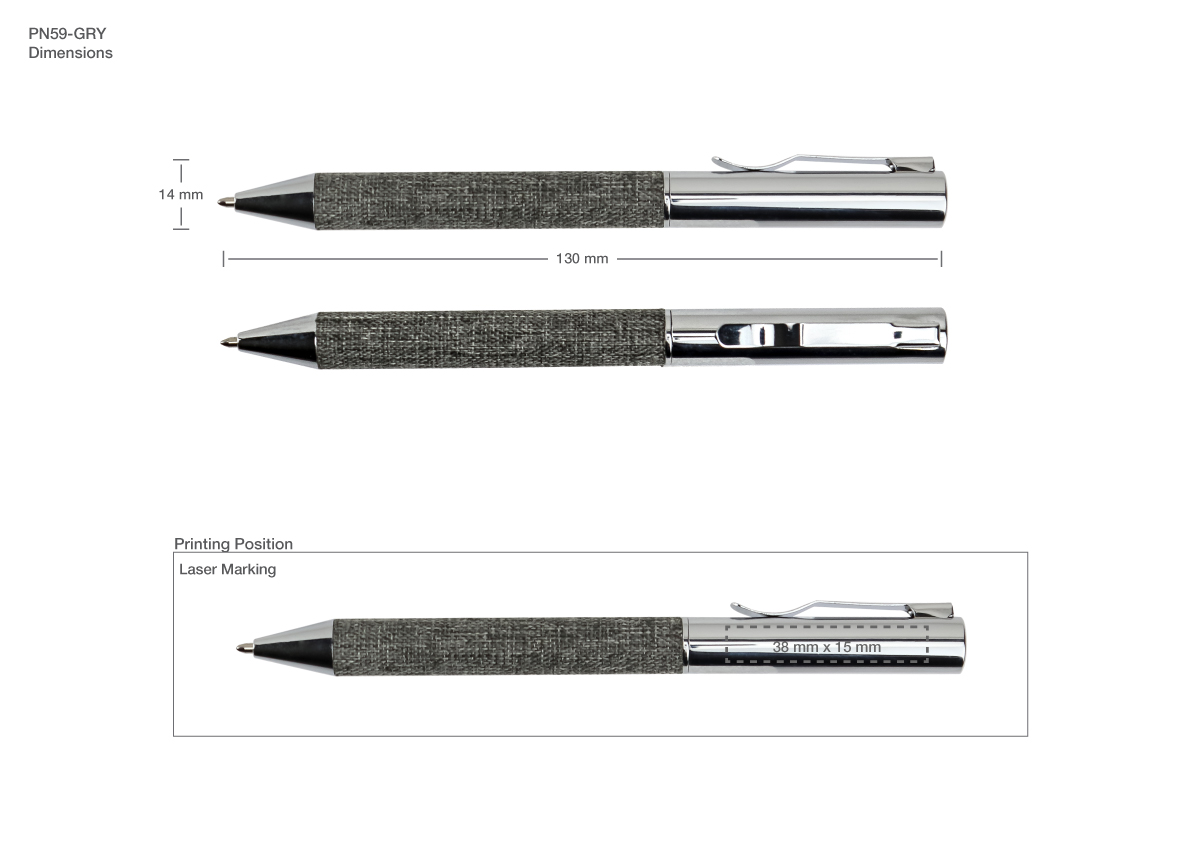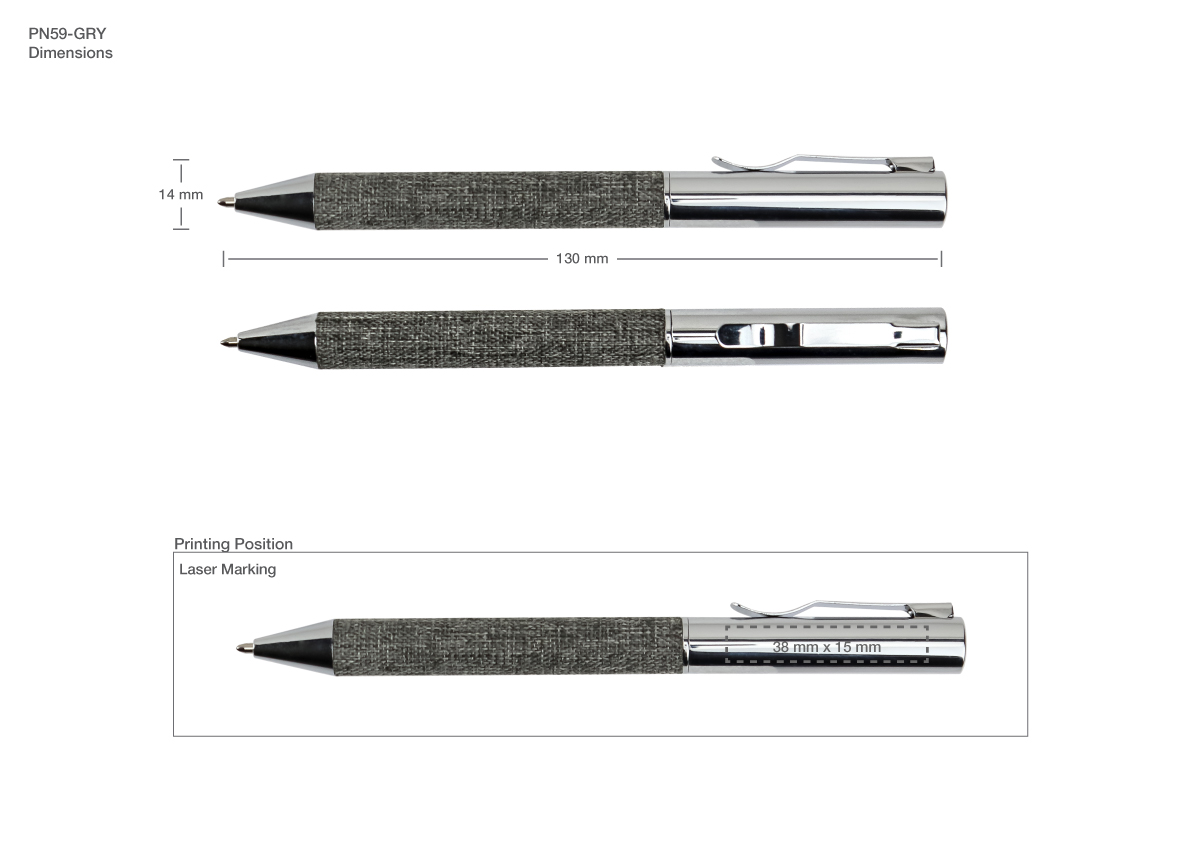 Additional information
| | |
| --- | --- |
| Weight | 0.024 kg |
| Dimensions | 1.4 × 1 × 13 cm |
| HS Code | 9608100000 |
| Country of Origin | China |