Two-toned Backpacks 600D Polyester Material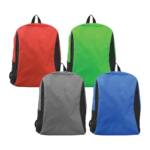 Two-toned Backpacks 600D Polyester Material
Material: Polyester | Item size: 390 x 175 x 590 mm | Weight: 0.305 kg
| Packaging Details | | |
| --- | --- | --- |
| Pcs in Carton Box | Carton Weight | Carton Box Size |
| 25 | 7.50 kg | 45 x 29 x 35 cm |
Backpack Printing Options
Heat Transfer Printing (FreeStyle) | Screen Printing
Download high res image
Download low res image
Download all images As a zip
Download printing instruction As a pdf
Customize Quotation Sheet
Description
Printing Instructions
Packaging Details
Description
Two-Toned Backpacks, 600D Polyester Material
The backpacks are constructed from 600D polyester material and have a two-toned design. They are equipped with a zipper closing, a front right side zipper pocket, cushioned straps, additional zipper pockets, and a side mesh pocket. These backpacks combine style, functionality, and durability, making them an ideal option for promotional gifts. The following are the prominent characteristics that distinguish these backpacks:
The utilization of 600D polyester guarantees long-lasting quality and resilience against damage and deterioration. The rucksack is renowned for its durability and resilience, enabling it to endure many situations and therefore ensuring its reliability for everyday usage.
Enhanced Aesthetic Appeal with Two-Toned Design: The inclusion of a two-toned color scheme in these backpacks enhances their visual attractiveness, surpassing that of single-colored alternatives. This fashionable style possesses the ability to attract a wide-ranging audience, encompassing students, professionals, and travelers.
Functional Compartments: The primary compartment, equipped with a zipper closing, provides a secure and ample space for storing critical items such as books, laptops, and clothing. The front right side zip pocket offers fast access to commonly used goods such as keys, wallets or transport passes.
Enhanced Storage Options: The backpack offers two additional zipper compartments, which effectively augment its storage capacity and provide improved organization of personal items. The inclusion of a side mesh pocket enhances the backpack's functionality by providing a convenient storage space for water bottles or tiny umbrellas.
Ergonomically constructed for convenience, the rucksack features padded straps that enhance comfort, facilitating the transportation of big loads. This functionality is especially crucial for customers who carry the backpack for prolonged durations.
Perfect for Brand Promotion: The rucksack provides abundant room for branding. Companies have the ability to personalize it by incorporating their logos or messages, guaranteeing prominent exposure. Backpacks, commonly used in public areas, function as mobile advertisements, thus expanding the reach of a business.
Multi-functional Application: These backpacks exhibit versatility and can be employed for a myriad of applications, encompassing academia, professional engagements, voyages, or outdoor pursuits. Due to their widespread appeal, they are well-suited as promotional gifts for a diverse array of events and groups.
Eco-Conscious Choice: Opting for a resilient and premium product such as a 600D polyester rucksack can be regarded as an environmentally responsible decision when compared to disposable or inferior promotional materials.
Overall, dual-colored backpacks crafted from 600D polyester, with their blend of robustness, practical layout, and fashionable look, represent a fantastic option for a promotional giveaway. These items are functional, adaptable, and provide an excellent platform for promoting a brand, guaranteeing that the receivers will use and value them, hence maintaining the company's visibility.
Two-tone Backpack with zipper closure, front right-side zipper pocket, and padded strap
2 zipper pockets and a side mesh pocket
600D Polyester material
HD Video: Two-toned Backpacks | SKU: SB-12
Printing Options on Two-toned Backpacks
Heat Transfer Printing (FreeStyle) | Screen Printing
Backpack Printing Details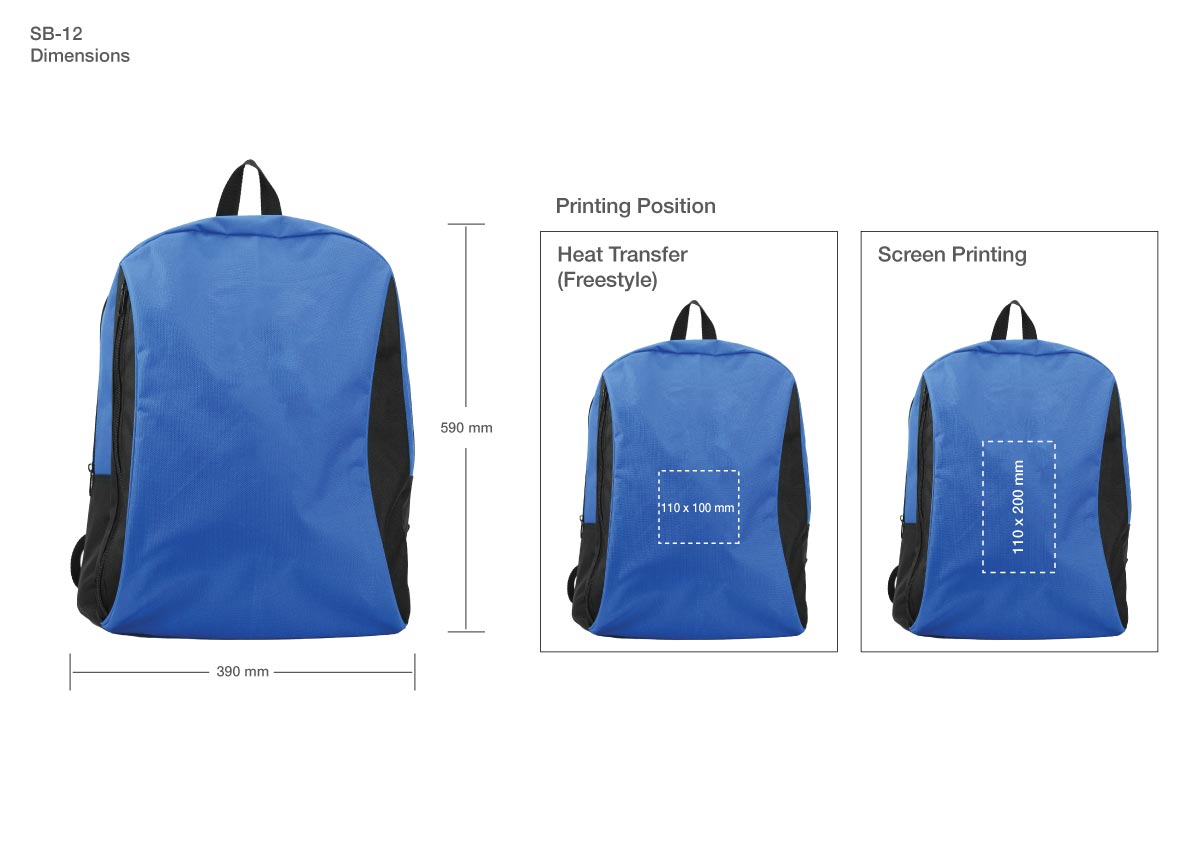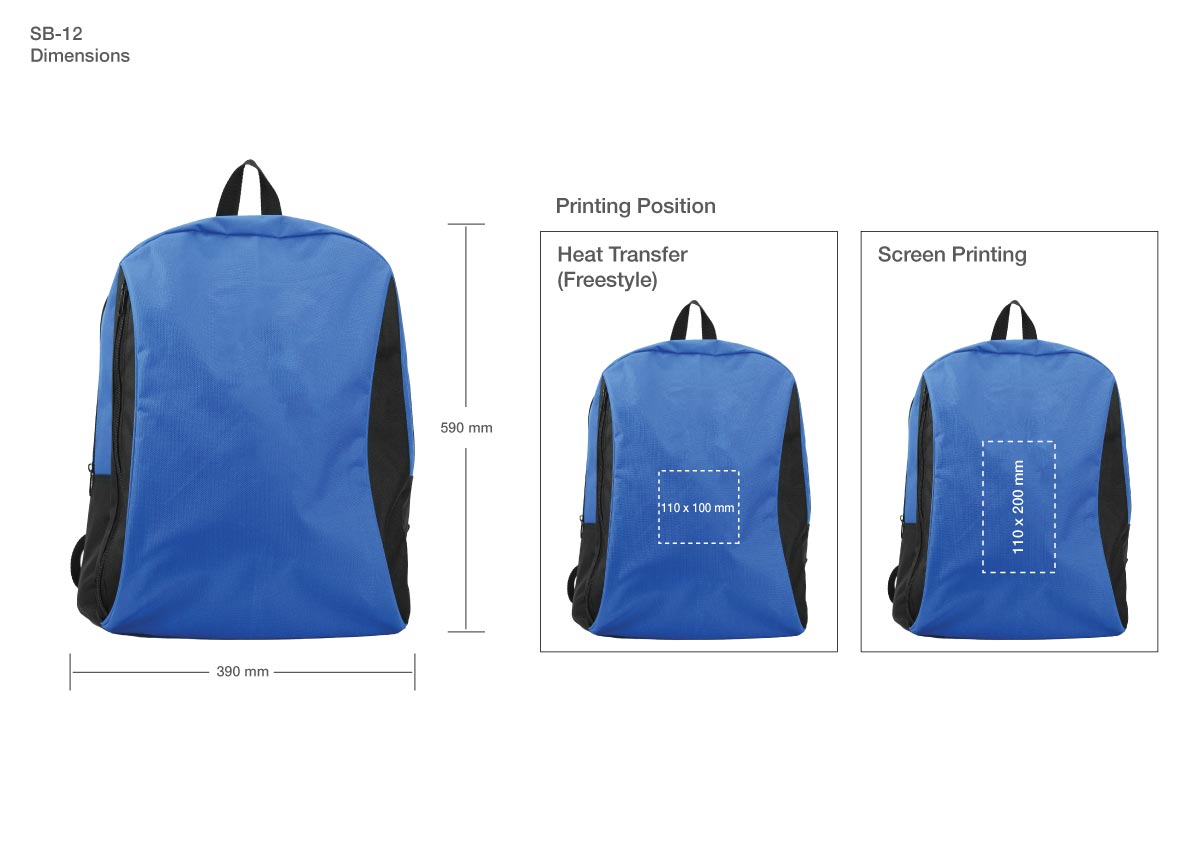 Additional information
| | |
| --- | --- |
| Weight | 0.305 kg |
| Dimensions | 39 × 17.5 × 59 cm |
| Color | Blue 2, Green 2, Grey 2, Red 2 |
| HS Code | 69111000 |
| Country of Origin | China |
| Estimated Stocks Arriving | no data |
| Estimated Stocks Delivery Date | no data |