Glass Bottle with Straw and Bamboo Lid 455 ml Capacity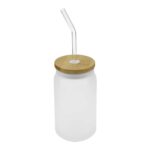 Glass Bottle with Straw and Bamboo Lid 455 ml Capacity
Material: Glass & Bamboo | Capacity: 455ml | Size : 75x75x140 mm | Weight: 0.356 kg
| Packaging Details | | |
| --- | --- | --- |
| Pcs in Carton Box | Carton Weight | Carton Box Size |
| 24 | 9 kg | 34.5 x 33 x 26 cm |
Glass Bottle Printing Options
Sublimation Printing | Screen Printing
Download high res image
Download low res image
Download all images As a zip
Download printing instruction As a pdf
Customize Quotation Sheet
Description
Printing Instructions
Video
Packaging Details
Description
Glass Bottle with Straw & Bamboo Lid, 455 ml

455 ml Sublimation Frosted Glass Bottle with Straw and Bamboo Lid with Branding Options.
Material: Frosted Glass and Bamboo
455 ml water carrying capacity.
Bamboo lid with Straw
Sublimation Printing and Screen Printing options for high-quality logo imprinting.
The 455 ml Glass Bottle with Straw and Bamboo Lid is a fashionable and eco-friendly promotional present that delivers both practicality and sustainability. It is a gift that can be used for a variety of purposes. The following information is provided regarding this item as a potential promotional gift:
The container is made of high-quality glass, which is an inert and non-hazardous substance that may be used to store liquids safely. Glass is an excellent replacement for plastic because, unlike plastic, glass does not allow hazardous chemicals to leak into beverages and it assists in maintaining the flavor and freshness of beverages.
Responsible to the environment: This bottle is made of glass and has a bamboo cap, making it a responsible choice for the environment. Because it is a resource that can be replenished easily and grows at a rapid rate, bamboo is an eco-friendly material that may be used for lids and accents.
455 ml Capacity: The bottle has a capacity of 455 ml, which is equivalent to around 15.4 ounces, making it ideal for transporting a wide variety of beverages, including water, juice, smoothies, and iced tea. It is an easy-to-carry size that is ideal for day-to-day use as well as hydration on the go.
The bottle comes with a straw that may be used multiple times and is typically made of stainless steel or another material that is kind to the environment. The usage of a straw encourages environmentally responsible behavior's by reducing the demand for disposable plastic straws with a single use.
Lid Made of Bamboo Not only does the lid made of bamboo provide an eco-friendly touch, but it also offers a tight and leak-proof seal to the container. Because it prevents the liquid from escaping, this bottle is ideal for people who lead active or travelling lifestyles.
Personalised Expression of the Brand The area of the bottle's surface that is available for application of personalised branding is ideal for this purpose. You may turn the bottle into a moving advertisement for your brand by putting your company's logo, name, or a promotional message to it. This will allow the bottle to spin while displaying your advertisement.
Gift Potential: This glass bottle is an attractive and considerate gift for clients, colleagues, or event attendees owing to the combination of its stylish design, its utility, and its little impact on the environment. Gift Potential: This glass bottle is an attractive and thoughtful gift for clients, colleagues, or event attendees. It is suitable to a range of venues, including corporate gatherings, trade fairs, and marketing efforts that are focussed on health and wellbeing.
Glass is a sanitary material that does not retain odours or flavours from previous beverages, which ensures that each beverage tastes as if it were created only minutes before even if it was stored for a long period of time. This adds another layer of protection when working with glass. In addition to this, it is simple to maintain and clean up after use.
Reusability: Because this container may be used more than once, it encourages receivers to reduce their reliance on plastic bottles that are only designed for a single use. This contributes to a cleaner and greener environment by reducing the amount of waste that is produced.
Positive Brand Association: Your company is able to identify itself with responsible and sustainable choices, which in turn helps to boost the reputation of your company by providing a promotional gift that is both eco-friendly and health-conscious, such as this glass bottle. By doing so, your company is able to provide a positive brand association.
Take into consideration using eco-friendly materials for the packaging of the Glass Bottle with Straw and Bamboo Lid that you are going to give away as a promotional gift in order to underline the long-term viability of the product even further. You may enhance the connection between your brand and the recipient by including a handwritten note that is customised to show your thanks and highlight the eco-friendly aspects of the gift. This can be accomplished by providing a handwritten letter that is tailored to express your gratitude and highlight the eco-friendly characteristics of the gift. Gifts such as this one, which are both practical and conscious of their impact on the environment, may be a fantastic way to market a company while also encouraging positive shifts in the habits that people engage in on a daily basis.
HD Video: Glass Bottle with Straw and Bamboo Lid | TM-035-FRS
Printing Options
Sublimation Printing | Screen Printing
Glass Bottle Printing Details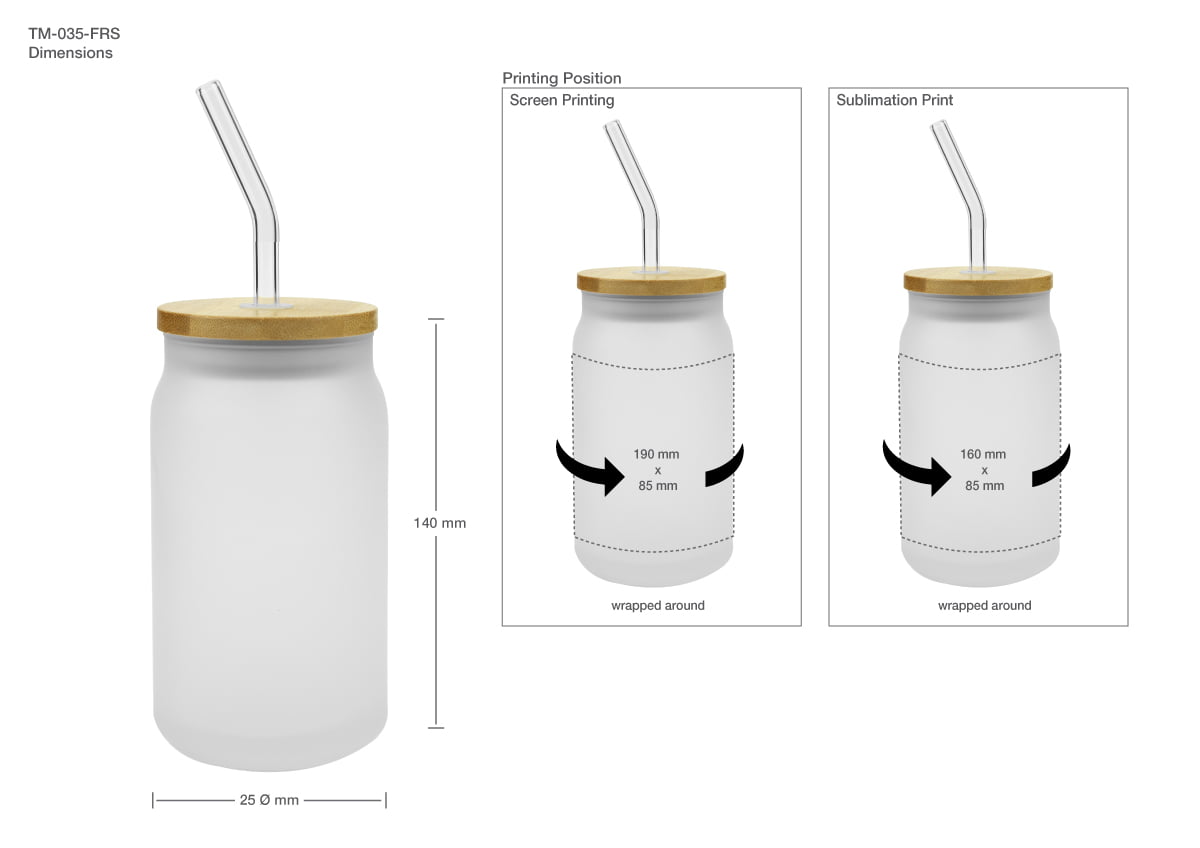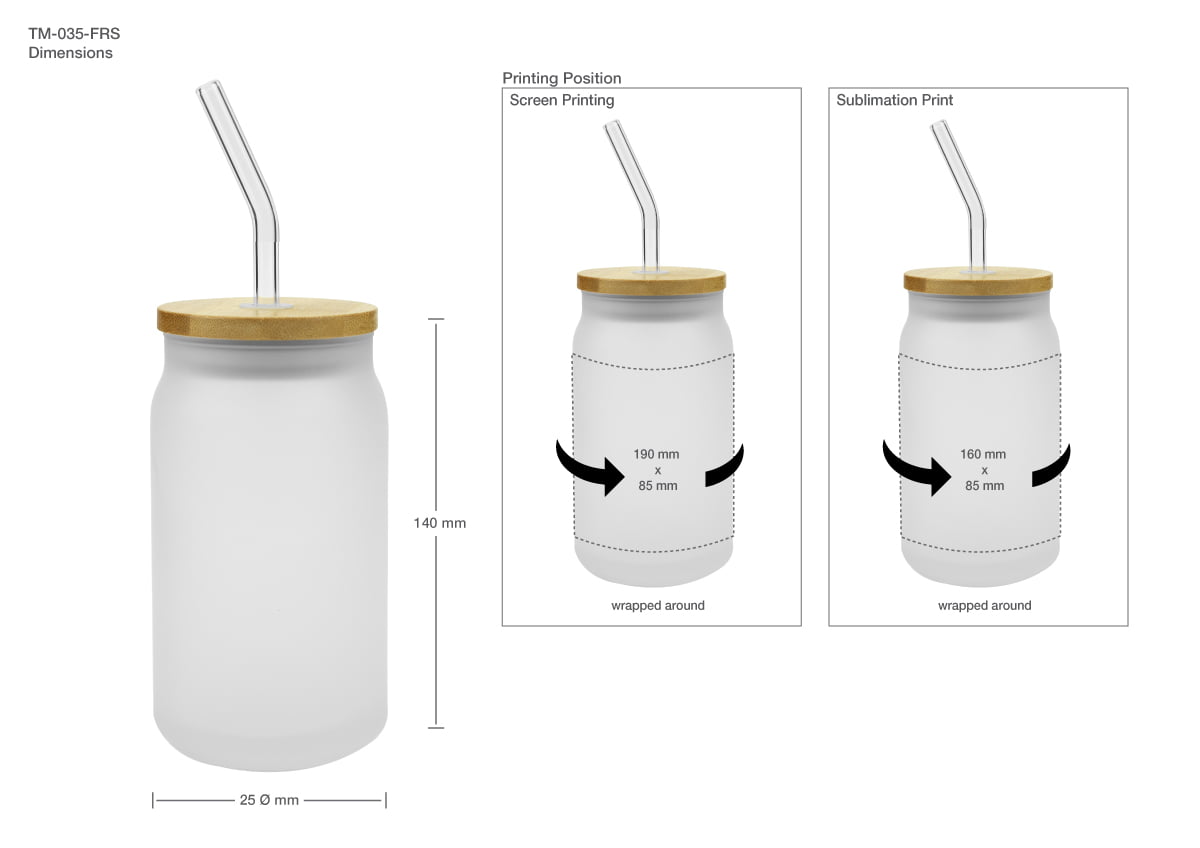 Additional information
| | |
| --- | --- |
| Weight | 0.356 kg |
| Dimensions | 7.5 × 7.5 × 14.0 cm |
| HS Code | 69111000 |
| Country of Origin | China |