Expandable Roll-Top Backpacks, 600D Polyester Material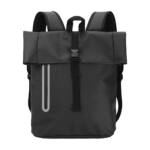 Expandable Roll-Top Backpacks, 600D Polyester Material
Material: Polyester | Item size: 400 x 550 x 150 mm | Weight: 0.380 kg
| Packaging Details | | |
| --- | --- | --- |
| Pcs in Carton Box | Carton Weight | Carton Box Size |
| 25 | 10 kg | 44 x 40 x 42 cm |
Backpack Printing Option
Download high res image
Download low res image
Download all images As a zip
Download printing instruction As a pdf
Customize Quotation Sheet
Description
Printing Instructions
Packaging Details
Description
Expandable Roll-Top Backpacks, 600D Polyester Material
Roll-top backpacks constructed from high-density 600D waterproof polyester material, particularly those in black with adjustable buckle fastening, padded straps, and front zipper pockets with reflectors, provide a distinctive and functional choice for promotional presents. Their design and functionality render them highly attractive to a diverse range of users.
The backpack is constructed with 600D polyester material, which is renowned for its robustness and resilience. This ensures that the bag can endure frequent use in challenging environments. The waterproof feature enhances its value by safeguarding the contents from rain or spillage.
The backpack features an expandable roll-top design, enabling the user to alter its capacity according to their own requirements, thereby enhancing its versatility. This design not only offers practicality in accommodating different loads but also enhances the rucksack with a fashionable and contemporary appeal.
The backpack features a generously sized inside that can accommodate laptops up to 15 inches in size, catering to the needs of students, professionals, and technology aficionados. The supplementary interior compartment offers additional capacity for arranging objects such as literature, garments, or other necessary belongings.
Ergonomically designed with cushioned straps, the rucksack ensures a comfortable carrying experience, even while carrying a full load. This function is essential for individuals who utilize their backpacks for prolonged durations, such as commuters or travelers.
Safety Features: The inclusion of a front zipper pocket with a reflector enhances safety by increasing the user's visibility during the night. This feature is especially advantageous for cyclists, motorcyclists, or anybody traversing in dimly lit environments.
The backpack's black color exudes a sophisticated and polished aesthetic, rendering it appropriate for various audiences and settings, spanning from formal to informal.
Promotional Branding Opportunity: The rucksack provides a great amount of room for displaying a company logo or slogan, ensuring excellent visibility. Due to its functional nature and fashionable aesthetics, it is highly probable that this product will be regularly utilized in public areas, effectively functioning as a portable means of promoting the business.
Eco-Friendly and Sustainable Choice: The utilization of resilient materials such as 600D polyester signifies a product with a prolonged lifespan, minimizing the necessity for regular substitutions and conforming to sustainable principles.
To sum up, expandable roll-top backpacks constructed from durable 600D waterproof polyester material with a capacious interior, dedicated laptop area, and safety enhancements are a superb option for a promotional giveaway. By integrating functionality, comfort, safety, and style, these products possess a wide-ranging appeal and serve as a powerful means of promoting a brand. Their robustness and functional design guarantee their regular usage, resulting in continuous brand exposure.
High-density 600D waterproof Expandable Roll Top Backpack, Black
with an adjustable buckle closure, padded strap, and front zipper pocket with reflector.
It is spacious and can fit up to a 15″ laptop, plus there is one open compartment inside.
HD Video: Expandable Roll-Top Backpacks | SKU: SB-14-BLK
Printing Option on Roll-top Backpacks

Backpack Printing Details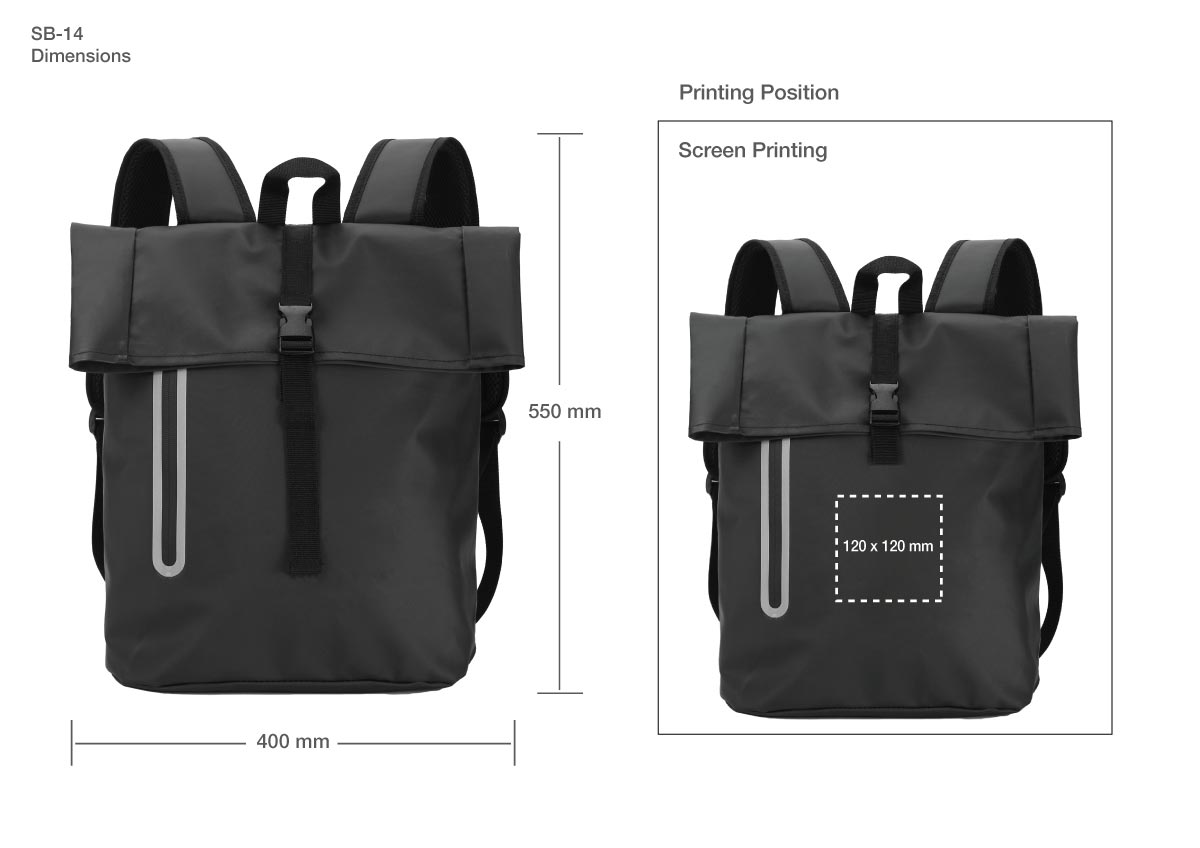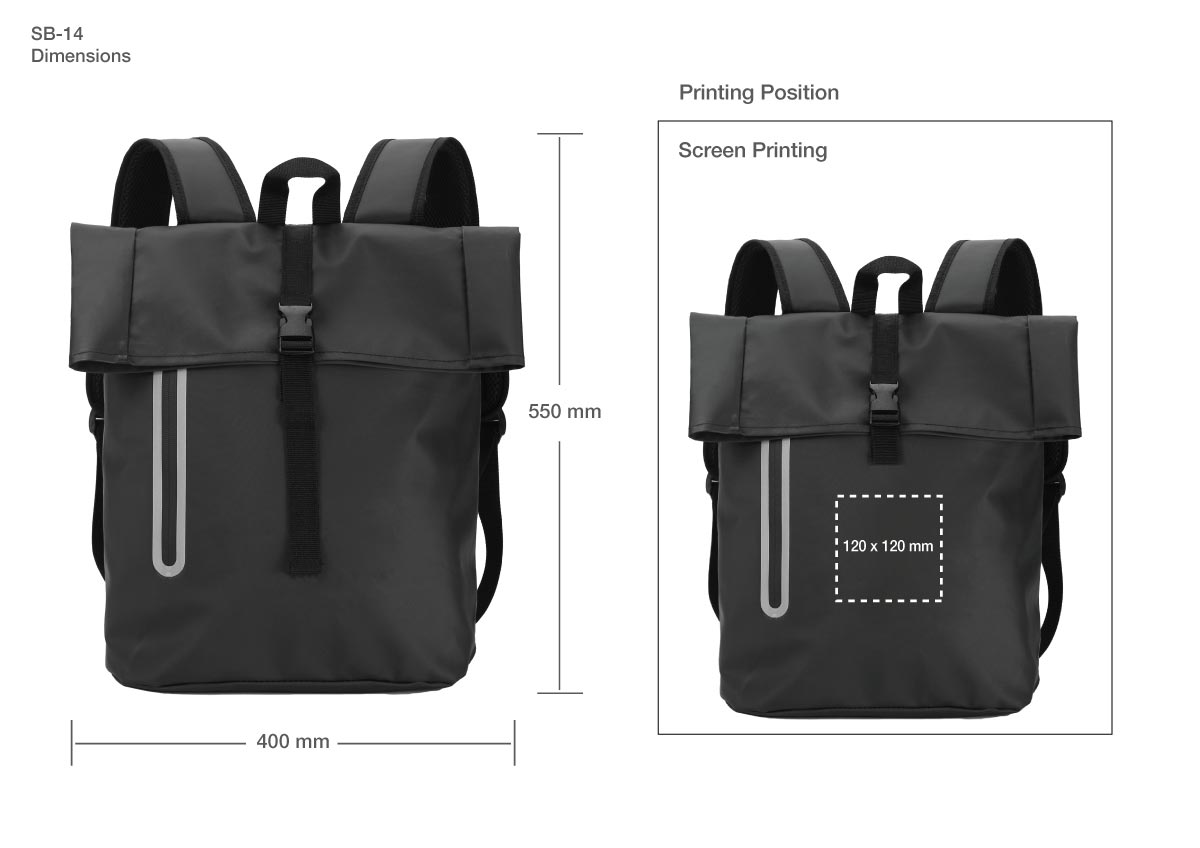 Additional information
| | |
| --- | --- |
| Weight | 0.38 kg |
| Dimensions | 40 × 55 × 15 cm |
| HS Code | 42029200 |
| Country of Origin | China |