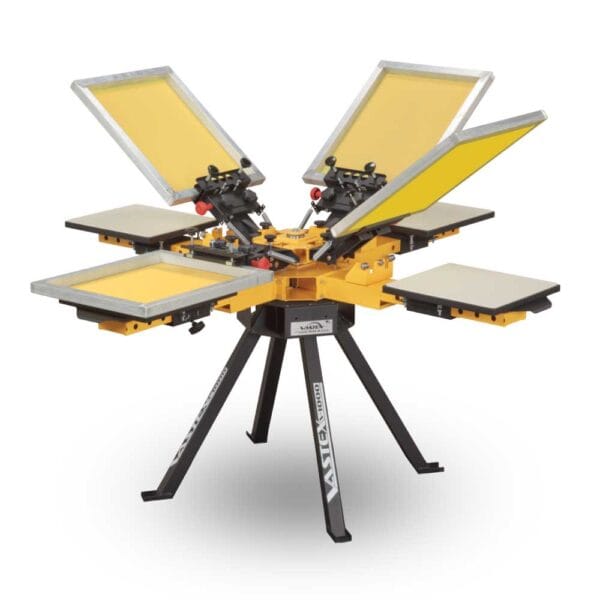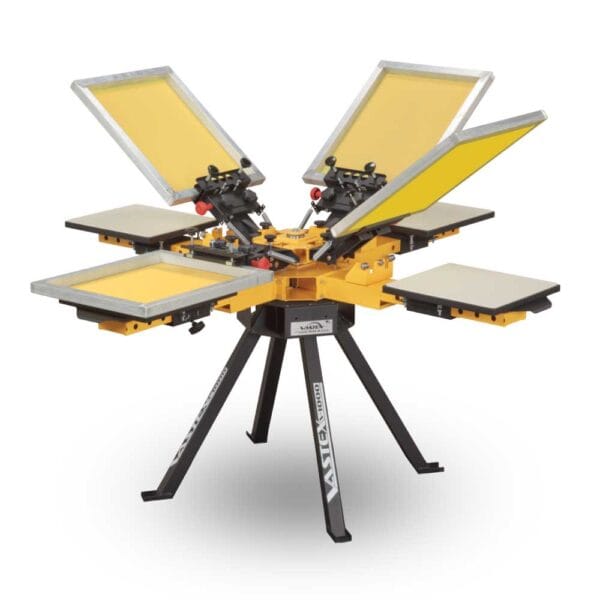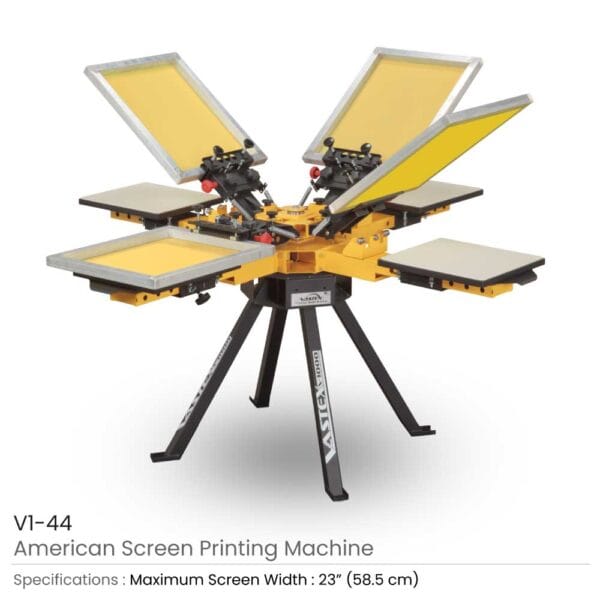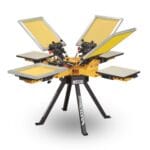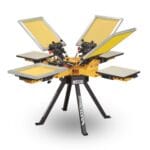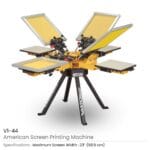 American Screen Printing Machines
The rotary press uses the industry's most unique floating head design which minimizes cost. Accurate registration is achieved without the higher price associated with machines of this capacity.
Value: Quality at an entry-level price
Long-Lasting: Steel Pallets
Precise: Holds accurate multicolor printing registration
Innovative: Floating Head, 3-point bearing lock allows for all heads down
Adjustable: Screen off contact and level adjustments
Versatile: Available up to 4 tables, 4 colors (4×4), and 6 tables and 6 colors (6×6)
Capacity : Holds up to 21" x 28" (51 x 61 cm) screens
Guaranteed: 1-year warranty on manufacturer's defects.
Ships UPS: Ships UPS in multiple boxes with easy step-by-step instructions.
Expandable: From 1 table, 1 color (1×1) to 4 tables, 4 colors (4×4).
Description
Packaging Details
Reviews (0)
Description
4 Station American Screen Printing Machines
American commercial manual screen printing devices with four print heads.
The rotary press features the most distinctive floating head design in the industry to reduce cost. The additional cost associated with equipment of this size is avoided while still achieving accurate registration.
Product Details

Value: Good products at affordable prices
Durable: Steel Pallets
Holds precise multicolor printing registration precisely.
Innovative: All heads down are possible with Floating Head's 3-point bearing lock.
Adjustable: Contact and level changes with the screen off
Versatile: available in up to 6 tables and 6 colors and up to 4 tables, 4 colors (4×4) (6×6)
Holds screens up to 21″ by 28″ (51 x 61 cm) in size.
Guaranteed: One-year manufacturer's fault guarantee
UPS shipping is Delivered by UPS in many boxes with simple-to-follow directions
Expandable: 4 tables, 4 colors (from 1 table, 1 color (1×1)) (4×4).
Additional information
| | |
| --- | --- |
| Weight | 116 kg |
| Dimensions | 38.1 × 45.7 cm |
| HS Code | 84569000 |
| Country of Origin | USA |